JAMES ASHAM (1823-1901)
ELIZABETH BEAR (1823-1906)
(Last Updated: February 10, 2015)
James ASHAM, a half-breed, was born around 1823 at Norway House, presumed to be the son of Hannah LEASK and Price ASHAM (1789-1833+). ** MORE ABOUT PRICE ASHAM
Although his grandfather was an Englishman, for all intensive purposes, maternally James was essentially a Treaty Indian. Due to intermarriages, pure-blood Indians in the reserves of the northwest were becoming less and less predominant as is obvious from the countless European sir-names found in the records The term 'Indian' essentially meant someone whose name appeared on the Treaty List of one of the reserves who had not relinquished their Treaty Status by claiming Half-breed Scrip.
Marriage to Elizabeth BEAR
1844-45
Around 1844-45 James married Elizabeth BEAR, a Cree Indian, daughter of  A-KEE-NA-A-SON & WAPASK or WHITE BEAR from the Cumberland House area of Saskatchewan. ** MORE ABOUT WHITE BEAR
Son Isaac was born in 1845; sons James Jr. in 1848; Nathaniel in 1852 and William in 1854. Two daughters: Marianne born in 1859, and Rachel in 1861. Finally, son Magnus was born in 1868.
In 1864 Chief PEGUIS (1774-1864) died and was succeeded by his son Chief Henry PRINCE or RED EAGLE (1819-1902).
In 1865, eldest son Isaac married in St Peters to Matilda THOMAS, daughter of Jane & John THOMAS, both Indians.
Canadian Confederation and a Red River Rebellion
Manitoba becomes a Province
1867-1870
On July 1, 1867 the British colonies in North America were united under the British North American Act to become the Dominion of Canada.  Sir John A MACDONALD (1815-1891) was appointed as Canada's first Prime Minister.
Around 1868 son James Jr. married Christine KENNEDY.
On Oct 11, 1869, Louis RIEL (1844-1885) placed his foot on the surveyors' chain to tell them their work was finished! This marked the beginning of another Red River Métis Rebellion. Most of the conflict related to the rebellion occurred in the southern parts of the Red River region and involved French speaking Métis who were supported by the North West Company (NWC) in opposition to the Hudson's Bay Company (HBC). The half-breed population north of Kildonan was mostly English speaking people who mostly supported the HBC.
The Rebellion ended when RIEL's Provisional Government accepted the terms of the Manitoba Act and on July 15,1870Manitoba became the fifth province of Canada, the Canadian Government having acquired the territory previously governed by the HBC.
In 1870 (from information in Sprague & Frye, Genealogies of the First Métis Nation), we find James ASHAM and his family in the St Peters Reserve; children at home as follows: Nathaniel (age 18), William (16), Marianne (11), Rachel (9) and Edith (age 5). Next-door is son William (age 30) and his family.
Indian Treaties One and Two
In 1871, Wemyss SIMPSON (1824-1894) was appointed as Canada's Commissioner and General Indian Agent for the Northwest, to negotiate treaties with the Indians of the region. By the end of August SIMPSON's negotiations culminated with the signing of Indian Treaties One and Two, the first such treaties concluded by the new Dominion of Canada.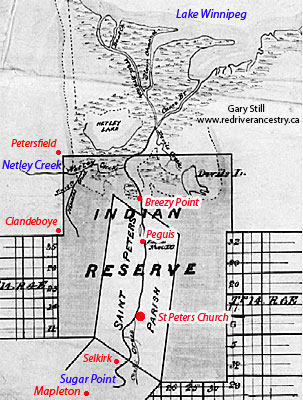 Plan showing St Peters Reserve No.1
Around 1875 son William married Jane Mary THOMAS.
St Peters Settlement – 1876 Treaty Census: The list of Treaty Payments included James ASHAM: One man, one woman and five children. Amount paid for seven persons: $35 ($5 each). Listed as separately paid were William, James Jr., Isaac and Nancy. This amounts to nine children and begs the question; is Nancy the same as Marianne,and/or is Nancy another child not accounted for?
In the Census of 1881 James ASHAM and his wife Elizabeth were both recorded as age 58. Children at homer were as follows: Nathaniel (age 25), Rachel (19), Edith (17) and Magnus (age 11).
Town of Selkirk is Incorporated
1882
In February of 1882 daughter Edith gave birth to an un-named daughter who died one week old. The father was Arthur John HUCKLE.
The Town of Selkirk legally incorporated in 1882, the Town of East Selkirk in 1883. It was anticipated that the CPR main line to the west would pass through Selkirk (it never did), making it a major industrial centre. That created a rush of land speculators into the area. The St Peters Reserve would soon be surrounded by corporate authority, business and industry. William Henry PRINCE (1830-1912) became Chief of the St Peters Band, succeeding his father, Henry (Red Eagle).Disputes about land ownership on the Reserve would last for well beyond the next century
On Mar 11, 1886 daughter Edith Davis was church-wed in St Clements to Arthur John HUCKELL.
On May 21, 1901 James ASHAM died in the St Peters at the age of 79.
On June 3, 1906 Widow Elizabeth ASHAM died of cancer in St Peters at the age of 83.
Please post comments & queries at this link: FORUM DISCUSSING JAMES ASHAM and his FAMILY
=========================== Family Details ===========================
Children:
1. 1845 ISAAC ASHAM (m. Matilda THOMAS)
2. 1848 JAMES ASHAM JR (m. Christina KENNEDY)
3. 1852 NATHANIEL ASHAM (Died age 28)
4. 1854 WILLIAM ASHAM (m. Jane Mary THOMAS)
5. 1859 MARIANNE ASHAM
6. 1861 RACHEL ASHAM (?m. Henry CONWAY)
7. 1864 EDITH DAVIS ASHAM (m. Arthur John HUCKELL)
8. 1868 MAGNUS ASHAM (m. Harriet Jane)