For most of these young men, it was both a feeling of patriotism and a sense of adventure that motivated them to volunteer for active duty. Canada was still in an economic depression and there were few jobs or opportunities for young men. The war supplied both. In their innocence, some even lied about their age to get enlisted. They had no idea of where they were going or what their mission would be.
The military training of these new recruits was apparently of short duration. It is said that because of their lack of training, the Grenadiers were officially classified by the Canadian defence department as "unfit for combat". They had a lot of time to polish their baseball game, but few of them had ever thrown a grenade. Some had never even fired a rifle.
THE BATTLE FOR HONG KONG
1941-1945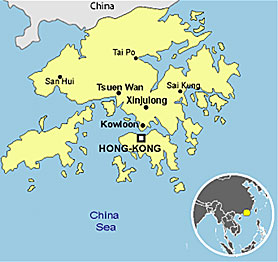 On Nov 16, 1941 the Canadian troops disembarked at Hong Kong
Google Images
Interesting Side-Note: Adrienne Louise (nee POY) CLARKSON, our beloved former Governor General of Canada, was born Feb 10, 1939. In 1941, Adrienne came to Canada as a refugee from Hong Kong with her family, to settle and be raised in Ottawa. Had her family stayed until October of that year, I hate to think of the horrors they might have experienced at the hands of the Japanese invaders.
On Dec 8, 2009, the Honorable Vivienne POY paid tribute to the soldiers of the Hong Kong (Hong Kong Veterans Memorial Wall). http://www.hkvca.ca/submissions/senate-statement.pdf
The Awatea, a painting by Wallace Trickett
On Oct 27, 1941, the Grenadiers along with the Royal Rifles of Canada, sailed from Vancouver (BC) aboard the SS Awatea, anticipating the adventure of their lives.
Comments made by G. HUSTON (a junior engineer aboard the Awatea): We sailed from Vancouver with a contingent of Canadians aboard — just young chaps, many of whom had not even seen the sea until then, let alone travelled in a ship. The voyage across the Pacific to Hong Kong, where these troops were to be stationed, with a call on the way at Honolulu for water and stores, was uneventful. It was reported that a ship had shadowed us for several days, and it was presumed to be a Japanese warship, but of course, that was before Pearl Harbor. I have wondered at the fate of the Canadians for they would have borne the brunt of the Japanese assault on Hong Kong, both in the fighting and as P.O.W.' - - Several days were spent in Hong Kong, we then steamed on to Singapore.
On Nov 16, 1941 the Canadians disembarked at Hong Kong; their assignment: defend Wong Nai Chung Gap on Hong Kong Island..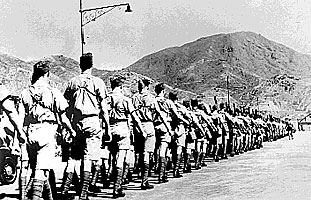 Canadian Troops Arrive in Hong Kong Six Weeks Before the Japanese Attack
The Japanese Take the Hong Kong Mainland
Dec 8 – Dec 12. 1941
On Dec 8, 1941, less than eight hours after the attack on Pearl Harbor, the Japanese 38th Division began their attack on Hong Kong, achieving air supremacy on the first day.
On Dec 10, "D" Company of the Grenadiers was dispatched to strengthen the remaining defenders on the mainland. On Dec 11, this company exchanged gunfire with the enemy and became the first Canadian Army unit to engage in combat in the Second World War. By mid-day, General MALTBY ordered them to withdraw to Hong Kong Island, and by Dec 12 the Japanese had absolute control of the mainland. However, on Dec 13, their demand for surrender was categorically rejected. On Dec 17, they repeated their demand and once again it was summarily refused, but the situation was becoming very grim.
The Battle for Wong Nai Chung Gap, Hong Kong Island
On Dec 18, 1941, the Japanese landed at North Point on Hong Kong Island. The strength of the invasion force was overwhelming, and by early Dec 19, the Japanese had reached as far as Tai Tam Gap and Wong Nai Chong Gap, the Canadian stronghold. The Gap secured the passage between downtown and the secluded southern parts of the island.This would be the scene of one of the fiercest encounters in the Battle for Hong Kong.
For three days, less than 100 of the Canadians fought off several hundred Japanese troops; more than 600 (some say as many as 800) Japanese soldiers were injured or killed in the action.
The ATKINSON brothers from Selkirk, MB (Ron & Harry), were in the thick of this action. For his brave actions during this engagement, Ron ATKINSON, the older brother, was awarded the Military Medal. His Citation states: "At dawn on Dec 19 when the Japanese attacked the Wong Nai Chong area, a section of the Winnipeg Grenadiers under command of Corporal Derek Everard RIX was cut off from its platoon. They worked their way from an open position on the hillside above the Blue Pool Valley to join a section of the Hong Kong Volunteer Defence Corps who were holding Pill Box No. 2 on the slopes of Jardine's Lookout, and co-operated in its defence during the remainder of the morning: Lance-Corporal ATKINSON was operating from a very exposed position. When Lieutenant E.C. FIELD of the Corps, in command of the pill box was about to go forward to throw a grenade in some dead ground where he suspected the presence of Japanese, Lance-Corporal ATKINSON, seeing FIELD was wounded, asked to do the job. He went forward, fully exposed to deliberate rifle fire and threw the grenade, but was wounded in the right arm before he could return to his position, and made his way to Pill Box No. 2 for first aid treatment. "
On the morning of Dec 19, Sergeant-Major John Robert OSBORN threw himself on top of a grenade, sacrificing himself to save the lives of the men around him. OSBORN became the first Canadian in the Second World War to be awarded the Victoria Cross; the only one awarded for the Battle of Hong Kong.
On Dec 19, Marcel CHABOYER was reported as "missing in action", however it was later discovered that he had been taken prisoner to the Omine POW Camp on Kyushu Island in Japan.
"Later when enemy presence increased and there was no sign of relief, Lieutenant FIELD gave leave to walking wounded to retire, but Ron ATKINSON preferred to stay and see the action through to the finish. Lance-Corporal ATKINSON's actions throughout, were those of a brave soldier whose devotion to duty assisted materially in prolonging the defence of this sector".
From Dec 20, the island became split in two with the British Commonwealth forces still holding out around the Stanley peninsula and in the West of the island. At the same time, water supplies started to run short as the Japanese captured the island's reservoirs.
On Dec 24, Harry ORVIS was mortally wounded in action; he died three days later in the Queen Mary Hospital.
290 Canadian soldiers were killed during the defence of Hong Kong.
Black Christmas of 1941
The Canadians fought against overwhelming odds and displayed the courage of seasoned veterans, though most had limited military training. They had virtually no chance of victory, but refused to surrender until they were overrun by the enemy.
Eighteen days after the battle began; with much of Hong Kong in flames, the British realized that further resistance was futile. Colonial officials headed by the Governor of Hong Kong, Sir Mark Aitchison YOUNG, surrendered in person on December 25, 1941 at the Japanese headquarters. This day, when the Union Jack was lowered, is known in Hong Kong as "Black Christmas".
When it was over, Ron ATKINSON and only 36 other wounded Grenadiers were left. The Japanese thought the sector had been held by two battalions and were shocked to find that it was only one Company. When they discovered how few defenders had caused this decimation, their field commander was forced to apologize to his superiors. The Grenadiers, and others rounded up as prisoners, were now in danger. Some Japanese soldiers wanted revenge.
On the day after Christmas, the Japanese commanders paraded in triumph through the streets of the city. The defenders of Hong Kong from Britain, India and Canada were now prisoners of war. Some appeared almost jovial, happy at least to have survived. Many expected to be treated civilly according to the rules of the Geneva Convention. They were sadly mistaken. Over the next three and a half years of captivity, many of the living would come to envy the dead.
On Dec 31, 1941, the Canadians were marched 16 miles to their first place of incarceration (North Point Camp); later Sham Shui Po Camp.
SHAM SHUI PO PRISONER OF WAR CAMP, HONG KONG
1942
The Grenadiers and others were rounded up as prisoners. Some of them appeared almost jovial, happy at least to have survived the battle. Many expected to be treated civilly according to the rules of the Geneva Convention. They were sadly mistaken! They were incarcerated at the Sham shui po prison camp near the centre of Hong Kong, and some Japanese soldiers wanted to revenge their dishonor and the losses of their comrades. They were warehoused in a steaming, crowded barracks. Conditions were deplorable and medical supplies were appallingly lacking. Many died from deficiency diseases. By Jan 15, some prisoners had lost twenty pounds (since Black Christmas) -- almost a pound a day.
After the surrender of Singapore in February, 1942, the Japanese began transferring POWs to Japan.
The worst month was October 1942 when 55 prisoners of war died of hunger and disease.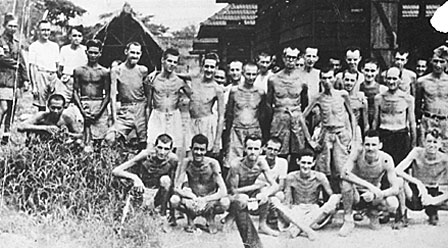 Canadians in a Japanese POW camp
(VAC Photo)

On Nov 28, 1942, afflicted with diphtheria and colitis, and reduced to mere skin and bones, Howard OIGE finally succumbed. He was buried in the Sai Wan War Cemetery in Victoria, Hong Kong. Howard had clung to life almost a month longer than some of his comrades. Considering how thin and frail this man was to begin with, it is amazing how he endured so long. He died a true warrior's death; his father would have been proud.

On Dec 22, 1942 George Walter SAYER died (age 35); buried in Sai Wan War

Over 3,000 other prisoners of war were shipped from Hong Kong to Japan and Formosa to work in the mines and factories - many never returned.

POW CAMPS IN JAPAN

In April, 1942 (after the surrender of Singapore) the Japanese Government decided to transport some of the Allied POWs from South East Asia to Japan. They were to be used to supplement the Japanese work force, which was running short of manpower. From the end of 1942 to the beginning of 1943, the IJA opened POW camps with the main administration camps in four cities of Hakodate, Tokyo, Osakaand Fukuoka.

P.O.W. Camp at Niigata (Osaka), Japan

In the latter part of August, 1943, about 500 prisoners sailed from Hong Kong on the small two hold Japanese collier, the "Manryu Maru," stopping briefly at Taihoku (Taipei) the capital of Formosa (Taiwan) en route to Japan. Upon their safe arrival at Osaka, the prisoners were split up, with one group sent by train to Niigata and the remainder to other camps in Japan.

On Sep 3, 1943, Niigata Camp No. 5B (Honshu Island, Japan) was opened with the arrival of 300 Hong Kong P.0.W.s (mostly of Canadian soldiers).

Among the group transferred to Niigata Camp was Harry ATKINSON. His brother Ron was too sick to go; he remained in Hong Kong. Harry was forced to work long hours at the shipyards loading and unloading boxcars.

The name of SSgt. Clifford E SETTEE appears in a list of patients recorded in a medical book at Niigata.

Ron ATKINSON never recovered from his wounds; he died on Oct 8, 1943 in Hong Kong. His brother (Harry) would have to wait two years before learning of Ron's fate.

P.O.W. Camp at Oeyama (Osaka Camp No.3)

Oeyama is a village on the northwest coast of the Island of Honshu on Wakasa Bay, a few miles north of Miyazu and just east of Iwataki. Osaka Camp No.3 was first occupied in 1943 by British, Canadian, Australian, Dutch and Norwegian POWs. In September of 1943, 100 Canadians arrived there; a further 48 early in 1944, making a total of 148 Canadians in the camp.

George Harold TOWNSEND died Nov 25, 1944 (age 29) while at Oeyama, Osaka. He was buried in the Yokohama War Cemetery.

Ofuna POW Camp (Yokohama)

Prisoners who arrived at an interrogation camp in Ofuna near Yokohama were sent to work in mines, factories and dockyards. Yokohama, the 2nd largest city in Japan, is located on Tokyo Bay, south of Tokyo (the largest city).

During 1945, as Japan's position weakened, many prisoners of war in Japan lost their lives in Allied naval bombardments and air raids on military targets.

David CHABOYER died of pneumonia on March 13, 1945 as was buried in Yokohama War Cemetery.

Omine (Fukuoka), Kyushu Island

From Forgotten Heroes: The story of "C" Force: Just days after the Canadians arrived at Omine, a foreman zeroed in on the Métis Marcel CHABOYER, one of three brothers who had enlisted in the Winnipeg Grenadiers. - - Exactly what CHABOYER died is unclear. One version has it that he punched the guard who was beating him. In any event, CHABOYER was dragged away, and his fellow Canadians never saw him again. (Book Excerpt: The Damned, by Nathan Greenfield).
Other reports indicate the Marcel was sentenced in January of 1943 to two years' hard labour. July, 1945

The Questionnaire of Fatal Casualties "C" Force indicates that Marcel actually died while serving hard labour in July, 1945 and his ashes were sent to his Commander at No. 8 Camp, Fukuoka District. The ashes are to be brought back to Canada by ... Sergeant Major ... Bert CALDWELL (Oct 6, 1945

SAI WAN WAR CEMETERY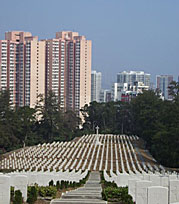 Sai Wan Cemetery, Hong Kong
Sai Wan War Cemetery is in the north-east of the island of Hong Kong, in the Chai Wan area, about 11 kilometres from the centre of Victoria, the capital of Hong Kong
.
The cemetery has 1, 561 graves, of which 1, 010 are British.  There are also 283 Canadian graves, some not being named.
Sixteen Canadians were killed in action; 112 missing in action; 6 died of wounds; 126 died while prisoners of war.
Over 3,000 other prisoners of war were shipped to Japan and Formosa to work in the mines and factories - many never returned.
WORLD WAR II ENDS
1945
During the final stages of World War II in 1945, the United States conducted two atomic bombings against the cities of Hiroshima and Nagasaki in Japan, the first on August 6, 1945 and the second on August 9, 1945. On August 15, 1945, Japan announced its to the Allied Powers, signing the Instrument of Surrender on September 2, officially ending the Pacific War.
The Camp No. 5B (Niigata, Japan) internees were declared free on or about August 21, 1945, but they left by train for Tokyo on September 5, 1945. Some were flown to Manila and others were transported on naval vessels to San Francisco with stops at Guam and Honolulu, Hawaii.
In Hong Kong, Sep 16, 1945 (V-E or V-J Day) marked the formal surrender of the Japanese; Aug 30, 1945, the Liberation of Hong Kong.
On Aug 31, the HMCS Prince Robert and the Empress of Australia entered the port of Kowloon. The crews were on the alert, for they had learned that the garrisons were completely in the dark about the Japanese capitulation. The men of the Prince Robert quickly liberated the 1 500 Canadian and Allied prisoners in Sham Shui Po Camp, which was abandoned by its guards. After a stop in Manila, the ship reached Esquimalt, Vancouver Island, BC, on Oct 20, 1945.
The Canadian prisoners from Yokohama and Niigata, meanwhile, were repatriated by the American warship USS Wisconsin.
On Sep 26 the HMS Glory assisted in the retaking of Hong Kong. The Glory was part of the Royal Navy's 11th Aircraft Carrier Squadron of the British Pacific Fleet, Royal Navy. With some repatriated Canadians aboard, it then went to Australia; arriving at Esquimalt on Oct 27, 1945.
Survivors
On Dec 23, 1945, Edward Joseph MORRISSEAU died at the St Boniface Sanatorium, MB. He was buried in the RC Cemetery, Fort Alexander Reserve.
Isaac SANDERSON survived the war. He died Feb 14, 1946 (age 33); buried in St Peters Cemetery.
Note: MORRISSEAU and SANDERSON may have survived the war, and their internments, but both died only a few months after they returned home.
On Mar 16, 1946, Harry ATKINSON married Penelope "Penny" TAYLOR in Selkirk, MB.
Wilfrid CHABOYER survived the war (died Feb 10, 1990 in St Laurent, age 69)
Continuing the Fight: Canada's Veterans: Those who served during Canada's wars expected danger at the hands of the enemy. But they were ill prepared for the fight that awaited some of them at home. Most veterans were welcomed home with open arms and assistance in putting their lives back in order. But several groups — native Canadians, Métis, merchant mariners and Hong Kong prisoners of war — found themselves ignored and denied the recognition and benefits so crucial to rebuilding their lives. For them, the fight would last another half century.
From a CBC Broadcast, Dec 11, 1998: Tales of their captivity are horrific. The Canadian prisoners were physically abused and forced into heavy labour in Japanese mines and shipyards. After they were liberated by U.S. troops in 1945, the frail and shaken veterans had great difficulty fitting in back at home. They spent decades seeking redress from the Japanese and Canadian governments. Today their prayers are answered: the Canadian government announces a compensation package of up to $24,000 each on "humanitarian grounds." ** CBC BROADCAST of 1998
If you have ancestors who particiapated in the War in Hong Kong we would love to hear from you. Please post comments and queries at this link: FORUM DISCUSSING SOLDIERS IN THE BATTLE OF HONG KONG (1941-1945)