DAVID TURNER aka BEAR (1807-?)
ELIZA SMITH
MARIA TATE (1830-)
(Last Updated: August 28, 2012)
David TURNER aka BEAR was born 1807 at Fox Lake, York Factory district. David's father was Mes-ka-nee-powit (WHITE BEAR) TURNER (Métis) (1780-1844). His mother: was A-kee-na-a-son, a Cree Indian. This is clearly stated (proven) in the following Scrip Application: ** MORE ABOUT WHITE BEAR aka TURNER
Metis National Council (MNC) Historical Online Database: Co-signed July 26, 1887 by Charles BUDD & Sarah TURNER (Sarah states "I known that David BEAR the Applicant is the brother of my father, Francis TURNER, he should therefore be called David TURNER and he is a half-breed the same as my father the said Francis TURNER"). Regarding David BEAR alias TURNER of Cumberland House,  born around 1807 at Fox Lake, York Factory; this father's name was MAKWIS-KA-NEE POWIT TURNER, a half-breed (he thinks); his mother was A-KEE-NA-A-SOM, a Cree Indian. "For the last 26 years I have been living at Cumberland House. Previous to that time I was living at Red River." He states that he first married at Red River to Eliza SMITH and secondly about 1827 at Red River to Maria TAIT. One living child, Mary, 21 years of age, married to David CRANE. He states that he had five children by his 2nd wife who died and two by his first wife: 1) Robert died four years old in Treaty; 2) Annabella Jane died in 1869 the year of the Rebellion in Winnipeg; 3) Elizabeth died 20 years ago; 4) Charlotte died 20 years ago. The names and dates of death of the above named children were given by the mother of the deceased children. Margaret and the other whose names I cannot remember died long before the Transfer. "I am called David BEAR because I was brought up by my Uncle Thomas BEAR."
On May 9, 1887 a Scrip Certificate for $160 was issued to David BEAR (TURNER) by R GOULET, Chairman Half-Breed Commissioner
On July 25, 1887 a Discharge from Treaty was issued by E McCOLL, Cumberland House, certifying and allowing a Discharge to David BEAR and wife, former members of the Cumberland Band of Indians.
When endeavoring to establish the children and other details regarding WHITE BEAR aka TURNOR, the above record is of particular interest in that it identifies (proves) several of his children. First, it identifies Sarah TURNER as a daughter of Francis TURNER and indicates that Francis and David were both sons of WHITE BEAR. It also identifies a Thomas BEAR as an uncle of Sarah TURNER (BEAR), indicating that Thomas BEAR was also a close relative of WHITE BEAR.
In the early to mid-1820's we know that David's father (WHITE BEAR) moved from Cumberland House to Red River (probably the St Peters Reerve). Son David would have been a teenager then. While at Red River, according to MNC, David's first wife was an Eliza SMITH (no children are mentioned). His second wife was Maria TATE, daughter of Jane SANDERSON & Peter TATE.
David & Maria move from Red River to Cumberland House
1861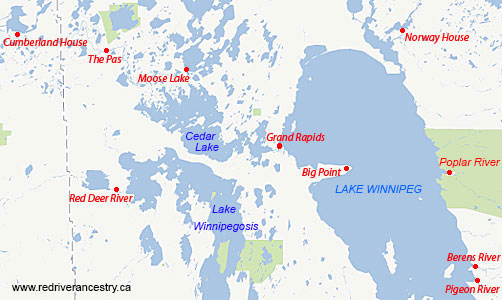 Around 1861 David & Maria moved from Red River to Cumberland House.
On May 2, 1867 their only surviving child, Mary, was born at Grand Rapids.
We most certainly invite anyone who may have more information, and anyone who has comments or queries about this family to please post them at this link: DISCUSSIONS regarding DAVID TURNER (1807-?)
=========================== Family Details ===========================
Of the eight children born to Maria TATE & David TURNER aka BEAR, only one (Mary) was alive in 1887 when Maria filed her Scrip Affidavit.
Only surviving child of Maria TATE & David TURNER aka BEAR:
1. May 2, 1867 MARY BEAR (m. David CRANE)