THOMAS (TOM) BIRD (1832-1900)
ANN NANCY "ANNIE" FOX (1842-?)
(Last Updated: August 28, 2012)
Thomas (Tom) BIRD was born on Mar 3, 1832 in the Parish of St Paul at or near present-day Birds Hill which was named after his half-brother, Dr Curtis James BIRD (1837-1876). Tom was a grandson of Englishman James Curtis BIRD (1773-1856), patriarch of the BIRD families of western Canada, and his first wife, a Swampy Cree woman named Mary OO-MENAHOMISK.
Tom's mother (Nancy nee THOMAS) was the daughter of a Cree woman named Margaret & Englishman John THOMAS SR (1751-1822), Governor of Moose Factory.

Tom's father, George BIRD (1798-1855), was at one time the "personal servant" of none other than the Hudson's Bay Company (HBC) Governor Sir George SIMPSON (1786-1860).
In 1862 Tom married in St Andrews Parish to Ann Nancy FOX, daughter of Theresa (Thirza) STEVENS & Charles FOX (c1820-1868) ** MORE ABOUT CHARLES FOX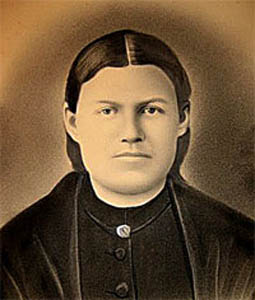 Nancy FOX, wife of Thomas BIRD
(Thanks to Darlene Oliver for this picture)
In 1876 Thomas was in St Paul Parish when he claimed his Scrip, undoubtedly at or near Birds Hill. In the Census of 1881 Tom & Nancy were enumerated there with the following children: Ann Elizabeth (age 17); Charles James (age 13); Thomas Jr (age 10); Theresa (age 6); Alfred Edgar (age 3) and baby Francis Albert. There would be no more children.
In 1883 daughter Ann married in Winnipeg to Henry STAFFORD.
On Feb 5, 1885 Tom was granted a homestead on SE-2-18-W1, located at the northeast end of North Shoal Lake, MB (in the RM of Woodlands, west of Inwood, MB). He would remain there the rest of his days.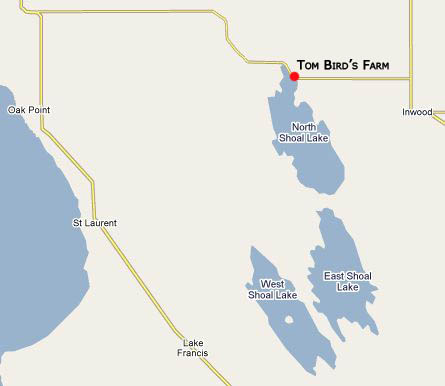 Location of Tom Bird's homestead
In 1888 son Charles married Cloe SPENCE in St Andrews.
In Census 1891 Nancy & Tom were enumerated on the homestead with two teenage sons at home, Alfred and Frank.
Thomas BIRD died Apr 13, 1900 in RM of Woodlands, age 68
In Census 1901 Widow Nancy had three sons with her on the farm: Thomas (age 29), Alfred (age 22) and Frank (age 20)
In 1902 son Tom Jr married Jenny MARCHAND in the RM of Rockwood (MB).
Census 1906: Widow Ann BIRD and her son Alfred on the farm.
In Census 1911 Widow Annie BIRD was recorded as a "boarder" with the family of her granddaughter (Eva nee STAFFORD and her husband (Gavin WILLIS) on Lot 4 in Oak Point Parish.

In Census 1916 we find Widow Ann BIRD (and her son Alfred BIRD) with her daughter Ann E and son-in-law Henry E STAFFORD, back on the farm west of Inwood. Son Thomas and his family are nearby on the same section of land.
In 1919 son Alfred married Bella THOMPSON
Ann was buried in Erinview/ Woodlands (MB) (Does anyone have a death date?)
Please post comments & queries at this link: FORUM DISCUSSING THOMAS BIRD & FAMILY
======================== Family Details ============================
Children:
1. May 29, 1864 ANN ELIZABETH BIRD (m. Henry Edwin STAFFORD)
2. Jul 3, 1868 CHARLES JAMES BIRD (m. Cloe Ann SPENCE)
3. Apr 12, 1871 THOMAS BIRD JR (m. Jennie Lena MARCHAND)
4. 1875 THERESA MARY MARGARET BIRD (Died age 12)
5. May 12, 1878 ALFRED EDGAR BIRD (m. Mary Isabel (Bella) THOMPSON)
6. May 4, 1880 FRANCIS "FRANK" ALBERT BIRD