ALEXANDER BIRSTON (1775-1829)
A NATIVE WOMAN (1777-c1815)
(Last Updated: July 15, 2015)
Alexander BIRSTON was born around 1775 in Ronaldshay, Orkney, Scotland.
On May 31, 1793 Alex entered the service of the Hudson's Bay Company (HBC). The HBC was expanding inland to compete with the North West Company (NWC) when they hired Alex and his older brother Magnus (c1768-1837) from the Orkneys. For the HBC, manpower was a problem as they had no Voyageurs, or 'River-Rats', as they were sometimes called, as had the NWC. They hired many Orkney men to man the boats that travelled the inland routes. ** MORE ABOUT MAGNUS BIRSTON
HBC Appointments & Service
1793-1821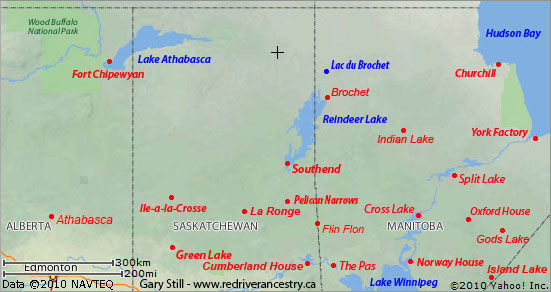 During the period 1793-1801 the HBC Archives indicate that Alex was a  Laborer, Canoe Man (Steersman and Bowman), "A volunteer for Athapascau (Athabasca)", York Factory Inland . In 1801 both Alex and his brother Magnus were listed as Steersmen at York Factory, and they remained together much of the time. As canoe men they would have made frequent trips inland.
Around 1803 Alex was "country wed" to an unknown Indian woman. Son Alex Junior was born around 1804, somewhere in the northwest.
HBC Archives place Alex working the boats in the West Winnipeg District between 1811 and 1814. By about 1815 Alex's wife had given birth to three more children (Nancy, William and Magnus). Birth dates for all of Alex's children are pretty fuzzy; much variation in the references.
Alex was working out of Cumberland House from 1814 to 1816, indicating he was "Free" on Jun 8, 1816. There were no more children after 1815, and it is likely his wife died around that time.
Alex is Widowed
1816
From 1816 to 1821 Alex was at Jack River (Norway House), he was indicated as a steersman and also a fisherman during this period.
After the Union of the North West Company & HBC
1821
In his Journal, on Aug 1,1821, Rev John WEST (1778-1845), HBC Chaplain, recorded that heleft the settlement (Red River), and met at Norway House, one of the Directors of the HBC and a gentleman of the North West Company (NWC), on their way from Montreal to York Fort, to make arrangements for the future trade of the country, in consequence of a coalition between the two Companies,
At Norway House on Aug 12 Rev WEST baptised between 20 and 30 children and married two of the Company's officers. Among those baptised at that time were the following children of Alexander "BERSTON" and an Indian woman, deceased:  Alexander, William, Magnus and Nancy. WEST  also baptised  four of the children of Mary & Peter FIDLER SR, and Mary & Peter were formally married there two days later.
As a result of the HBC-NWC union the HBC immediately began to reduce staff, demoting and retiring many of its employees. Among those receiving their 'pink slips' around that time were Peter FIDLER (demoted) and Alex BIRSTON who was retired to the Lower Rapids, Red River, as were many of his fellow employees. Alex was given the entire Lot 9 (approx 64 acres), in the Parish of St Clements (later known as Old England or Mapleton) in the RM of St Andrews.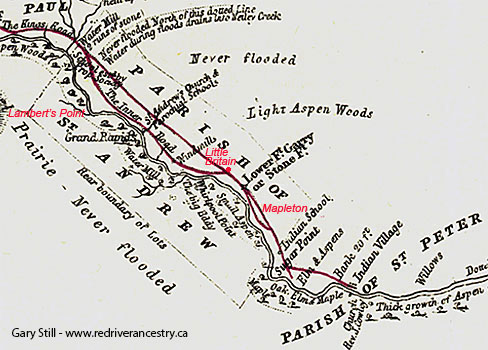 Part of Henry Hind's Map based on his observations of 1857
The Red River Census of 1827 indicates that Alex was about 52 yrs old, had not re-married, and was living on Lot 9 at Mapleton. The Census shows that three sons older than 16 (Alex Jr, William & Magnus), and a daughter older than 15 (Nancy), were living with him. He seems to have had a successful farming operation established.  He had a house, three stables, a horse, swine and cattle, farm equipment, three canoes, and he was farming six acres of land.
Alex Dies
1829
On Nov 26, 1828 Alex registered his Will, and on July 11, 1829 he died. He left a rather interesting Will, leaving his brother, Magnus, 10 Pounds Sterling, and the rest of his estate he divided in two parts. His daughter Nancy received one half and the other half he divided equally between his three sons. It seems that Alex was no more literate than his Indian wife as his will was signed with an X.
A year after Alex died, on Mar 10, 1830, daughter, Nancy, married an Englishman, James WALLER (1800-1876). 
On Apr 3, 1830, youngest son, Magnus "Sandy" married Nancy LYONS, daughter of Margaret KIPLING & John LYONS (1786-1875). 
In 1831 son Alex Jr. married Sarah BUDD, daughter of "Agathas BUDD" COCKING and Muskego Cree BUDD (1765-1810). Sarah was a sister of the noted Indian clergyman, Reverend Henry BUDD (1814-1875).
** MORE ABOUT MUSKEGO CREE BUDD
In 1833 son William married Mary KIRKNESS, daughter of Margaret MOWAT & Andrew KIRKNESS (born c1770 in Scotland). ** MORE ABOUT ANDREW KIRKNESS
In 1835 son Alex Jr. (widowed) married a second time to Betsy ATKINSON at St Johns, daughter of Margaret and George ATKINSON (1777-1830). ** MORE ABOUT GEORGE ATKINSON
Please post comments & queries at this link: FORUM DISCUSSING FAMILY OF ALEXANDER BIRSTON
============================ Family Details ============================
Children:
1. 1804 ALEXANDER BIRSTON JR (m1. Sarah BUDD, m2. Betsy ATKINSON, m3. Nancy Ann McCORRISTER)
2. c1805 NANCY BIRSTON (m. James WALLER)
3. c1808 WILLIAM BIRSTON (Mary KIRKNESS)
4. c1811 MAGNUS "SANDY" BIRSTON (m. NANCY LYONS)