HENRY GEORGE BIRSTON (1849-1918)
NANCY FOLSTER (1857-1902)
SARAH ANN (nee McRAE) MORRISON (1848-1936)
(Last Updated: April 17, 2016)
Henry George BIRSTON was born Jan 18, 1849 in Mapleton (Old England) just south of Selkirk), son of Nancy LYONS & Magnus BIRSTON (1811-1875). ** MORE ABOUT MAGNUS BIRSTON
Henry would have been about 12 years old when the St Clements Anglican Church was built at Mapleton by stonemason Samuel TAYLOR (1812-1894). He was probably in attendance when the church was first opened for worship by the Lord Bishop of Rupertsland and Mr HUNTER on Dec 1, 1861.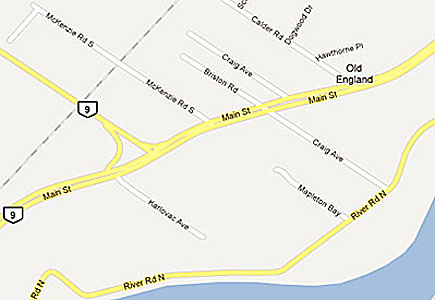 The original Birston property (River Lot 7) extended two miles west of the Red River
Along the south side of what is shown as Craig Avenue and Birston Road on this map
Marriage to Nancy FOLSTER
1873-1902
Around 1873 Henry married Nancy FOLSTER, daughter of Nancy WALLER & Dr. Thomas FOLSTER (1830-1912).
Henry's father (Magnus) died in 1875, bequeathing most of his land to Henry in his Will. His mother (Nancy) remained with Henry for the rest of her days.
On July 18, 1878 Henry received Patent to Lot 7, St Clements Parish. 
In 1893 Henry's 79 year old mother (Nancy) died in Mapleton.
By 1897 Henry's family was complete, his surviving children then (in order of birth) were: John Thomas, Mary Ann, Mathilda Catherine, Alice Harriet, Walter William, Alexander Magnus and baby James Edward. Several other children died in infancy (including a set of triplets). By that time daughter Mary Ann was married to Rod Alex McKENZIE.
On Feb 27, 1902 wife Nancy died of tuberculosis at the age of 45 (tuberculosis), buried in the St Clements Churchyard at Mapleton. Henry was about 53 years old then. All of their daughters had married by then; still living at home were sons John (age 26), Walter (18), Alex (16) and Jimmy (age 11).
In 1902 eldest son John Thomas married Widow Eliza (nee FIDLER) McKENZIE, daughter of Nancy PRUDEN and Henry FIDLER (1831-1908). ** MORE ABOUT HENRY FIDLER

Henry remarries to Widow Sarah (nee McRAE) MORRISON
1905
In 1905 Henry (at the age of 56) re-married to Sarah Ann (nee McRAE) MORRISON (age 57), widow of Captain Angus MORRISON (1842-1900) who had died five years earlier. Sarah Ann was a daughter of Charlotte SMITH and Duncan McRAE (1818-1898), the grand old stonemason from Scotland.
Sarah Ann did not have any children of her own but she raised her nephew, Angus McRAE (1876-1957) who lived with her even after he was married, with his wife (Annie NORQUAY) as well as a daughter (Ida McRAE).
In 1907 son Alexander Magnus married Martha LANDIN in Selkirk, the eldest daughter of Elizabeth ANDERSON and Mathias Mattson LANDIN (1862-1951) from Sweden.
Henry Donates Land for a new Mapleton School
1911-12
In 1911, Henry donated a strip of property, 139' x 932', for the construction of the Mapleton School that was built in 1912.
Henry George BIRSTON died on Jan 26, 1918 in Mapleton; Sarah died on Jul 1, 1936.
Please post comments & queries at this link: FORUM DISCUSSING HENRY GEORGE BIRSTON & FAMILY
========================== Family Details ==========================
Children by Nancy FOLSTER:
1. Jan 23, 1875 JOHN THOMAS BIRSTON (m. Eliza (nee FIDLER) McKENZIE)
** MORE ABOUT JOHN THOMAS BIRSTON
2. Sept 21, 1876 MARY ANN BIRSTON (m. Roderick Alexander McKENZIE) 
** MORE ABOUT ROD ALEX McKENZIE
3. Sep 17, 1878 MATILDA CATHERINE BIRSTON (m. Colin Campbell McKENZIE)
** MORE ABOUT COLIN CAMPBELL McKENZIE
4. Aug 7, 1880 ALICE HARRIET "HATTIE" BIRSTON
5. June 11, 1882 WALTER WILLIAM BIRSTON
6. Apr 17, 1884 ALEXANDER MAGNUS BIRSTON (m. Martha Elizabeth LANDIN)
** MORE ABOUT ALEXANDER MAGNUS BIRSTON
7. Dec 20, 1885 REBECCA CAROLINE "CARRIE" BIRSTON (Died age 10)
8. May 12, 1888 JAMES EDWARD"JIMMY" BIRSTON
9. Apr 13, 1895 CHARLOTTE (triplet) BIRSTON (Died as baby)
10. Apr 13, 1895 HENRY (triplet) BIRSTON (Died at birth)
11. Apr 13, 1895 ROBERT MYLES (triplet) BIRSTON (Died at birth)
12. Jan 4, 1897 HENRY GEORGE BIRSTON (Died in infancy)