JAMES BREMNER (1833-1910)
LETITIA "LETTIE" FIDLER (1834-1921)
(Last Updated: March 25, 2014)
James BREMNER was born Dec 30, 1833 in Headingly, MB. James' mother was Scotch-halfbreed Elizabeth "Betsy" TWATT and Alexander BREMNER (1791-1842), an HBC voyageur who was born in Scotland.
** MORE ABOUT ALEXANDER BREMNER
James and six of his siblings were baptized on Apr 14, 1833 at the White Horse Plains Settlement (west of Portage, MB). Their father (Alex) died in 1842 when James was only nine years old.
James marries Lettie FIDLER
1857
On Feb 17, 1857 James married Letitia "Lettie" FIDLER in St James (Winnipeg), daughter of Ann SAUNDERS & Charles FIDLER (1798-1886), granddaughter of Peter FIDLER of Bolsover. ** MORE ABOUT CHARLES FIDLER
By 1870 James and Lettie were living on Lot 45 in Headingly and they had five children (Alexander, Flora, Ellen, James and Robina).
In 1877 daughter Flora married Charles Alexander FIDLER (1846-1882), son of Nancy BREMNER & Edward FIDLER (1826-1913). It appears that Flora & Charles Alex were first cousins.
Lettie's brother, Edward FIDLER (1826-1913) had married James' sister (Nancy Anne BREMNER) around 1845, and in 1878 they moved with their family from Headingly (MB) to the Prince Albert district (St Louis, SK). They were probably the first of these two families to settle along the South Saskatchewan River.
When the Red River Census was taken in 1881, James & Lettie were still in Headingly and their family had increased by four with the addition of Charles, Mary, Sarah and William.
The Founding Families of Bresaylor
In the fall of 1881 James' younger brother, Charles BREMNER (1835-1919) and Peter TAYLOR (1840-1920) went west to scout out an area to establish a settlement away from the turmoil associated with the RIEL uprising in Manitoba. Story has it that their original intention was to go to the Peace River region, but that they were so impressed with the plentiful grass and water in the area that is now Bresaylor district that they decided to stay. Their families, and others, were sent word to come out the following spring.
The census of 1881 indicates that James and his family were still living in Headingly and it indicates the addition of four more children (Charles, Mary, Sarah and William)
In the spring of 1882, Louis CAPLETTE (James' nephew, son of his sister Betsy & Denis CAPLETTE), rode out from Headingly, Manitoba, on horseback. The families of James BREMNER, his younger brother, Charles BREMNER, and also their brother-in-law, Harry (Henry) SAYER (1841-1916) came out during the summer. Harry SAYER had been married to their sister (Mary BREMNER) who died in 1881. SAYER then re-married to Elise BEAUCHAMP. They came with their stock and implements and therefore travelled very slowly. The trip took a total of nine weeks. Charles entered his homestead on what is now Section 9-46-19-W3. The land at that time was not surveyed. They somehow got houses built for everyone by all working together and by facing each task as a group. And so it was that the settlement was named BRESAYLOR, using three letters from each of the founding families (BREMNER, SAYER & TAYLOR).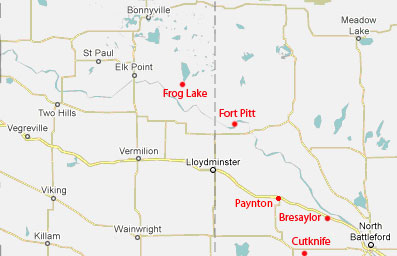 Frog Lake Massacre
April 2, 1885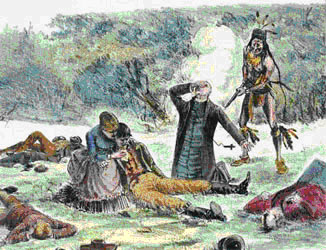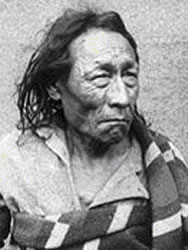 Left: Father FAFARD being shot in the back. Two priests were killed.
In the foreground Mrs. GOWANLOCK (left) is holding her dying husband.
Right: Chief BIG BEAR
By 1885 many more of Lettie's FIDLER relatives (mostly cousins) had also moved from Manitoba and settled along the South Saskatchewan (in the Batoche and St Louis areas).  Bresaylor was becoming a very well established settlement. Their cattle herds were growing to considerable size, and Charles BREMNER had established a store from which he traded with the Indians. He had built up a good business and had a large quantity of furs when it became apparent that serious trouble was brewing.
Angered by what seemed to be unfair treaties by the Canadian Government and the dwindling buffalo population, the main source of food for the indigenous people, Chief BIG BEAR had been organizing the Cree for resistance. They were encouraged by the Metis victory at the Battle of Duck Lake. Against BIG BEAR's opposition, War Chief WANDERING SPIRIT attacked white settlers in the village. He gathered the Europeans, including two priests, into the local Catholic church. After a disagreement broke out, WANDERING SPIRIT led the Cree in killing Thomas QUINN, the town's Indian Agent, and massacring nine other settlers. They took three as captives. William Bleadsell CAMERON (an HBC employee) and two women, Theresa GOWANLOCK and Theresa DELANEY, were the only whites who survived. 
When news reached the Bresaylor settlement about the massacre at Frog Lake, BREMNER and Louis CAPLETTE (who was working for Charles) loaded all the furs on Red River carts and were planning to move everyone and the furs to Battleford the following day. They never had their plans work out as the Indians arrived before they could leave. The store was ransacked and the settlers were taken prisoner. They were taken to the Poundmaker Reserve and held there until the Indians surrendered to the police.
James' mother died while the settlers were being held prisoner. These were extremely difficult and dangerous conditions for all the prisoners. One of the people taken prisoner was Father COCHIN. He was respected by all sides in the camp and was responsible for keeping an already dangerous situation from getting worse.
On April 15: W.J. McLEAN, Chief HBC Trader at Fort Pitt, went to talk to BIG BEAR and WANDERING SPIRIT. McLEAN was taken prisoner. David COWAN was killed.  HBC civilian employees and their families then surrender the fort to BIG BEAR. The NWMP, using a scow, escape by river.
Arrival of General MIDDLETON
Battle at Fish Creek
As the first shots of the uprising were being fired, the commander of the Canadian militia, British General Frederick Dobson MIDDLETON (1825-1898) was on his way to the West to take command of the North-West Field Force, which was hurriedly being assembled in Manitoba and in eastern Canada. Military District 10, which was headquartered in Winnipeg, had responsibility for all military activity in Manitoba and the North-West Territories. The first of its units to be mobilized for the field force was the 90th Rifles of Winnipeg.
On April 24, MIDDLETON and his troops experienced their first taste of Battle at Fish Creek, where the Canadian militia suffered a severe setback at the hands of Gabriel DUMONT's sharpshooters. From there he continued his advance to the Métis headquarters at Batoche.
Battle of Cut Knife Hill
May 2, 1885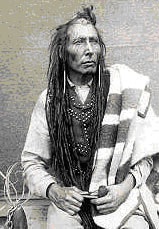 Chief POUNDMAKER
The Battle of Cut Knife Hill occurred on May 2, 1885. After his relief of Battleford on April 24, and without General Middleton's approval, Colonel OTTER decided he should move against the 1500 or so Cree, Assiniboine and Métis gathered at POUNDMAKER's Cut Knife Reserve. He departed Battleford on May 1 with 300 men, making a forced march the forty miles to Cut Knife. Although he had hoped to take the encampment by surprise, his troop movements were no secret. Firing broke out before all the troops could take up position. The actions of POUNDMAKER were basically defensive, and he restrained his men from pursuing the retreating soldiers after the battle.

OTTER's men had an advantage only in more modern weapons. The terrain was certainly against them, and the wisdom of proceeding against the First Nations became immediately uncertain. The carriages of the seven-pound guns collapsed soon after the fighting commenced, so they were useless. The troops were caught in the open. The Cree, Assiniboine and Métis used the cover of ravines to outflank the soldiers. After six hours of fighting and attempting to shoot at an enemy they could not see, OTTER broke off the engagement around noon. POUNDMAKER asked his warriors to stop fighting. As OTTER's column withdrew, they were no longer fired upon and no attempt was made to pursue them, suggesting to OTTER that he had decimated his opponents. It did not occur to him that it also suggested that POUNDMAKER and his followers had no real interest in fighting. OTTER withdrew, having suffered eight men killed and sixteen wounded; First Nations sustained about the same number.
Bresaylor Prisoners of Poundmaker
When news reached the Bresaylor settlement about the massacre at Frog Lake, Charles BREMNER and Louis CAPLETTE (who was working for Charles) loaded all the furs on Red River carts and was planning to move everyone and the furs to Battleford the following day. They never had their plans work out as the Indians arrived before they could leave. The store was ransacked and the settlers were taken prisoner to the Poundmaker Reserve. POUNDMAKER had taken the settlers prisoners more for their own protection than any other reason. Now the radicals among the Indians were warring and threatening POUNDMAKER to turn the settlers over to them. POUNDMAKER spoke to Charles BREMNER and Father COCHIN and said, "I'm not sure I can control them much longer. You have your guns; do the best you can for your families. I will be outside your tent and before they get in they will have to pass over my body." That night POUNDMAKER sat in front of the settlers' tents with his rifle across his knees. In the morning, news arrived that a column of troops was approaching, and the warriors had other things to occupy them and incident passed.
Rebellion Aftermath
On May 12, 1885 The Battle of Batoche was over. Charles and James BREMNER along with Henry SAYER were taken prisoner by the police, accused of treason, and were jailed, They all asked for a trial and a hearing for which they were sure they could produce enough witnesses to prove the accusations false. They were never allowed their trial and after a lengthy period in jail, they were released but not with a pardon. So for the rest of their lives they were to live with this black mark against them. In addition, there was the loss of their stock and for BREMNER, the store and a quantity of furs, so they were right back where they started. Right back where they started with one exception, the closeness and the bond between the settlers were gone. There was much finger pointing and mistrust that built into hostilities and resentments that to some degree still exist today.
On May 26: POUNDMAKER led his band to Battleford where he surrendered to MIDDLETON. On July 2 BIG BEAR surrendered to the NWMP at Fort Carlton.
 =================================================
In 1885 daughter Ellen Harriet married Angus MILLER, son of Elizabeth SETTER and Robert MILLER (1802-1867).
In 1888 daughter Robina married Albert Scott TAYLOR, son of Catherine McDONALD and Peter TAYLOR (1840-1920).
** MORE ABOUT PETER TAYLOR
 James BREMNER died in 1910 and Lettie died on July 21, 1921, both in Bresaylor.
Comments and queries about this family are welcomed at the following link:
FORUM DISCUSSING LETTIE & JAMES BREMNER
====================== Family Details ======================
Children:
 1. Sep 27, 1859 ALEXANDER BREMNER (Never married)
2. Jan 18, 1860 FLORA BREMNER (m. Charles Alex FIDLER)
3. Oct 11, 1861 ELLEN HARRIET BREMNER (m. Angus Morrison MILLER)
4. July, 1866 EMMA BREMNER (Died in infancy, 3 months)
5. Mar 26, 1867 JAMES DAVID BREMNER
6. Apr 9, 1869 ROBINA BREMNER (m. Albert Scott TAYLOR)
7. Jan 10, 1870 CHARLES THOMAS BREMNER
8. Jan 6, 1873 MARY ELIZABETH BREMNER
9. 1875 SARAH BREMNER
10. 1876 WILLIAM BREMNER
11. 1878 MALCOLM BREMNER
12. 1882 GERTRUDE BREMNER
13. 1886 MABEL A BREMNER