GOVERNOR GEORGE ALEXANDER CHRISTIE (1792-1872)
ANNE THOMAS (1795-)
(Last Updated: January 30, 2017)
George Alexander CHRISTIE was born around 1792, said to be from Glasgow, Scotland.
** MORE ABOUT ALEXANDER CHRISTIE by Hartwell Bowsfield in DCBO

** MORE ABOUT ALEXANDER CHRISTIE in WIKIPEDIA

** MORE ABOUT ALEXANDER CHRISTIE in MHS

** MORE ABOUT ALEXANDER CHRISTIE in HBC ARCHIVES
Hired by the Hudson's Bay Company
1809
In 1809 CHRISTIE was hired by the Hudson's Bay Company (HBC) and was sent to Moose Factory to investigate the possibilities of the lumber trade. He returned to Britain in 1810 but wasback at Moose the following year as Superintendent of the Timber Trade. He remained, in charge of the saw mill there until about 1816 when he again returned to Britain.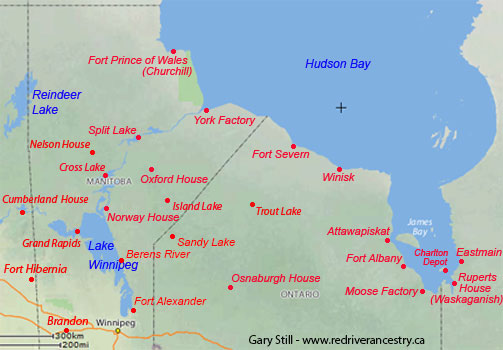 Alexander CHRISTIE and Anne (nee THOMAS) HODGSON
1817
In 1817 CHRISTIE returned again from Britain, this time as Superintendent at Rupert's House in the Eastmain District, just across the Bay from Moose Factory. He soon after began a relationship with Ann THOMAS.
Ann had been the wife of Thomas HODGSON (1789-1865) who was discharged from HBC service in 1814 and moved to Ottawa, leaving Nancy behind. ** MORE ABOUT THOMAS HODGSON
Origins of Ann THOMAS
Sprague & Frye ID-844, Table 1: Alexander CHRISTIE, born 1810. Wife: Anne THOMAS, Metis, born 1815.
Hartwell Bowsfield in DCBO:  On 10 Feb. 1835, at Red River, Christie's marriage with Anne Thomas, daughter of Thomas THOMAS SR (1766-1828), was confirmed by the Church of England. Like many company employees, Christie had (previously) married according to "the custom of the country" since in remote areas of the HBC's territory clergymen were seldom present to perform the ceremony.
** Note: Many other documentaries and narratives (and consequently countless other researchers) refer back to the DCBO Biography by Bowsfield above which refers to Anne's father as Thomas THOMAS.
Bowsfield in turn bases his information on the 'Letters of Letitia Hargrave', authored by Letitia MacTavish Hargrave (1813-1854).
** MORE ABOUT LETITIA HARGRAVE in WIKIPEDIA

** MORE ABOUT GOVERNOR THOMAS THOMAS (1768-1828)
A Quote from Sylvia Van Kirk 's  book, "Many Tender Ties" (Pg 141): The KEITHs were joined several years later by Chief Factor Alexander CHRISTIE, the retired Governor of Assiniboia. His wife Ann, the Cree daughter of Hudson's Bay Company officer John THOMAS, had been reluctant to leave Red River which, in her view, possessed "all of the advantages desirable in a residence." ** MORE ABOUT JOHN THOMAS
Several other researchers refer to Ann's father as John THOMAS or Thomas THOMAS, and the HBC Archives Bio refers to her parents as Joseph THOMAS or Thomas THOMAS.
Almost all of the Family Trees I checked on Ancestry.ca refer to CHRISTIE's wife Nany (Ann) THOMAS' parents as Margaret (Cree) and John THOMAS (1751-1822).
Other considerations regarding Ann THOMAS, the daughter of Thomas THOMAS:
Sprague & Frye ID-373, Table 1: George BIRD, Metis, born 1798. Wife: Ann THOMAS, born 1800.
** MORE ABOUT ANN (NANCY) THOMAS AND GEORGE BIRD

In 1818-19 George's father, James Curtis BIRD resumed his position as Chief of the Cumberland District and that winter he and his fellow ex-Governor Thomas THOMAS (1766-1828) and their families spent the winter together at Cumberland House. And that was the winter that romance blossomed between three of James' sons and three of Thomas' daughters as follows: George BIRD and Nancy THOMAS; Joseph BIRD and Elizabeth THOMAS; and Levi BIRD and Jane THOMAS.
Union of the North West Company with the Hudson's Bay Company
1821
In 1821 the union of the North West Company (NWC) and the Hudson's Bay Company (HBC) occurred, ending the years of bitter rivalry for dominance of the fur trade in Western Canada. George SIMPSON (1786-1860) became the Governor of Rupert's Land.
1822-23: Chief Factor, Abitibi Post, Abitibi District
1823: To Europe on furlough
1824-26: Chief Factor, Kenogamisse River District
1826-30: Chief Factor, Moose Factory, Moose District
In 1827 Alex was the "Magistrate of Rupert's Land" who performed the marriage of his sister-in-law, Frances THOMAS, to George JOHNSTONE (1797-1873). ** MORE ABOUT GEORGE JOHNSTONE
1830-33: Chief Factor, York Factory, York Factory Dist
Alex supervised the building of Lower Ft Garry, which had begun about 1831. 
Governor of Assiniboia, and Chief Factor at Lower Fort Garry
1833
MHS: In 1833, the first break in the racial barrier which Governor SIMPSON seems to have hoped to erect came with the appointment of Alexander CHRISTIE as Governor of Assiniboia. This esteemed chief factor was the best man for the job, but he had initially been discounted by SIMPSON because he had a native family a la facon du pays. [21] CHRISTIE's wife was Anne THOMAS, a daughter of the former Company governor Thomas THOMAS and his Indian wife Sarah.
Alex is Church-wed to Ann THOMAS
Governor of Assiniboia
1835
On Feb 10, 1835, Alex was formally married to his spouse of 18 years, Ann THOMAS, by Rev David JONES. Like many other Company employees, CHRISTIE had married according to "the custom of the country".  Two of CHRISTIE's sons, Alexander and William Joseph, and a grandson Alexander, entered the HBC service.
TenderTies pg 208:  In Red River, the possibility of mixed-blood wives reasserting themselves in prominent society was symbolized in the appointment of Chief Factor Alexander CHRISTIE as Governor of Assiniboia in 1835.  SIMPSON had initially discounted CHRISTIE, although he was one of the best qualified for the job, because of his native family.  The old fur trader, however, could not be shaken in his loyalty to his mixed-blood wife Ann THOMAS, whom he formally married shortly after coming to the settlement.  Initially, it does not appear that Mrs CHRISTIE played an active role in RR society even though she was "a governor's lady".
MHS: Although Mrs. CHRISTIE does not appear to have assumed the social leadership one might have expected of a "Governor's lady," her reluctance to leave the settlement when her husband wanted to retire to Scotland indicates that she must have found it congenial.
1837-39: Chief Factor & Governor of Assiniboia, Upper Fort Garry
1839-41: To Europe on furlough
Alex was succeeded as Governor by Duncan FINLAYSON
1841-43: Chief Factor, Moose Factory, Moose Dist
1843-44: On furlough
Chief Factor & Governor of Assiniboia, Upper Fort Garry
1844-48
In 1844 Duncan FINLAYSON departed for Lachine, and Alex was re-appointed as Chief Factor & Governor of Assiniboia, Upper Fort Garry. Mrs CHRISTIE was delighted to resume her position as Governor's lady.
In 1845 daughter Margaret CHRISTIE became the wife of Scottish clerk (later Judge) John BLACK (1817-1879) from England.

1849: Chief Factor, Lower Fort Garry, Red River
CHRISTIE was forced to take strong measures against free traders and small merchants who challenged the HBC's legal right to a fur trade monopoly.
In 1849 son Alexander Jr. married Caroline ISBISTER at Norway House, the daughter of Mary KENNEDY and Thomas ISBISTER (1793-1836).
In 1849 son William married Mary SINCLAIR at York Factory, daughter of Marie Wadin McKAY and William SINCLAIR (1794-1863).
The FOSS-PELLY Scandal
1850
The FOSS – PELLY trial took place in July of 1850.
VanKirk: That Mrs. BALLENDEN was guilty of adultery as her slanderers charged was never actually proved; yet her reputation, indeed, her life was ruined. Her supposed lover, Captain FOSS, in attempting to clear her reputation by suing her accusers for defamatory conspiracy, may unwittingly have sealed her demise, for such "a stain" once publicly attached to a woman's character "could not easily be washed off" and the community was henceforth primed to believe the worst.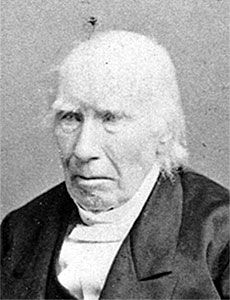 Alexander Christie (Archives of Manitoba)
1850-53: Furlough
During 1849-50, CHRISTIE's services were required in London - - he was granted leave of absence for three years prior to his retirement in 1853. 
On Dec 9, 1872 Alexander CHRISTIE died in Edinburgh Scotland.
Comments and queries at this link: FORUM DISCUSSING THE ALEXANDER CHRISTIE FAMILY
========================= Family Details =========================
Children:
1. 1818 ALEXANDER CHRISTIE (m1. Catherine SINCLAIR; m2. Caroline ISBISTER)
2. 1822 MARGARET CHRISTIE (m. Judge John BLACK)
3. 1824 WILLIAM JOSEPH CHRISTIE (m. Mary SINCLAIR)