JOHN FOLSTER (1776-1871)
ELSPET BYAS (1770-)
JANE (1811-1881)
(Last Updated: January 30, 2014)
John FOLSTER was born around 1776 in Birsay, Orkney (Scotland), son of Jane & James FOLSTER (b-1730), also from the Orkneys.
John was a brother of James FOLSTER JR (1775-1841) who is said to have joined the Hudson's Bay Company (HBC) in 1792 as a Voyageur (Canoe man) and later settled in Red River. ** MORE ABOUT JAMES FOLSTER
On July 19, 1798 John married in Scotland to a lady named Elspet BYAS who was also born around 1776 in Birsay. Three children are mentioned in several family trees; Jannet (b-1800), Margaret (b-1804) and John Jr. who is said to have been born on May 3, 1813 in Birsay.
Selkirk Settlers in 1813
It is said that John became a Red River Settler in 1813. However, the circumstances oh his arrival there is uncertain. It seems likely that he may have also arrived at the Bay as an HBC employee (his name however cannot be found on the ship-lists for Selkirk Settlers or in the HBC Archives).
On June 28, 1813 Archibald McDONALD (1790-1853) sailed from Stromness, Scotland, with a group of 94 Kildonan emigrants on the Prince of Wales for York Factory, as second in command to Dr. Peter LASERRE. Typhus broke out during the voyage and LASERRE was among those infected. On Aug 13, the captain of the ship was anxious to be rid of his passengers and landed them at Fort Churchill, to avoid spreading the disease among the residents at York. For this reason they were known as the Churchill Party of Settlers. It wasn't until the spring of 1814 that this group made the arduous journey overland south to York Factory and from there to Red River.
If indeed John settled in Red River in 1813 he must have settled there alone (In 1851 his 81 year old wife (Elspet) and daughters were recorded still living in Birsay). We know that his son, John Junior eventually joined him in Red River, but he was just a baby in 1813 and most likely did not arrive there until he was a young man.
A Wife named Jane
1827
Red River Census of 1827: John FOLSTER (#53) on Lot 215 (brother James is on Lot 214), age 44 (b-c1783), Protestant, Orkney, married, woman. He has a house and stable, four cows, an ox, three calves and two swine. He also has a, canoe and he has two acres of land under cultivation.  ** His wife presumably was a lady named Jane who is mentioned in several family trees. There is no mention of children.


In 1844 son John FOLSTER Junior married Flora McDONALD, daughter of Half-breed Sarah SWAIN & John McDONALD (b-1791), an HBC Trader from Scotland. Flora died in 1845 and in 1850 son John remarried to Isabella BROWN, daughter of Isabella SLATER & Henry BROWN (1795-1875).
John's wife Jane apparently died in 1851.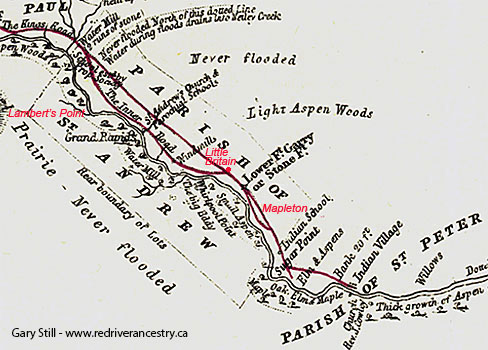 St Andrews Parish from Hind's Map of 1857
On Mar 25, 1871, John FOLSTER died at the age of 95 (re Scrip).
Please post comments and queries at this link: FORUM DISCUSSING JOHN FOLSTER (1776-1871)
============================= Family Details =============================
Children by Elspet BYAS:
1. 1800 JANNET FOLSTER
2. 1804 MARGARET FOLSTER
3. 1813 JOHN FOLSTER JR (m1. Flora McDONALD, m2. Isabelle BROWN)