GEORGE GOODFELLOW (1841-1905)
SARAH TURNER (1847-1912)
(Last Updated: December 08, 2017)
George GOODFELLOW was born on Aug 12, 1841 in Kincardine, Scotland, son of Mary RAE and James GOODFELLOW (1806-1867).
On June 20, 1861 George entered the service of the Hudson's Bay Company (HBC). During his first year he worked as a Labourer with "General Charges"(no particular post) in the Northern Department.
In 1862 he was sent to the Cumberland District of Saskatchewan as a Labourer.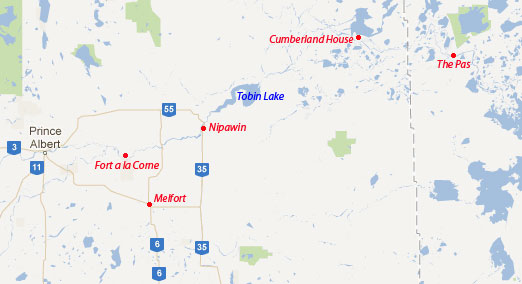 Marriage to Sarah TURNER
1865
In 1865 George married Sarah TURNER at Fort a la Corne, Saskatchewan, daughter of Sarah HUMPHREYVILLE and Joseph TURNER (1816-1885). ** MORE ABOUT JOSEPH TURNER
Sarah was born and raised at Cumberland House where she first met George. Her father, Joseph TURNER had been working as an Interpreter since 1863 in the Nipawin – Fort a la Corne district. Influenced by his wife and in-laws, by 1866 George was soon conversant enough in the Native languages to be classified as an Interpreter himself.
On Aug 15, 1866 their first child, James was born at Fort a la Corne.
Canadian Confederation
1867
On July 1, 1867 the British colonies in North America were united under the British North American Act to become the Dominion of Canada.  Sir John A MACDONALD (1815-1891) was appointed as Canada's first Prime Minister; a month later he won the first federal election.
In 1870 Manitoba became a Province, but another 35 years would pass before Saskatchewan would officially enter Confederation. Meanwhile the region was still part of the Northwest Territories and was governed by the HBC.
On Oct 6, 1886 Sarah claimed her Half-breed Scrip at Fort a la Corne as the wife of George GOODFELLOW. She listed her living children as James (age 20), John (15), Mary (14), Edward (11), William (10), Catherine (9), George (8), H Alexander (7), Robert (4) and baby Harriet (age 14 months).
Census Apr 21, 1891 at Fort a la Corne: George GOODFELLOW, age 49; wife Sarah, age 44. Children: James (age 24), John (21), Mary (19), Edward (18), Catharine (16), William (15), George (13), Alexander (11), Robert (9), Harriet (6), Lucia (4) and Joseph W.H. (age 1). Next-door in HH-12 is James GOODLAD b-1850
Census of Apr 21, 1901 at Fort a la Corne: George GOODFELLOWS, age 58; wife Sarah, age 53. Children: Lucy (age 13) and Joseph (age 4). Grandchild Catherine H, age 4 (born Feb 23, 1897).
Please post comments and queries at this link: FORUM DISCUSSING the GEORGE GOODFELLOW FAMILY
=========================== Family Details ===========================
Children:
1. Aug 15, 1866 JAMES GOODFELLOW
2. Apr 15, 1869 NANCY GOODFELLOW (Died age 14 or 16)
3. Dec 4. 1870 GEORGE GOODFELLOW (Died age 27)
4. 1871 JOHN GOODFELLOW
5. Dec 2, 1871 EDWARD GOODFELLOW
6. Apr 22, 1872 or Apr 27, 1874 MARY JANE GOODFELLOW
7. Jun 12, 1875 CATHERINE GOODFELLOW (m. Francis Thomas GRAVES)
8. Nov 4, 1876 WILLIAM GOODFELLOW
9. 1878 GEORGE GOODFELLOW
10. Sep 9, 1880 H ALEXANDER GOODFELLOW (Died age 19)
11. Jun 14, 1882 ROBERT GOODFELLOW
12. Jun 27, 1885 HARRIET (twin) GOODFELLOW (Died age 7)
13. Jun 27, 1885 SARA (twin) GOODFELLOW (Died age 3 days)
14. May 13, 1887 LUCY GOODFELLOW
?15. Aug 27, 1888 OLIVE GOODFELLOW
16. Dec 27, 1890 JOSEPH GOODFELLOW