ALEXANDER KENNEDY (c1781-1832)
MARY AGGATHAS BEAR (c1785-1863)
(Last Updated: February 28, 2015)
Alexander KENNEDY was born around 1781 Braehead, South Ronaldshay (Orkneys of Scotland), son of Isabella GRAY & Alexander KENNEDY SR (1770-1832) from Aberdeen, Scotland.

Cooper: KENNEDY, a scion of an ancient family, the Kennedy's of Karmucks, hereditary constables of Aberdeen, came from St Margaret's Hope, Orkney.
Alex sails to York Factory
1798
On July 2, 1798, having signed on as an employee with the Hudson's Bay Company (HBC), Alex sailed from Stromness aboard the King George, arriving at York Factory on Sep 6, 1798. Interestingly, Alex arrived with John BALLENDINE (1758-1817) who had been sent to replace Joseph COLEN (1751-1818) as the Chief Trader at York. BALLENDINE was a veteran HBC Trader who had been on furlough in the British Isles where the previous year he had married Elizabeth "Betty" GRAY in Scotland. Could Betty have been a relative of Alex's mother (Isabella nee GRAY)? BALLENDINE was essentially therefore a bigamist. He was returning to a Cree wife at York by the name of Jane FAVEL who had born him at least four children and by 1802 yet another child.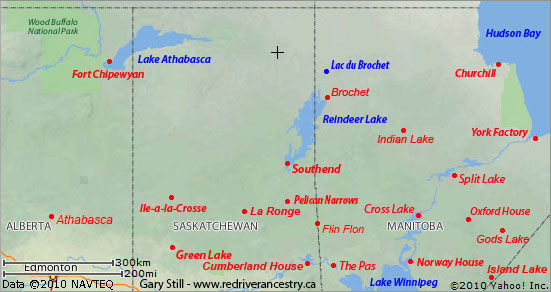 Early HBC Trading Posts
Alex served his apprenticeship a Writer at York Factory and for the first few years in the York Inland District. In the fall of 1802 Chief Factor John BALLENDINE retired to the Orkneys
Cumberland House
Alex & Mary Aggathas BEAR
During his first years at York, Alex worked alongside fellow Orkneymen William DENNETT (1780-1864), an HBC voyageur (canoe man), and James SUTHERLAND (1777-1844) who was also an HBC "Writer". They were all around the same age. In 1803 SUTHERLAND was transferred to Cumberland House (in what is now Saskatchewan) as the "Writer in Charge" there until 1805 when he was moved to Green Lake. Alex was replaced him at Cumberland, having been promoted to the position of Master Trader.
By 1805 Alex had been with the HBC for seven years and must have earned the trust and respect of his superiors. Cumberland House was the first HBC inland post and served as an important depot and distribution centre for boat brigades travelling into the Athabasca. Because of its strategic location, it was also a site of intense competition with the North West Company.
It was at Cumberland House that Alex began a connubial relationship with Mary Aggathas BEAR who I believe was a daughter of Elizabeth BEAR (an Indian) and Philip TURNOR (1751-1799), an Englishman. ** There is no documented evidence of Aggatha's origins. In 1792 TURNOR had essentially abandoned his Indian wife and children at Cumberland, retiring to England where he died in 1799.** MORE ABOUT PHILIP TURNOR
Barry Cooper: Sometime around 1804 he had married a Cree woman, Margaret Aggathas, "according to the custom of the counrry." There seems to be no evidence that this union was ever sanctified by clergy, which appears not to have bothered KENNEDY a whit, though his wife suffered the indignity of  baptism in 1829 as "Mary the Reputed wife of Alexander KENNEDY.
If I am correct in my assumption, then Aggathas was a sister of WHITE BEAR (1780-1844) who became a Chief of the Cumberland House Band (he later moved to Red River).  ** MORE ABOUT WHITE BEAR
On Jan 29, 1805 Aggathas gave birth to their first child (John Frederick) at Cumberland House.
In August 1806, KENNEDY was sent to supervise Moose Lake, an outpost of Cumberland House. He spent most of the winter at the isolated outpost, with only one visit to Cumberland in January 1807. As a result, he was unable to report to York Factory until the spring.
Swan River District
1808-1811
Alex was in charge at Cumberland until in 1808 he was sent to Fort Hibernia in the Swan River District. In its early years this post was also known as Indian Elbow, and after being re-built in 1824 its name was changed to Fort Pelly. The HBC built its inland posts in order to challenge the North West Company (NWC), whose traders were preventing many of the high quality furs from the interior of the continent from ever reaching coastal HBC posts. To accomplish this, many HBC posts were built very near to NWC establishments and conflict between employees of the two companies was the inevitable result.
The following winter (1808-09) was spent at another outpost, Drunken or Brandy Lake near Poplar River. KENNEDY likely had Aggathas with him for companionship during these years as Mary and Alexander KENNEDY JR. were born during this time in the Cumberland House area. Perhaps this was part of the reason that KENNEDY did not act on his threat to return to Orkney when the Governor and Committee denied his request for a salary increase.
In 1909 daughter Elizabeth was born in the Swan River District.
HBCA: 1811-12: Alex described as Master & Trader, Brandon House, West Winnipeg District; 1812-13: Master i/c District, Red Deer River, Swan River District.
In 1812 a fifth child, James was born.
Back to Cumberland House
1813-1820
Run-ins with the nearby NWC post continued. The founding of the Red River Colony, the Pemmican Proclamation, and the Battle of Seven Oaks had heightened tensions between the two companies. - -
See his Red Deer River Post Journal of 1813: ALEX KENNEDY'S RED DEER RIVER POST JOURNAL
From 1814 to 1817 Alex's Assistant Trader at Cumberland was his future son-in-law, Thomas ISBISTER (1793-1836), who began courting his daughter Mary during his term there.
In 1817 the Red River Rebellion ended and Lord SELKIRK signed a Treaty with Chief PEGUIS (The Selkirk Treaty) setting aside a tract of land for his people (the first St Peters Reserve).
By 1819, his sixth year at Cumberland House, KENNEDY had a large family to support. Aggathas gave birth to three more sons, William, George and Philip, while he served as master of Cumberland House. The record of Kennedy's debt in the post's account book reflects both the family's size and their relative wealth. Over the next few years the Kennedys had two more children, Isabella and Roderick. The KENNEDY family now included three daughters and seven sons.
In 1819-20 Alex returned to England on the Prince of Wales with his two eldest sons, John Frederick (his eldest child, age 14) and Alex Junior (age 13). The boys were enrolled at a school in St Margaret's Hope, South Ronaldshay, Orkneys.
Union of the NWC with the HBC
1820-1821
On May 27, 1820 Alexander KENNEDY boarded the ship Eddystone at Gravesend, bound for York Factory. His assignment was that of Master Trader at Norway House. His fellow passenger was Reverend John WEST (1778-1845) who was destined for Red River having been appointed by the HBC as their first Chaplain in Rupertsland. He travelled to Norway House with WEST who continued on from there to Red River on October 6.
Reverend John West
Norway House
1821
Norway House was one of the locations where Company officers came each year from the wilderness to meet and, after dining sumptuously, to settle the affairs of half a continent. There on Aug 11, 1821 Nicholas GARRY (1782-1856) presided over the first Council of the Northern Department. Also attending was the illustrious George SIMPSON (1786-1860), new Acting Governor of Rupert's Land and Simon McGILLIVRAY (1792-1840), formerly of the NWC.
Around this time Alex received his next assignment from the new officers. He was to be replaced at Norway House by Colin ROBERTSON (1783-1842) who received a new appointment as a Chief Factor in the reorganized Company. Alex was also promoted to the position of Chief Factor; this time he would be in charge of the entire Cumberland District.
Another arrival that fall was Reverend John WEST, making a stop-over at Norway House on his annual trip to York Factory. While at Norway House, WEST performed numerous baptisms and several significant marriages, including that of Alex's daughter Mary to Thomas ISBISTER on Aug 12. The latter marriage was Witnessed by Nicholas GARRY and George SIMPSON.
Alex made the trip to Cumberland with Governor SIMPSON who then continued on the Fort Wedderburn.
** MORE ABOUT GOVERNOR GEORGE SIMPSON
On Aug 14, 1821, Reverend WEST, having spent about a month at Norway House spreading the Gospel to all who would listen then proceeded to Red River, arriving at Fort Douglas by mid October.
Back at Cumberland House
1821-1822
On Sep 8, 1821 Alex formally took charge at Cumberland House. Life at the post was quieter than in the previous years the family had lived there. Energy that had formerly been spent competing with the NWC could now be directed towards improving living conditions through construction and farming. His position was now one of great responsibility; important decisions would need to be made in the period following the merger and building relationships with former rivals would require tact.
Back at Cumberland, Aggathas, now a Christian convert, told her brother, WHITE BEAR, all about the arrival of Reverend WEST, about his special book (the Bible) and about the white man's version of the Great Spirit, Kitchi-Manitou. In time, WHITE BEAR was so inspired by this news that he decided to leave Cumberland and make Red River his home. He became one of the first settlers in the Indian Settlement, and families among the Indians of St. Peter's Reserve who have the surname of "BEAR" are his descendants
The Columbia District
1822-1825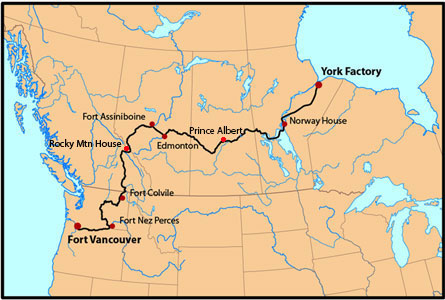 Map of the route of the York Factory Express, 1820s to 1840s.
Modern political boundaries shown.
In 1822 Alex was sent to Spokane House (now eastern Washington State) in the Columbia District to serve the Company there as Chief Factor. From 1823 to 1825 Alex was the Chief Factor at Fort George (previously NWC's Fort Astoria).
Alex joins the Columbia Express
1824
In 1824 Governor SIMPSON made his over-land trip from Hudson Bay to the Pacific by lake, river, and trail, in only 90 days, of which he spent 16 at the important posts. SIMPSON was a man of remarkable ability and energy; he judged rightly the effect of pomp and circumstance, especially upon the Indians. At Cumberland House he picked up Alex KENNEDY and the brigade continued on to the Columbia.
SIMPSON did not like Fort George so he ordered the construction of Fort Vancouver, a new post and depot upriver at a site that was to be the administrative center of the Columbia District.
After Simpson's party arrived at Fort George, Chief Factors KENNEDY and John McLOUGHLIN (1784-1957) were dispatched to find a suitable site for a new post on the north side of the Columbia.
** MORE ABOUT JOHN McLOUGHLIN in DCBO
The site nearest the Columbia's mouth which KENNEDY and McLOUGHLIN deemed suitable was a low-lying plain which projected into the Columbia River about six miles upriver from its confluence with the Willamette River. The site was known as the Jolie Prairie or Belle Vue Point. It was completed in 1825 at which time Alex left with SIMPSON to return back across the mountains, as far as Fort Carleton.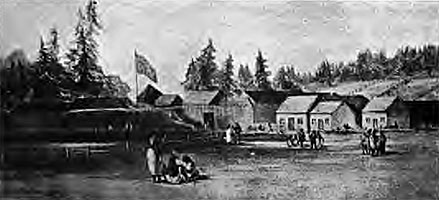 Fort Vancouver in 1825
After his stint in the Columbia, Alex returned to England aboard the Prince of Wales, taking his 11 year old son William with him. William was enrolled in a school at St Margaret's Hope in South Ronaldshay.
Moose Factory – Albany Post
1826-1829
In 1826 Alex returned from England on the Camden to Moose Factory and thence to his new posting as Chief Trader at Fort Albany.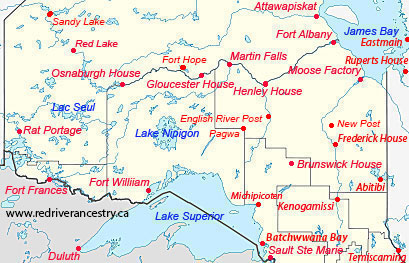 In 1829 daughter Elizabeth "Betsy" became the third wife of Nichol FINLAYSON (1794-1877) a Scotchman who at that time was working under Alex as a clerk at Osnaburgh House far up the Albany River. These were the maternal ancestors of one of my sisters-in-law. ** MORE ABOUT NICOL FINLAYSON
Alex on Furlough to Britain
1829-1830
From a book about Alexander Kennedy Isbister (by Barry Cooper), Pg 6:In 1829, he (Alex) wrote from Moose Factory before leaving on furlough to Britain, to urge his wife: "Do not want for anything that I can afford to supply you with, either for yourself, your mother or the little ones, and be assured that as long as I live I shall never forsake you nor forget you – and if I die I shall not forget you." Such an attitude, apparently, was rapidly being eclipsed by newer, more callous ones that considered Indian and mixed-blood women to be more suitable for the role of concubine than of wife.
My Notes: In the above where he states regarding Aggathas "if I die I shall not forget you" he is apparently referring his first Will dated Sept 10, 1829. Was he ill and not expecting to live (some references indicate that he may have been afflicted with typhus)? Upon his departure it seems uncertain whether Aggathas was still at Moose or had she gone to Red River with the rest of the family?
In his First Will dated Sep 10, 1829 Alex stated his Beneficiaries (among other relatives) as his wife Aggatha and their children John, Mary, Alexander, Elizabeth, William, George, Philip, Isabella, Roderick.
** A son James born around 1812 (re HBCA) is missing from this Will. It is inferred that James was deceased by that time. If living, James would have been about 17 years old, perhaps born earlier, for some references indicate he may have married and had children before he died.
In 1829 Alex departed from Moose Factory aboard the Prince of Wales, with Alexander Junior [& Roderick?]. The question mark was placed after Roderick in the HBCA Bio.
In 1830, according to the HBCA bio, Alex came back to Red River Settlement with Alexander Junior.
Alexander KENNEDY Dies on the Streets of London
1831-1832
In 1831 Alex returned to England (apparently alone) where he died the following year.
In 1831 eldest son John Frederick was appointed as a Ship Surgeon on the Isabella. He was sent to Fort Vancouver in the Columbia District.
Alex's Last Will was dated Sep 15, 1831: (incomplete copy); Administered for Probate, Proved Jan 10, 1833. Beneficiaries: Wife Aggatha KENNEDY; Sisters Mary and Elizabeth; Children: John, Alexander, William, George, Phillip, Roderick, Mary, Elizabeth, Isabella.
Barry Cooper: The KENNEDYs were much wealthier than the ISBISTERs. In 1832 Alexander KENNEDY expressed hope that Thomas ISBISTER would become his neighbor in Red River, "where he [Thomas] may be happier and better off than he can be in the service of the Company." Thomas ISBISTER and his family did not move to Red River; a few months after issuing the invitation, Alexander KENNEDY died from pneumonia contracted in London when, following an evening dining out, he was deposited asleep and drunk, in the rain on his own doorstep by his cab-driver.
KENNEDY's death occasioned melancholy reflections by his friend, Donald ROSS. In a letter to J.P. PRUDEN at Fort Carlton, ROSS concluded: "Thus it is my friend, that we wear ourselves out to the last thread of existence in this wilderness, accumulating as we vainly suppose, a competency to render the evening of our days comfortable in the enjoyment of civilized society." A few days later he provided Alexander CHRISTIE at York Factory with his reflections on the transitory nature of the world and of human affairs. - - KENNEDY's death had material consequences for his grandson. Alexander Kennedy ISBISTER had been sent to school at St Margaret's Hope by KENNEDY in 1829, at age seven, along with his younger brother, Roderick.
Widow Aggathas in Red River
1832
In 1832 when Alex died in England, 47 year-old Widow Aggathas was in Red River with the following young children: George (age 16), Philip (age 14), Isabella (age 12) and Roderick (age 10).
In 1832 sons George (age 16) and Roderick (age 10) were also sent to Scotland to be educated.
In 1832 daughter Elizabeth "Betsy", wife of Nichol FINLAYSON, would have been 23 years old. She was with her husband in the far north at Fort Chimo where Nichol was in charge of the Ungava District.
Eldest son John Frederick was around 27 years old, an HBC Clerk and Surgeon at Fort Vancouver in the Columbia Department. They same year that his father died, John married an Indian woman from the Queen Charlotte Islands. He remained in the Columbia until he died at Victoria, BC, in 1859.
Eldest daughter Mary (age 25) was then married to Thomas ISBISTER. Barry Cooper wrote: The KENNEDY's were much wealthier than the ISBISTERs. In 1832 Alexander KENNEDY expressed the wish that Thomas would become his neighbor in Red River, "where he [Thomas] may be better off than he can be in the service of the Company." Thomas ISBISTER did not move to Red River; a few months after issuing the invitation, Alexander KENNEDY died from pneumonia contracted in London - - Mary & Thomas ISBISTER were either at Fort Pelly or Cumberland House in 1832.
Son William (age 18) was still attending school in Scotland.
Fortunately the family had Alexander KENNEDY Junior nearby for support. Alex Jr. was about 25 years old in 1832. He had returned to Red River with his father in 1830 after receiving an education in Scotland. He was now a teacher himself in St Andrews. He was a clerk of the vestry at the Old St Andrews Church. Some of his precise handwriting still survives in the church records.  He was said to have been very much a gentleman, and an accomplished violinist.
Lower Fort Garry under Construction
1833
In 1832 Governor SIMPSON ordered the construction of Lower Ft Garry. By 1833 it was ready for occupancy. These were log structures; it would still be many years before the familiar historic stone walls and buildings were built.
In the summer of 1833 construction of the boarding school (Red River Academy) was also completed. This was the first English-speaking high school in the northwest. John MACALLUM (1806-1849) arrived as a schoolteacher for the boys section.Around the same time, Mrs (Widow) Mary KELLEY-LOWMAN arrived as the new Governess of the girls' section. The school began with only 14 pupils, but by the following year (1834) 20 boys and 21 girls were attending.
In 1833 Aggathas received title to the property in St Andrews where the historic stone Kennedy House was later built.
In 1834 son Roderick (age 12) returned to Red River on the Prince George.
In 1835 daughter Isabella married George SETTER (1815-1899), son of Margaret SPENCE and Andrew SETTER (1777-1870) from the Orkneys of Scotland. ** MORE ABOUT ANDREW SETTER
In 1838 son Philip married Jessie McKENZIE, daughter of Sarah SUTHERLAND & Roderick McKENZIE (1791-1830).
On Jun 22, 1847 son Roderick married Mary, widow of George ROSS and daughter of Nancy "Matooskie" McKENZIE & John George McTAVISH (1778-1847).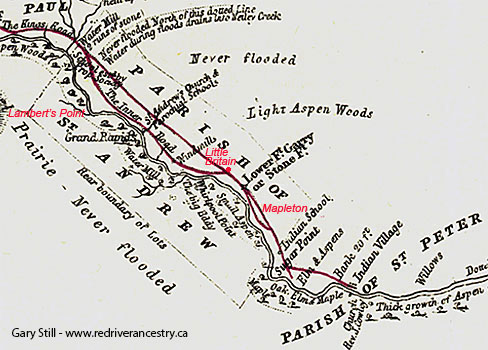 Part of Henry Hind's Map based on his observations of 1857
In 1860 Captain William KENNEDY, Agatha's long lost son, settled in St Andrews to build the historic Captain Kennedy House near the Old St Andrews Church.
** MORE ABOUT CAPTAIN WILLIAM KENNEDY HOUSE HISTORIC SITE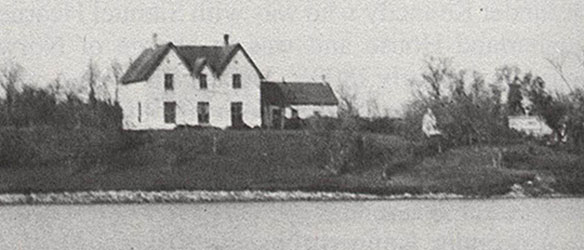 Captain Kenney House in 1870
Aggathas KENNEDY died in 1863.
Comments and queries at this link: FORUM DISCUSSING the ALEXANDER KENNEDY FAMILY
========================== Family Details ==========================
Children:
1. Jan 29, 1805 JOHN FREDERICK KENNEDY (m. Fanny LEGAIC-PAUL)
** MORE ABOUT JOHN FREDERICK KENNEDY
2. 1807 MARY KENNEDY (m. Thomas ISBISTER)
3. Feb 7, 1807 ALEXANDER KENNEDY JR
4. 1809 ELIZABETH "BETSY" KENNEDY (m. Nicol FINLAYSON)
5. 1812 JAMES KENNEDY (?m. Eliza SINCLAIR or Mary SMITH?)
6. Apr 26, 1814 CAPTAIN WILLIAM KENNEDY (m1. Sarah STEVENS, m2. Eleanor CRIPPS)
** MORE ABOUT CAPTAIN WILLIAM KENNEDY
7. Dec 24, 1816 GEORGE KENNEDY
8. c1818 PHILIP KENNEDY (m. Elizabeth Jessie McKENZIE)
9. Mar 1, 1820 ISABELLA KENNEDY (m. George SETTER)
10. Jul 8, 1822 RODERICK KENNEDY (m. Mary (nee McTAVISH) ROSS)