ALEXANDER KENNEDY (c1852-1935)
MARGARET DENNET (c1853-c1907)
(Last Updated: June 06, 2017)
Alexander KENNEDY was born around 1852 in the St Peters Indian Settlement, son of Margaret (possibly SINCLAIR) & John KENNEDY (born 1810 in Red River).
We have very little information about ancestral origins other than that his father (John), who may have been a child of an Indian woman simply known as Mrs Jane KENNEDY (born around 1791 in the St Peters Indian Reserve. Results of my own efforts in that regard can be viewed by clicking this link: ** MORE ABOUT MRS JANE KENNEDY
Lot 19, ST Peters Indian Reserve
Alex probably grew up on or near what was later designated as Lot 19 in St Peters Parish (Reserve). This was near the south boundary of the reserve (north end of Selkirk).
DIA will hereafter denote and refer to correspondence between Alex and the Department of Indian Affairs, most of which were written in between 1908 and 1917. My own notes are in Italics
DIA: From statements made by Alex in 1910: "Adam KENNEDY, my uncle had Lot 19 from the beginning, Chief PEGUIS time, so while we were Indians and take Treaty - - my uncle give met the Lot and give me deed of land said Lot 19. After he give me the lot I registered at the Register at Selkirk - - all the time my father died five years ago (c1905?) I remained at the Lot 19 till he died and after he died. My mother (Margaret) lived on the Lot 19 till she died." I think old Alex was mistaken with some of these dates. His father seems to have died before 1881; his mother in 1883.
Alex & Margaret DENNET
1866
By about 1866 Alex was united with Margaret DENNET, believed to be a daughter of Margaret CALDER & William DENNET (born c1826). Around 1867 son William was born.
Canadian Confederation and a Red River Rebellion
Creation of the Province of Manitoba
Signing of Indian Treaty Number One
1867-1871
On July 1, 1867 the British colonies in North America were united under the British North American Act to become the Dominion of Canada.  Sir John A MacDONALD (1815-1891) was appointed as Canada's first Prime Minister.
On Oct 11, 1869, Louis RIEL (1844-1885) placed his foot on the surveyors' chain to tell them their work was finished! This marked the beginning of another Red River Métis Rebellion. When it was all over, RIEL's Provisional Government accepted the terms of the Manitoba Act andon July 15,1870 Manitoba became the fifth province of Canada, the Canadian Government having acquired the territory previously governed by the HBC.
In an 1870 Census Alex and his family were recorded in St Peters. Children recorded then were William (age 4) and Alexander (age 3) and John (age 1).
In 1871, Wemyss SIMPSON (1824-1894) was appointed as Canada's Commissioner and General Indian Agent for the Northwest, to negotiate treaties with the Indians of the region.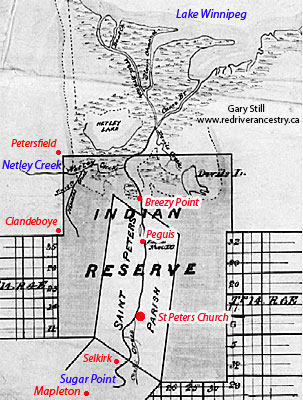 Plan showing St Peters Reserve No.1, 1871
In 1871 Treaty Number One was signed by Chief Henry PRINCE or RED EAGLE (1819-1902) and his councillors, establishing the boundaries of a new St Peters Indian Reserve as shown in the map above. Note: Previous to this the Indians of St Peters were dealt with according to the Selkirk Treaty of 1817. Essentially, Treaty One simply moved the southern boundary to the north of Sugar Point eliminating that portion which would later become the Town of Selkirk.
** MORE ABOUT CHIEF PRINCE and TREATY NUMBER ONE
From ICC (Indian Claims Commission): By 1876 St Peters Parish was divided in two, the Saulteaux and Cree having become openly antagonistic toward one another.  The formal split caused the Reserve to alter in appearance with the southern half (Dynevor) occupied by the Cree basically with the northern half (Peguis) housing the Saulteaux. - - half of the Parish's population had become non-treaty Indians - - farming had become a subsidiary occupation for many of the Indians who drifted back to fishing and hunting - - for longer periods of time - - they were also working at many manual labour jobs and accepting occupations outside of the reserve setting.
On Apr 21, 1876 The Daily Free Press (Winnipeg) published an article regarding the creation of the St Peters Reserve. Here are some excerpts from that article: "In 1871 Henry PRINCE was declared Chief of the St Peters Indian Band, replacing his father, Chief PEGUIS. Numerous Band Members were listed in the articles, including Antoine KENNEDY, John G KENNEDY, John KENNEDY, Adam KENNEDY, John KENNEDY, Alex KENNEDY, Henry KENNEDY, Joseph KENNEDY, Thomas KENNEDY and Alex KENNEDY JR. There were no dates associated with each of the names so it is difficult to accurately identify each individual. I have highlighted the ones who were probably our Alex and his father (John). The others were probably mostly his close relatives (brothers and/or nephews).
More from ICC: The existence of the privately held river lots within the boundaries of the St Peters Reserve, and the conflicts that arose as a result, would plague the DIA for decades. One source of conflict concerned the right of Treaty Indians to sell property owned by them prior to Treaty One. There was a divergence of opinion among high-ranking officials of the Department on this point. Wemyss SIMPSON (1824-1894) believed that the St Peters Indians could not be prevented from selling their holdings, given that it had been agreed at the Treaty negotiations that the river lots would remain their own property, whereas the Minister of the Interior had made public statements to the contrary.
Around 1880 Alex's father (John) died and in 1881 his mother was living in the household of his daughter (Margaret) and her son-in-law, William SINCLAIR (b-c1836).
In the Census of 1881 Alex's complete family is all together in St Clements Parish. He was enumerated as an Indian, age 29; wife Margret as age 28. Their children: William (age 13), Alexander (11), John George (8); Margaret (6); Charles (5) and Alfred (age 4).
On June 15, 1882 the Town of Selkirk was incorporated with James COLCLEUGH (1841-1918) as the first Mayor. At that time it was still believed that the new CPR mainline from the east would pass through Selkirk. There were already branch lines on both sides of the river, from Winnipeg to Selkirk and East Selkirk, with Selkirk at the crossroads. In that belief, the town was booming, a veritable land rush, and COLCLEUGH was at the forefront of the land speculators. He circulated a petition which called on the Federal Government to put the St. Peter's reserve up for sale, as it was a "drawback to our growth and prosperity." Such feelings were shared by other land-grabbers, touching off an Indian Land Claim Dispute that would last well into the 21st century. It should be noted that very soon afterwards the Government chose Winnipeg for the main east-west rail route, and Selkirk was no longer a boom-town.
In 1883 Alex's mother (Margaret) died. At that time Alex was living on Lot 19. It was that same year that the lady thought to be Alex's grandmother (Mrs. Jane KENNEDY) began correspondence with DIA requesting commutation of her Treaty Annuities in order to receive either Scrip or property in the St Peters Reserve. Mrs Jane KENNEDY is thought to have died around 1885 in Selkirk.
DIA: In February, 1886 Alex KENNEDY and his family withdrew from Treaty. Under the Indian Act, they could no longer live on  the Reserve.

In the spring of 1886, teenage son Alexander Jr. married Catherine TRAVERSE, possibly a daughter of Fanny THOMAS & Duncan TRAVERSE, and Indian born around 1838.
Peace River District (Athabasca District)
1887-1890
From 1887 to 1890 Alex was recorded as an HBC Contract Labourer.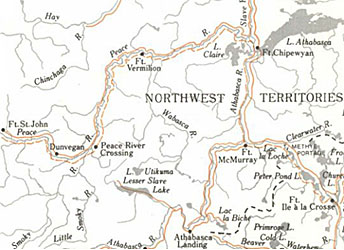 Fur Trade Routes (from Atlas of Alberta Railways)
In 1888 Alex moved from St Peters to the Peace River district (DIA).By the time he first arrived at Peace River there was an Anglican Church Mission as well as The St Augustine Mission (Roman Catholic) both located near the settlement at Peace River Crossing on the Shaftsbury Trail (shown on above map).
He appears to have spent time both in the Peace River District as well as at Red River. His work with the HBC was probably associated with the transport of goods and furs between the two places.
In 1890 Alex was the father of an illegitimate child (Jules) by Peggie (nee LEPRETRE) CARDINAL at Peace River Landing. This from a Scrip Affidavit signed by Peggie (MNC Database), then a widow of John Thomas CARDINAL who died in 1886. That suggests that Alex's wife Margaret was probably at Red River during that period.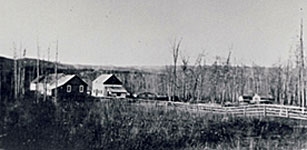 HBC Post at Peace River in 1906
Back to Red River
1891
According to Census 1891 Alex was back in Red River (Lisgar District) with his wife Margaret; both recorded as age 41. Children at home were William (age 24) and Charles (age 17). Son Alfred who would have been about 14 years in 1891 was not recorded with the family (had he died?). That year son John George was married Juliet THOMAS, daughter of Mary Ann STEVENS & William THOMAS (1846-1931), also a member of the St Peters Band. Daughter Margaret was married by this time to John BRUCE, son of Elizabeth Ann GARRIOCH and Reverend Patrick BRUCE (1848-1932).
** MORE ABOUT REVEREND PATRICK BRUCE
Census 1901: Selkirk (#11), SD-M-7 (St Clements), pg 8, HH-85: Alexander KENNEDY b-c1857 (age 44) (doesn't know when born); wife Addlian (?), age 25. Children: Alexander (age 5), Philip (3) and Edward (age1). **Erratic looking entries on this page (many scratched out, hard to read. Some are for Dynevor Hospital.
In 1905 the Province of Alberta was established.
After 1906, when the railroad reached Peace River, a post office was opened in a community known as "Peace River Crossing". The east bank of the river was known for many years as the "Peace River Landing Settlement."
LAC (Title only): Margaret DENNET (Scrip 4306): Appointing her husband Alexander KENNEDY her agent, re claim to HB (Half-breed) Scrip. Application on File. There is no additional information attached to this; no dates or places.
Margaret Died?
1907-08
When did Alex's wife Margaret die? He was recorded as widowed in 1911. I suspect Margaret  may have died around 1907-08, due to the fact that around that time FLETT took possession of it Lot 19, as follows:. DIA Correspondence: In 1908, when the Indian allotments were made, a Treaty Indian named John James FLETT (b-1851) was in possession of Lot 19 and under the terms of the surrender he received a patent for the lot.
Alex's Claim to Title for Lot 19 in St Peters
1909
On Aug 26, 1909 son Charles married Jessie Jane SPENCE whose origins are unknown to me at this time.
DIA: In November of 1909 Alex (then living in Peace River country) began to write letters to DIA in an attempted to lay claim to a Patent for Lot 19 in the St Peters Indian Reserve (apparently then already under patent to FLETT). Numerous letters pertaining to Lot 19 followed, mostly between various Government officials in Ottawa, Winnipeg and Clandeboye. Early on in the enquiries it was stated that Alex's request"could not be entertained as he was a member of St Peters Band of Indians (at the time he was living on the lot) and consequently had no individual claim to the lot in question."
In the Census of 1911 Alex was recorded in the Peace River Crossing District as a widowed half-breed carpenter, age 56 (born Dec, 1854 in Manitoba). Children enumerated with him were an Alexander Jr., age 14 (born c1897) and Philip, age 12 (born c1899). These children are rather puzzling. It seems more likely that they were grandchildren.
In the Census of 1916 Alex was recorded in the RM of Tawatinaw, Alberta as age 70 with a wife named Mary L and a son (?) named Donald A, age 31 (born c1885). Tawatinnaw is located about halfway between Edmonton and Lesser Slave Lake.
The last letter I found in the Archives that refers to Lot 19, was written on April 30, 1917 from a Duncan SCOTT, Ottawa, to Mr CORY: " - - sending you herewith File No. 353, 999 – which deals with Mr Alexander KENNEDY's claim to River Lot 19 of St Peters. This seems to be the last correspondence we have on the subject."
Vital Stats records indicate that an Alexander KENNEDY died on April 20, 1935 in Winnipeg at the age of 83. The age seems to match that of our Alex.
For comments and queries at this link: FORUM FOR DISCUSSING THE ALEXANDER KENNEDY FAMILY

======================= Family Details =======================
Children:
1. c1867 WILLIAM KENNEDY
2. Sep 4, 1870 JOHN GEORGE KENNEDY (m. Juliet THOMAS)
** MORE ABOUT JOHN GEORGE KENNEDY
3. Jan 16, 1872 ALEXANDER KENNEDY JR (m. Catherine TRAVERSE)
** MORE ABOUT ALXANDER KENNEDY JR
4. 1875 MARGARET KENNEDY (m. John Edward George BRUCE)
** MORE ABOUT JOHN EDWARD GEORGE BRUCE
5. 1876 CHARLES KENNEDY (m. Jessie Jane SPENCE)
6. 1877 ALFRED KENNEDY
?Illegitimate Children by Peggie LEPETRE-CARDINAL:
?1. 1885 DONALD A KENNEDY
2. 1890 JULES
More likely Grandchildren (from 1911 Census):
1. April, 1897 ALEXANDER KENNEDY
2. Nov, 1899 PHILIP KENNEDY