JAMES LOUIS aka LEWIS (1807-1881+)
BARBARA GIBSON (1806-1835)
ISABELLA ELIZABETH SPENCE (1815-1874)
(Last Updated: August 13, 2015)
James LOUIS aka LEWIS was born in 1807 somewhere in the Northwest, son of an Indian woman and Mullato (African) Joseph LOUIS/LEWIS alias Levy JOHNSON (1773-1820). His father (Joseph or Levy), who had retired to Saskatchewan around 1813-14, was killed by a young Blackfoot Indian in 1820 when James was 13 yrs old.  His Indian mother took James and his sisters (Margaret & Mary) to Red River (St Andrews Parish).
** MORE ABOUT MULATTO JOSEPH LEWIS alias LEVY JOHNSON
Marriage to Barbara GIBSON
1827-1835
On Dec 27, 1827 James married Barbara GIBSON of uncertain origins. She may have been a daughter of Anne FLETT and William GIBSON (born 1788 in Orkneys).
In 1830 a daughter Margaret was born, followed by son Joseph in 1832 and daughter Mary in 1834 who died in January of 1835.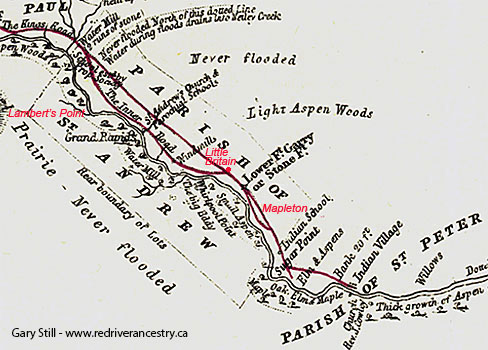 St Andrews Parish from Hind's Map of 1857
On July 13, 1835 Barbara (nee GIBSON) LOUIS died.
In 1835 James was recorded on Lot 263 in St Andrews. There were three persons in his household. He had four cattle, one farm implement and a cart, and he was farming four acres of land.
Marriage to Isabella SPENCE
1835
On Nov 16, 1835 James re-married to Isabella SPENCE, daughter of Margaret TAUSAND (Cree) and Andrew SPENCE (1786-1851).
In 1846 eldest daughter Margaret married James SPENCE in St Andrews, son of Margaret (Indian) and James SPENCE SR, a half-breed.
In 1858 sons Andrew and James Jr. married sisters Charlotte and Mary Louise LINKLATER respectively in St Andrews, daughters of Elizabeth SANDERSON and John LINKLATER (born 1805), an HBC voyageur.
In 1859 son William married Eliza HAMELIN in St Andrews, daughter of Marie Anne COMTOIS dit MORIN and Jean Baptiste HAMELIN (1800-1866).
In 1860 daughter Elizabeth married William IRVINE in St Andrews, son of Mary (Indian) and John IRVINE (1792-1879).
** MORE ABOUT JOHN IRVINE
Around 1861 daughter Mary married Miles SPENCE, son of Isabella ASHAM and John SPENCE (b-1810).
Daughter Chloe married Henry BIRD, son of Jane THOMAS and Levi BIRD (1813-1864).
During 1865-66 James LEWIS is listed as a Contract HBC employee.
Canadian Confederation
A Red River Rebellion
Manitoba becomes a Province
1867-1870
On July 1, 1867 the British colonies in North America were united under the British North American Act to become the Dominion of Canada.  Sir John A MACDONALD (1815-1891) was appointed as Canada's first Prime Minister. William McDOUGALL (1822-1905) became the Minister of Public Works, and he began negotiations to acquire Rupert's Land from the HBC; surveyors were sent to Red River to prepare the way for an expected influx of settlers.
In 1868 daughter Sarah married Joseph BIRD in St Andrews, son of Sally PIEGAN and James "Jimmy Jock" BIRD (1798-1892). ** MORE ABOUT JAMES "JIMMY JOCK" BIRD
On Oct 11, 1869, Louis RIEL (1844-1885) placed his foot on the surveyors' chain to tell them their work was finished! This marked the beginning of the historic Red River Métis Rebellion.
On July 15, 1870 the Rebellion ended when RIEL's Provisional Government accepted the terms of the Manitoba Act and Manitoba became the fifth province of Canada.
Sometime before 1870 daughter Emma married John DYSON, son of Nancy (Indian) and William DYSON, an Englishman. On Sep 19, 1870 John DYSON died, and Emma later re-married to Adam SPENCE, son of Catherine HALCROW and Donald SPENCE (1815-1875).
Census of 1870 in St Andrews (Lot 268): James, LOUIS aged 67 (son of Joseph LOUIS), with wife Isabella, aged 57 (daughter of Andrew SPENCE). Children: Sarah BIRD (age 24; father: James LOUIS), Peter LOUIS (22), Emma DYSON (17; father: James LOUIS), Anne (Hannah) PURDY (19; father: James BIRD), Sarah (age 7; no last name; father: James LOUIS), Barbara BIRD, age 4 (father: Thomas BIRD. This is actually Sarah's daughter with Joseph BIRD).
In 1870 son Peter married Mary Ann LILLIE in St Paul Parish, daughter of Mary Ann RICHARD and Daniel LILLIE (1780-1858), an HBC sailor who was born in England. ** MORE ABOUT DANIEL LILLIE
In the early 1870's daughter Hannah was the wife of Charles PURDY of uncertain origins.
In April of 1874 Isabella (nee SPENCE) LOUIS died in St Andrews.
In 1875 James claimed Half-breed Scrip for himself, and the heirs of his deceased wife Isabella as follows: 1) Sarah (widow of John BIRD);  2) Hanna, wife of Charles PURDY;  3) Emma, wife of John DYSON;  4) Chloe, wife of Henry BIRD;  5) Isabella (wife of William IRVING);  6) William; 7) Peter;  8) Andrews children – William, Andrew and James LOUIS, children of her son Andrew deceased.  She (Isabella) had previously transferred her claim to Dr SHULTZ.
Census of 1881 in St Clements Parish: James LOUIS, African origins, age 86 (error?), widowed. He's with his daughter, Hanna PURDY, age 28.
Comments and queries at this link: FORUM DISCUSSING THE JAMES LOUIS/ LEWIS FAMILY
=========================== Family Details ===========================
Children with Barbara GIBSON:
1. Jun 2, 1830 MARGARET LEWIS (m. James SPENCE)
2. Feb 6, 1832 JOSEPH LOUIS
3. Oct 6, 1834 MARY LOUIS (Died in infancy)
Children with Isabella SPENCE:  
1. Sep 13, 1836 ANDREW LOUIS (m. Charlotte LINKLATER)
2. c1837 JAMES LEWIS JR (m. Mary Louise LINKLATER)
3. Dec 17, 1839 ELIZABETH LOUIS (m. William IRVINE)
4. Oct 19, 1841 WILLIAM LOUIS (m. Elizabeth "Eliza" HAMELIN)
5. Jun 1, 1843 CHLOE LOUIS (m. Henry BIRD)
6. Feb 18, 1845 MARY LOUIS (?m. Miles SPENCE)
7. Sep 13, 1846 CATHERINE LOUIS (Died in infancy)
8. Oct 2, 1848 SARAH ANN LOUIS (m1. Joseph BIRD, m2. Simon WESTWAY)
9. May 26, 1850 PETER LOUIS/LEWIS (m. Mary Ann LILLIE)
11. Feb 8, 1852 HANNAH LOUIS (m. Charles PURDY)
12. Oct 15, 1853 EMMA LOUIS (m1. John DYSON, m2. Adam SPENCE)
13. Feb 19, 1857 ISAAC LOUIS (Died in infancy)
14. Apr 10, 1861 JOHN LOUIS