ANTOINE MORIN (c1800-1857)
PELAGIE BOUCHER (1810-1913)
(Last Updated: October 25, 2013)
Antoine MORIN was born around 1800 in Maskinonge, Montreal (PQ), said to be the son or Marie Therese AUBRY and Thomas MORIN (1766-1831).
Antoine with the North West Company
English River District
1820
In 1820 Antoine MORIN was a voyageur with the North West Company (NWC) in the English River District.
** MORE ABOUT ANTOINE MORIN in HBC ARCHIVES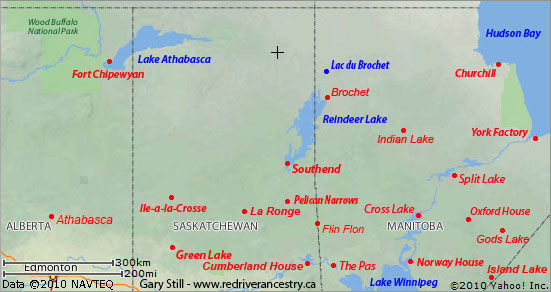 Union of the North West Company with the Hudson's Bay Company
1821
In 1821 the union of the North West Company (NWC) and the Hudson's Bay Company (HBC) occurred, ending years of bitter rivalry for dominance of the fur trade in Western Canada. Now an HBC employee, Antoine continued on as a voyageur and fisherman in the Athabasca District.
Antoine and Pelagie BOUCHER
1823
Around 1823 Antoine began a life-long relationship with Pelagie BOUCHER, teenage daughter of a Montagnaise (Chipewyan) woman and Joseph BOUCHER (1775-1874) from Quebec, and independent fur trader, trapper and fisherman. In 1824 daughter Sarazine was born.
Engaged at Great Slave Lake in 1829 (1 year);
Fort Chipewyan in 1830 (2 yrs);
Norway House in 1833 (2 yrs)
1839-57: Fisherman and Interpreter in English River District

Around 1842 eldest daughter Sarazine married Pierre LALIBERTE at Ile a la Crosse, son of Josephte GAUDRY BEAUDRY and Pierre Cyril LALIBERTE (1777-1849).
In 1843 Antoine was re-engaged at York Factory for three years and his travels brought him to Ile a la Crosse.
Ile a la Crosse
Christian marriage to Pelagie BOUCHER
1846
In the fall of 1846 Father (later Bishop) Alexandre TACHE (1823-1894) and his colleague Louis Francois LAFLECHE (1818-1898) arrived at Ile a la Crosse from St Boniface to establish a Catholic Mission, assisted by Roderick McKENZIE (1772-1859), the HBC Chief Factor there at the time.
** MORE ABOUT ALEXANDRE TACHE in DCBO
** MORE ABOUT RODERICK McKENZIE
It is said that it was TACHE who performed the marriage of Antoine MORIN and Pelagie BOUCHER at Ile a la Crosse, albeit the marriage date of May 26, 1845 at Ile a la Crosse is contrary to the above information.
Around 1850 (according to Scrip affidavits of his children) son Raphael married Elizabeth "Betsy" COOK at Lac La Ronge, daughter of a half-breed named Flora and an Unknown COOK. ** Some people suggest that Betsy was a child of Jeremiah COOK b-1804 and therefore a granddaughter of William Hemmings COOK (1768-1846). Until more definitive evidence can be presented, we have to remain skeptical. ** MORE ABOUT WILLIAM HEMMINGS COOK
In 1851 daughter Judith married Louis DELARONDE, son of Madeleine BOUCHER and Louis DELARONDE SR (B-1796).
In 1855 son Pierre was married to Genevieve ROY and son Cyprien was married Marie COOK at the Ile a la Crosse Mission by Bishop Alexandre TACHE who was on another trip to the region. ** Again, the marriage of Cyprien to Marie COOK is verified in Scrip of his children but Marie's origins are also uncertain.

Around 1855 daughter Marie married Peter LINKLATER, son of Jane (Indian) and Hugh LINKLATER (1783-1865).
On Oct 22, 1857 Antoine MORIN died.
In 1863 son Magloire married Henriette SAVOYARD, daughter of Marguerite (Indian) and Francois SAVOYARD (b-1784).

Around 1870 youngest son Louis married Marguerite JOURDAIN of uncertain origins.
In 1881 daughter Sophie became the third wife of her brother-in-law, Paul DELARONDE.
In 1913, it is said that Widow Pelagie MORIN died at Morin Lake in Saskatchewan (near Debden, NW of Shellbrook).
Comments and queries at this link: FORUM DISCUSSING the ANTOINE MORIN FAMILY
======================= Family Details =======================
Children:
1. 1824 SARAZINE MORIN (m. Pierre LALIBERTE)
2. 1827 ANTOINE MORIN
3. Oct 25, 1828 RAPHAEL MORIN (m. Elizabeth Betsy COOK)
4. 1830 PIERRE MORIN (m. Genevieve ROY)
5. May 1, 1834 CYPRIEN MORIN (m. Marie COOK)
6. Sep 25, 1834 MAGLOIRE MORIN (m. Henriette SAVOYARD)
7. 1839 MARIE MORIN (m. Peter LINKLATER)
8. 1840 JUDITH MORIN (m. Louis DELARONDE)
9. 1844 SOPHIE MORIN (m. Paul DELARONDE)
10. Dec 14, 1848 LOUIS MORIN (m. Marguerite JOURDAIN)