HENRY ROWE SCHOOLCRAFT (1793-1864)
JANE JOHNSTON (1800-1842)
MARY HOWARD (?-1878)
(Last Updated: April 27, 2014)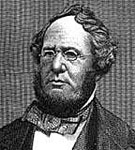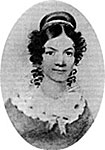 Henry Rowe Schoolcraft and Jane Johnston
Henry Rowe SCHOOLCRAFT was born Mar 28, 1793 in Guilderland, Albany County, NY. In 1808 he entered Union College and later attended Middlebury College. He became a geographer, geologist and ethnologist and was noted for his early studies of Native American cultures.
During the winter of 1818-19 SCHOOLCRAFT and his companion Levi PETTIBONE made an expedition from Potosi, Missouri to what is now Springfield, Missouri. They traveled further down the White River into Arkansas, making a survey of the geography, geology and mineralogy of the area. SCHOOLCRAFT published this study in A View of the Lead Mines of Missouri (1819).
Marriage to Jane JOHNSTON
1823
In 1822 SCHOOLCRAFT was appointed Indian Agent to the Michigan Territory.
In 1823 Henry married Jane JOHNSTON, who was of Ojibwe and Scotch-Irish descent. Jane was born on Jan 31, 1800 in Sault Ste Marie where she lived most of her life. She was the daughter of OZHAGUSCODAYWAYQUAY & & John JOHNSTON (1762-1828), a fur trader from Ireland. She was a granddaughter of WAUBOJEEG. She has been recognized as the first Native American literary writer, the first known Indian woman writer and poet. Needless to say, SCHOOLCRAFT would learn much about Ojibwe history and culture from this lady.
In October of 1828 at Sault Ste Marie, SCHOOLCRAFT hired John TANNER (1780-1840) as an interpreter on the recommendation of Governor Lewis CASS. TANNER was about 50 years old at the time. Presumably, the former captive had learned enough English to be a satisfactory interpreter. ** MORE ABOUT JOHN TANNER
In 1832 SCHOOLCRAFT journeyed again to the upper reaches of the Mississippi to settle continuing troubles between the Chippewa and Sioux nations. On that expedition he discovered the true source of the Mississippi River (Lake Itasca).
In 1833 they moved to Mackinac Island.
In 1839 SCHOOLCRAFT was appointed Superintendant of Indian Affairs in the Northern Department. He began a series of Native American studies later published as the Algic Researches (2 volumes). These included his collection of Native American stories and legends, many of which Jane told him or translated for him.
In 1841 they moved to New York City.
Jane died in 1842 while visiting a sister in Canada.
Marriage to Mary HOWARD
1847
In 1847 Henry re-married to Mary HOWARD, a southern slaveholder. Her ideas about slavery and opposition to mixed-race unions created strains with the SCHOOLCRAFT stepchildren.
Between 1851 and 1857 SCHOOLCRAFT completed his massive work, Historical and Statistical Information Respecting...the Indian Tribes of the United States, publishedin six volumes. It was praised for its scholarship, valuable content, and meticulous and knowledgeable illustrations. It was also criticized for various shortcomings, including a lack of organization that made the information almost inaccessible. In 1954 the Bureau of American Ethnology prepared and published an index.
On Dec 10, 1864 Henry SCHOOLCRAFT died.
Comments and queries at this link: FORUM DISCUSSING HENRY ROWE SCHOOLCRAFT