DAVID SPENCE (1824-1885)
CATHERINE HALLETT (1824-1880)
(Last Updated: October 31, 2013)
David SPENCE was born Sep 5, 1824 in St John's Parish (Red River), son of Jane MORWICK, the second wife of James SPENCE (1778-1857), who worked as a Tailor for the Hudson's Bay Company (HBC).
** MORE ABOUT JAMES SPENCE
Marriage to Catherine HALLETT
1844
On Feb 15, 1844 David married Catherine HALLETTat St Johns, daughter of Catherine PARENTEAU and Henry HALLETT (1799-1871). Witnesses at their wedding were James SPENCE and John SUTHERLAND.
On Apr 14, 1848 their first child was John, born in St James Parish.
Canadian Confederation
A Métis Rebellion
Manitoba becomes a Province
1867-1870
On July 1, 1867 the British colonies in North America were united under the British North American Act to become the Dominion of Canada.  Sir John A MACDONALD (1815-1891) was appointed as Canada's first Prime Minister. William McDOUGALL (1822-1905) was appointed as the Lieutenant Governor Designate of the North-West Territories (Rupert's Land). McDOUGALL sent surveyors to Red River in anticipation of an influx of settlers.On Oct 11, 1869, Louis RIEL (1844-1885) placed his foot on the surveyors' chain to tell them their work was finished. This led to the historic Red River Rebellion. ** MORE ABOUT the RED RIVER REBELLION in WIKIPEDIA
David SPENCE the Politician
Manitoba's Provisional Government – The Convention of Forty
Jan 25, 1870 to Feb 10, 1870
At a two-day open-air meeting in January 1870, HBC Governor Donald SMITH promised to communicate the people's concerns to Canada. Another convention, this one with 20 English-speaking and 20 French-representatives met between January 25, 1870 and February 10, 1870 and agreed upon on list of demands to take to Ottawa. During the convention RIEL acted as the English interpreter for the French speaking delegates and James Ross acted as the French interpreter for the English speaking delegates. After agreeing to the list of demands, the Convention of Forty proclaimed itself a provisional government with RIEL as its President. It was the crowning point in the history of the resistance, bringing together both the English- and French-speaking halves of the community under a single government. The Provisional Government agreed to send Father Noel Joseph RITCHOT an adviser of RIEL's, Alfred SCOTT, a Winnipeg bartender, and Judge John BLACK, to Ottawa to negotiate with the Canadian government. Listed among these representatives we find David SPENCE (Metis) representing St Anne's. St Anne's being a church parish in Poplar Point.

From 1870 to 1874 David SPENCE was the first representative from Poplar Point to serve in the Legislative Assembly of Manitoba. ** MORE ABOUT DAVID SPENCE in WIKIPEDIA
On July 15,1870, the Rebellion was essentially over, and Manitoba became the fifth province of Canada, the Canadian Government having acquired the territory previously governed by the HBC.
In 1870 eldest son John married Ellen McNAB in St James, daughter of Mary Ann McLEOD and Charles McNAB (1820-1895).
In 1870 David's family was recorded on River Lot 62 in Poplar Point. Children at home were Ellen (age 18), David (13), Jane (11), Mary (9), Harriet (7) and William (age 5).
David was also Justice of the Peace for Poplar Point and Marquette.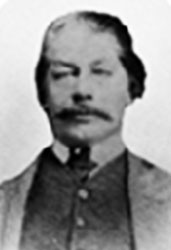 David Spence
In 1873 daughter Ellen married George BROWN at Poplar Point, son of Isabella SLATER and Henry BROWN (1795-1875).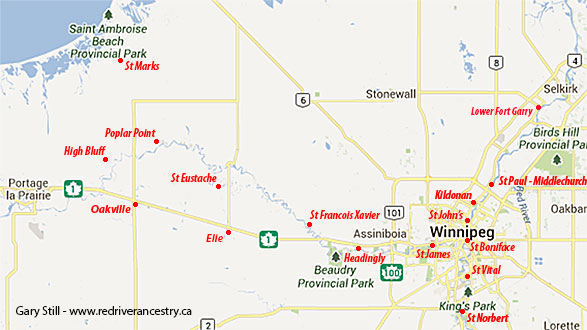 In 1875 both David and Catherine claimed their Half-breed Scrip.
In 1878 John NORQUAY (1841-1889) became the first Premier of Manitoba. David's mother (Jane MOWICK) was grandmother to Premier John NORQUAY. ** MORE ABOUT PREMIER JOHN NORQUAY
In 1879 daughter Jane married William FOLSTER at Poplar Point, son of Maria PRUDEN and William FOLSTER (b-1854).
On Jan 16, 1880 Catherine (nee HALLETT) SPENCE died at Poplar Point, age 55. In the Census of 1881 David was recorded there as a 55 year old widower. With him were his children Charles (age 24), Mary Ann (19), Harriet (16) and William (age 14).
1885
In June of 1885 son David married Eliza FOULDS in Poplar Point, daughter of Elizabeth HARKNESS and Abraham FOULDS (1842-1914).

David Shot and Killed
Heather Hallett: David was accidentally shot in his own home by a neighbour who fired a rifle that he thought was unloaded.  On Sep 16, 1885 he died in the hospital in Winnipeg from "weakness arising from amputation of leg". - - I have come across a more sinister version of this story. It concerns David's duties as Justice of the Peace. A meeting was held concerning a MACPHERSON and a dispute. An Argument arose. The lights went out. A shot was fired. David SPENCE had been shot. This version from a television spot, from Culture Canada.
In 1887 daughter Mary Ann married Ernest Charles RIGGS in Portage la Prairie, son of Amelia WILLIAMS and Harmon Miles RIGGS (1834-1874).

Also in 1887 daughter Harriet married Peter Henry WISHART, son of Elizabeth FLETT and James WISHART (1831-1906). ** MORE ABOUT JAMES WISHART
In 1909 youngest son William married Martha McNAB in Portage la Prairie, daughter of Margaret KIRKNESS and James McNAB (b-1861).
Comments and queries at this link: FORUM DISCUSSING the DAVID SPENCE FAMILY
======================= Family Details =======================
Children:
1. Aug 14, 1848 JOHN "JAKE" SPENCE (m. Ellen McNAB)
2. Jan 1, 1853 ELLEN ANDERSON SPENCE (m. George BROWN)
3. Feb 9, 1857 CHARLES DAVID SPENCE (m. Elizabeth "Eliza" FOULDS)
4. May 26, 1859 JANE SPENCE (m. William FOLSTER)
5. Aug 8, 1861 MARY ANN (MARION) SPENCE (m. Ernest RIGGS)
6. June 17, 1863 HARRIET SPENCE (m. Peter Henry WISHART)
** MORE ABOUT PETER HENRY WISHART
7. July 13, 1866 WILLIAM "BILL" SPENCE (m. Martha McNAB)