ALEXANDER STILL (II) (1659-1714)
CHRISTIAN WATSON (1663-1750)
(Last Updated: October 26, 2015)
** Many thanks to Gary Boratto who has come to my (Gary Still's) rescue with information that helps to piece together the puzzle of my own STILL ancestry which had me baffled and frustrated for many years Fortunately for me, BORATTO's wife Lorna (nee HEARN) shares a large part of my own ancient STILL ancestry which caused him to join in the discussion on my Forum (Username: runningduck).
The story of our ancestors begins at this link: ANCIENT STILL ANCESTORS OF ABERDEENSHIRE, SCOTLAND
Alexander STILL (II) was born about 1659 in Old Machar, Aberdeenshire, Scotland, son of Agnes BIRS and Alexander STILL SR (I) (born about 1635).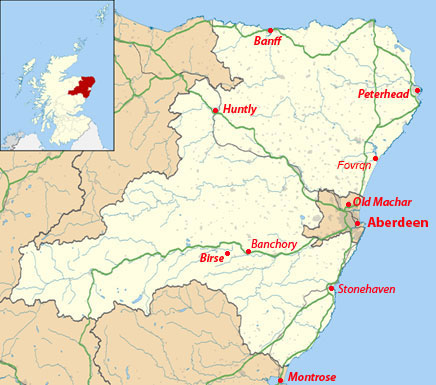 The County of Aberdeenshire
For centuries our STILL ancestors essentially lived their entire lives in a region of Aberdeenshire encompassing an area not much bigger than that of metropolitan Winnipeg. This is from the perspective of a Red River descendant, accustomed to the vast expanses of the Canadian northwest. For example, my great-great grandfather (John STILL) moved from Old Aberdeen to Birse, not much more than 30 miles out of the city. That's like moving from Winnipeg to Selkirk.
Marriage to Christian WATSON / WATSONE
1687
On Aug 13, 1687 eldest son Alexander married Christian WATSON / WATSONE. She was born Nov 1, 1663 in Foveran, Aberdeenshire. Foveran is shown on the map above, midway between Old Machar and Peterhead.
1696 Tenants of Balgounie in Murcar (Old Machar): Alexander STILL the Elder, farmer, and Christiane WATSONE, his wife, general poll (re Hay). Also: Alexander STILL, younger, tenant, and his wife. ** This is the only documented record that I have found regarding Alex.
In 1711 son John married Isabel DUNCAN at St Nicholas in Aberdeen.
Around 1714 Alexander STILL (II) died.
     
In 1719 son Alexander Jr. (III) married Jean SMITH in Old Machar, daughter of Isobell DRUMMOND and Robert SMITH of unknown origins. ** These are ancestors of Gary STILL and Lorna HEARN.
In 1722 daughter Janet married John STRACHAN in Old Machar.
On Nov 10, 1750 Christian (nee WATSON) STILL died in Old Machar.
Comments and queries at this link: FORUM DISCUSSING THE FAMILY OF ALEXANDER STILL (II)
======================= Family Details =======================
Children:
1. c1691 ALEXANDER STILL (III) (m. Jean SMITH)
** MORE ABOUT ALEXANDER STILL III
2. c1693 JOHN STILL (m. Isabel DUNCAN)
3. Oct 15, 1700 JANET STILL (m. John STRACHAN)
4. May 9, 1703 GEORGE STILL
5. July 1, 1704 WILLIAM STILL (possible ancestor)
6. Nov 10, 1705 CHRISTIAN STILL (this is a female)
7. Dec 11, 1708 JAMES STILL
8. Apr 15, 1710 MARGARET STILL
9. Oct 30, 1714 ISABEL STILL