JOHN STILL SR (1788-1876)
 MARGARET YOUNG (1796-1836)
** Great-Great Grandparents of Gary STILL **
(Last Updated: May 06, 2017)
Around 1985 my sister Myrna received a binder titled "STILL GROWING" from a lady named Gayle Jean Martin FREITAS outlining our ancestry back to Scotland. It contained information about our ancestors that we were not even aware of. She was seeking more information about our own family to add to it. This was my first introduction to genealogy; the beginning of, a hobby that I have maintained ever since. Gayle was a great granddaughter of Mary Ann STILL (1860-1934) who married William John MARTIN (1847-1901). She was the only biological child of Ellen MADILL & Peter STILL (1834-1929), who became the surrogate parents of my own grandfather, James STILL SR (1864-1936).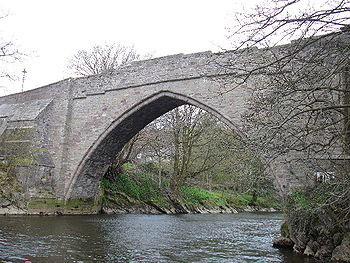 The Old Brig o' Balgownie (originally Bridge of Don)
Scotland's oldest surviving bridge
My Great-great grandfather, John STILL was born Sep 14, 1788 in Hazelhead (baptised in Newhills) Aberdeenshire, Scotland, the second child, the eldest son of Jane SINCLAIR & William Alexander STILL. He was the last of my ancestors born in Scotland; the first to arrive in Canada. ** MORE ABOUT WILLIAM ALEXANDER STILL
John grew up south of Old Machar and the Old Brig o'Balgownie (pictured above) on the River Don. The area is variously described as Old Aberdeen and/or Newhills Parish. His parents and his STILL ancestors had lived in this area for centuries. To the best of my knowledge, John's parents were little more than subsistence farmers or peasants.
The Scottish Clearances
Between 1811 and 1820, brutal clearances were conducted in Aberdeenshire by the 1st Duke of Sutherland. Evictions at the rate of 2,000 families in one day were not uncommon. Many starved and froze to death where their homes had once been
Many small settlements were torn down, their occupants moved to new, purposely built villages. Many thousands of Scots emigrated, taking advantage of new opportunities offered in Canada and the USA where they could own and farm their own land.
In 1812 the first of Lord SELKIRK's settlers arrived in Red River, in what would later to become the Province of Manitoba, Canada. I think these were mostly Highlanders (Orkney families), and they were also victims of the Clearances.
John STILL Moves to Birse and marries Margaret YOUNG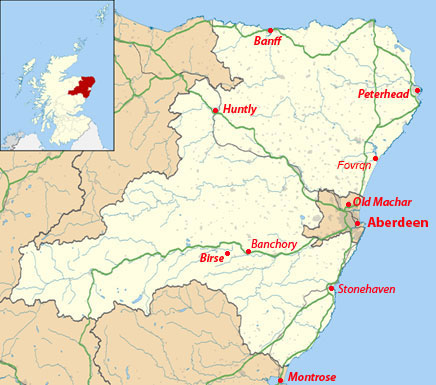 The County of Aberdeenshire
John STILL grew up in Old Macher
As a young man he moved to Birse
We have absolutely no information regarding John's parents after 1801.  After 1812 they would have been in his mid forties, assuming they were both living. Their eldest sons, John and James were in their mid twenties by then; John was then old enough to have perhaps leased a separate farmstead of his own. The other, younger, siblings around that time ranged in age from 20 year old Alex down to 11 year old Martha.
We know that John moved away from Aberdeen during the Clearances. It is known that he was the "poor cousin", so if he had established a farmstead of his own it was most likely as a tenant to a landlord. Perhaps he 'got the boot' when the landlord wanted to develop his property for other purposes.
As a sea captain John's younger brother (James) seems to be the only one in the family who had a regular job; he and the rest of the family managed to hold on to the family farm.
On Apr 16, 1816 in Birse son John STILL married Margaret YOUNG, granddaughter of Alexander YOUNG (1725-1806), an earlier pioneer in that area. John remained in Birse and began to raise a family.

Birse Castle was built around 1610 for the Gordons of Cluny
It was destroyed about 30 year later; restored in 1905 (as pictured left)
The fragmentary ruin (right) is probably all that existed when John's family lived nearby
The village of Birse is located on the south side of the River Dee and the Town of Aboyne in Aberdeenshire, about 30 miles west of Aberdeen City. Nearby are the village of Birsemore, Burn of Birse, Forest of Birse and Castle Birse. During the 17th and 18th centuries, the FARQUHARSON family acquired the whole of the eastern part of Finzean, while the Forest of Birse was owned by the Earl of Aboyne, but with ancient common rights retained by all the inhabitants of Birse Parish to this day.
On Aug 31, 1821, Margaret's sister (Ellen YOUNG) married in Birse to Peter STEWART (1801-1872). Peter was also born in Newhills Parish and probably knew him there before they both moved to Birse.
It wasn't until Apr 26, 1829 that son James STILL (39 years old then) married in Aberdeen to 16 year old Ann DAVIE.
John and his siblings immigrate to Canada
1836
On May 29, 1836 Margaret gave birth in Birse to their ninth and last child (Robert). It almost seems ridiculous that just a few weeks later the family would embark on a gruelling voyage across the sea. It seems unlikely that John would have planned it that way; it seemed like an act of desperation. Something must have hastened their departure. Sailing with them were Margaret's sister and brother-in-law (Ellen & Peter STEWART).
We can only surmise that an opportunity arose whereby John and his family, as well as all of his siblings were able to gain passage aboard a ship. According to Gayle Freitas, someone in the family managed to gain (pay) passage for everyone, and it was "not John", so it almost had to be John's brother, James. As a sea captain, he may have been made aware of an opportunity they could not pass up, 'an offer they couldn't refuse'? For all I know, maybe he was the captain, or a member of the crew on the very ship they sailed on. So far, I do not have any information about James' seafaring career, nor do we know the name of the ship they sailed on (not even a departure date other than the year).
The trip took six weeks.  While crossing the Atlantic, in an open sailing vessel, Margaret had no way of drying her baby Robert's diapers, except to pin them around herself, next to her skin, so her body heat would dry them.  She became ill and would never recover. The family landed in Boston and somehow travelled all the way to Muddy York, Ontario. Actually, Muddy York was renamed Toronto in 1834.  Its first mayor was William Lyons McKENZIE. 
After obtaining provisions, a team of oxen and a cow in Toronto, they set out for Mono Hills (See Map below).  They took turns walking and riding the 48 miles, following a blazed trail, then another 12 miles to Mono Centre where they settled. 
The Family Settles in Mono Township, Ontario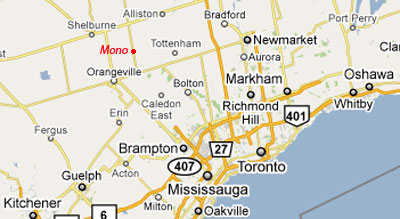 Mono Centre is located on Hwy #10, north of Orangeville, Ontario. 
The Indian name 'Mahno' means "let it be so" 
A post office was established there in 1851 and the first Postmaster was William LARGE.
(Note that James STILL (b.1821) married a Janette LARGE)
One of the first settlers in Mono Township was Robert LARGE who had arrived two years before the STILL families (in 1834). Nearly the whole of the township was at that time a "howling wilderness". There was almost no clearing, nor were there any trees cut except those along the lines of the government survey. The only road form Mono Mills north was a side road and it was a mere trace cut through the forest, just wide enough for a yoke of oxen and a jumper to travel along. The jumper was the vehicle must used in those times, although a wagon was used occasionally for the purpose of cadging provision and other necessaries to the settlers.
Peter STEWART (married to Margaret's sister Helen YOUNG) was a blacksmith by trade, had brought a set of tools with him and erected a small shop on the LAIDLAW farm, where he worked at his trade until he was able to build a more commodious smithy on his own farm (Lot 20, concession 4, east).
John and Margaret and their eight sons settled on Lot 22 of Concession 5 East in Mono Township. They stayed with brother-in-law Peter STEWART until they got their house built. Sadly, Margaret would never get to live in their new house before it was completed. She was unable to make a recovery from the ordeals of her sea voyage, and the long arduous trek overland (all the way from Boston).
On Oct 18, 1836, Margaret died at the STEWART residence. She was only 40 years old. She was buried in the Burn's Church Cemetery. John's youngest children would remain with their aunt, Mrs. Helen STEWART, until. John was better established.
In 1837 a Presbyterian church was established at Mono Center. Among the first church members were John STILL SR and his sons (Alexander & John Jr.), as well as Mr. & Mrs. Peter STEWART.
In 1837 William Lyon McKENZIE led an armed rebellion in Toronto.  Defeated, he fled to the USA.  After a few more unsuccessful raids, he was arrested in 1838.
In 1840 John's brother, James STILL (1790-1885) arrived with his family from Scotland to join John in Mono.
In 1843 son John STILL JR married Agnes Nancy Janet TURNBULL
Around 1845 son James married Jeanette LARGE.
Around 1846 son Alexander married Susanna ORR.
Around 1852 son George married Ellen ALLINGHAM. These are my Great Grandparents.
In 1853 son David married Catherine WILSON.
In 1859 son Peter married Ellen MADILL.
Census 1861: Simcoe County, SD-3 (Mono), pg 42: John STILL, age 73

Around 1869 son Robert married Mary McLEAN.
Census 1871: John (age 82) with his son (David) in Mono.
John STILL died on Dec 21, 1876 in Mono Township, Dufferin, Ontario
Please post comments and queries at this link: FORUM DISCUSSING the JOHN STILL FAMILY
============================ Family Details ============================
Children:
1. July, 1816 ALEXANDER STILL (m. Susanna ORR)
2. Jun 27, 1819 JOHN STILL JR (m. Agnes Nancy Janet TURNBULL)
3. Jun 13, 1821 JAMES STILL (m1. Janette LARGE, m2. Margaret CARSON)
4. Jun 16, 1823 WILLIAM STILL
5. Nov 11, 1825 THOMAS STILL (Died in infancy)
6. Aug 19, 1827 GEORGE STILL (m1. ELLEN  ALLINGHAM, m2. MARY POTTER)
7. Nov 7, 1830 DAVID STILL (m. Catherine WILSON)
8. Jan 9, 1834 PETER STILL (m. Ellen MADILL)
** MORE ABOUT ELLEN & PETER STILL
9. May 29, 1836 ROBERT STILL (m. Mary McLEAN)