LEGEND OF THE SUZANNE-E
1965

(Last Updated: July 05, 2017)

Gary STILL: As a youngsters in the late 1940's and early 1950's, we had a swimming hole on the Red River at Mapleton, not far south of the old St Clements Church along the River Road. On hot summer days between swims we lazed on the river bank and watched the boats go by. We all remembered them well. Some of them were the SS Keenora, the Bradbury, the Lady Canadian, the Louanna, the Luberc and the Baldur to mention a few, and of course the Suzanne-E which is the topic of this narrative.

Steamship Keewatin
Many tragedies have occurred on Lake Winnipeg over the years involving fishing boats and freighters during unpredictable sudden violent storms that often occur on the lake. Perhaps the earliest significant tragedy occurred in September of 1890 involving the Steam Ship Keewatin, purchased by the Northwest Mounted Police (NWMP) for use in trying to control illegal liquor movement on the lake. The Keewatin broke from her mooring anchor at Swampy Island during such a storm, foundered on a reef and capsized. Corporal Harry Oliver MORPHY (age 30) and Constable Rene DeBEAUJEU (age 18) were drowned. Ship Captain Matthew WATTS (age 66) managed to lash himself to the ship's hull and was rescued after 13 days, only to succumb about a month later in hospital.

SS Princess

Another notable marine disaster on Lake Winnipeg was that of the Sinking of the SS Princess in 1906. More about that tragedy at this link: CAPTAIN HAWES and the SINKING OF THE SS PRINCESS

SUZANNE E

Suzanne GOLDEN informs us that the Suzanne E (her namesake) was built in 1946 by (for) her father, Noah EPSTEIN (1898-1958) who was the owner of Selkirk Fisheries (incorporated in 1935). ** See Suzanne's comments on the Forum.

** Alex NEISON (b-1934) reminds us that EPSTEIN himself did not actually build the Suzanne E, but that his grandfather, Captain Edward NEISON(1887-1982), built it in Winnipeg and was the first Captain of the vessel. Young Alex wheeled for his grandfather during his school summer holidays. ** MORE ABOUT CAPTAIN EDWARD NEISON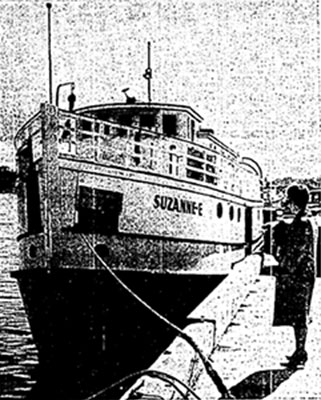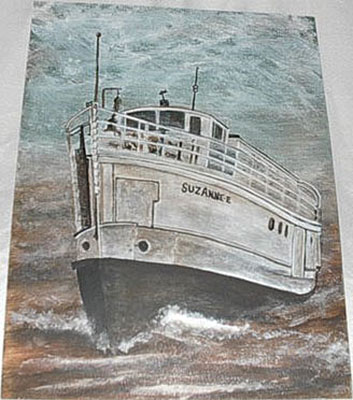 Left: The Suzanne-E at the Selkirk Docks (From the Winnipeg Free Press)

Right: 2015 Painting by Artist Don Watson, Whytewold, Manitoba (50th year after the sinking)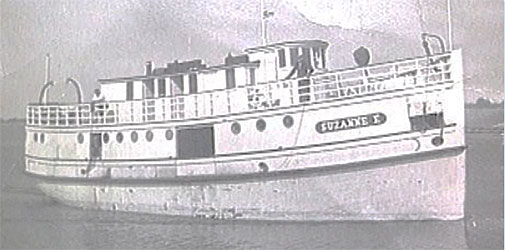 From the CBC Archives: Requiem for the Suzanne-E (Thanks to Don Watson)
At about 9 p.m. on September 24, 1965, the Suzanne-E, an 87 foot long freighting vessel, was caught in a storm about two miles north of Grindstone Point on Lake Winnipeg.
LINK: VIDEO FROM THEN CBC ARCHIVES: REQUIEM FOR THE SUZANNE-E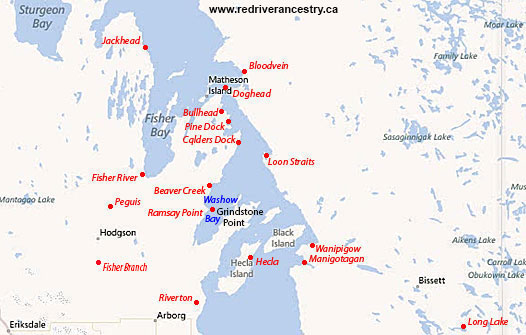 Don Swidinsky and his Lake Winnipeg Legends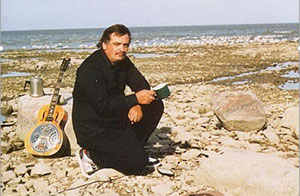 Don Swidinsky
TEN SOULS ABOARD THE SUZANNE-E
1965
Only survivor:
CLIFFORD EVERETTT, Mate from Berens River, age 24
Nine Drowned:
1. CAPTAIN RICHARD CHARLES JOHNSON (1933-1965) of Stonewall. He left a wife and 3 children
2. MRS. CHRISTINE SETTEE: The cook from Riverton, age 58, mother of 2 sons and 1 daughter
3. WILLIAM PETOSKI, age 24, the First Engineer from Hnausa
4. RICHARD ZILLMAN, age 65, the Second Engineer from Hodgson
5. BJORGVIN AUGUST HOLM, Crewman from Arborg, age 58
6. PETER GOOSEHEAD, passenger from Jackhead Harbor, age 25
7. TACHE EVERETT, Crewman from Berens River, cousin of Clifford, age 23
8. ALLAN CLEMONS, Crewman from Selkirk, age 20
9. CHARLES DONOVAN COOK, Deckhand from Selkirk, age 19
CLIFFORD EVERETT (1940-1998)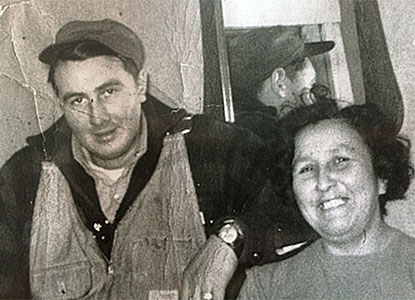 Clifford with his mother, Jewel Everett, aboard the Suzanne-E in August of 1965
(Thanks to Julianne Sinclair)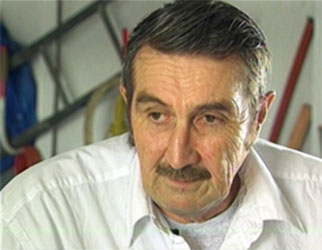 Clifford Everett, who had kept silent about his ordeal aboard the Suzanne-E for years, spoke to journalist
Andy Blicq in this 1996 CBC documentary. (CBC)
Clifford EVERETT from Berens River was born in December of 1940 (age 24). He was the only survivor of the Suzanne-E tragedy. He was a married man with two children at the time. He was a cousin of Tache EVERETT, also from Berens River, who was born about 1942 (age 23). Thanks to his granddaughter Julianne Sinclair on the Forum we now have more information about Clifford's origins – See her postings on the Forum.
The Inquest
On Dec 10, 1965 Clifford EVERETT was brought from his home at Berens River to an inquest that was held at the Riverton skating rink building, with Dr. S.O. THOMPSON presiding – inquiring into the deaths of the Suzanne-E's captain and cook, the only two persons recovered for burial.
At the Riverton inquest Clifford was on the stand for 50 minutes. He testified he had supper on the ship about 6:30 p.m. and then went to bed in the bunkhouse on deck. "Maybe an hour after I felt the boat turning around. I must have stayed in bed for another ten minutes. He said he went to the pilot house where the captain said "he wasn't making any headway so he decided to go back to Gull Harbour (Hecla Island)." Then shortly, when the ship was heading back, it capsized. "Was there any warning?" asked Mr. GLOWAKI. "No." Any reason?" "Just the waves I guess."
The freighter sank in about two minutes, EVERETT recalled. He testified he saw the ships cook. "She was floating face down." The ship tipped over on the side the hatch was open. It was also the side of the door to the bunkhouse in which most of the crew was sleeping. "That was the only door they could get out of?" asked Mr. GLOWARKI. "Yes."
EVERETT told the jury that when only he and the captain were left on the raft, which was partly submerged in the water, a ship passed them coming from Gull Harbour. "We started yelling when she passed by us (in the dark, about 200 feet away).
It was snowing off and on and "the current took us down the channel. I think that's when the captain gave up hope." The captain died about one hour before the raft bobbed in the waves up to Black Island. Had the captain talked on the raft? "Well, he said – "Maybe I shouldn't have turned (the Suzanne-E) around" the survivor testified.
He testified he had drifted with the captain and one other man on a makeshift raft. When their raft was carried near Deer Island, the third man, Allan CLEMONS, "just turned 20," of Selkirk, slipped into the water and has not been located since.
CAPTAIN RICHARD JOHNSON (1933-1965)
The inquest stated that "Richard JOHNSON, age 32, of Stonewall, the captain, clung to some of the boat wreckage for some eight to nine hours and died from exposure to the chill waters of the lake and below freezing temperature above the water.
His body was dragged to the beach near the southwest point of Black Island by the only survivor Clifford EVERETT on the following morning.

EVERETT testified he had drifted with the captain and one other man on a makeshift raft. When their raft was carried near Deer Island, the third man, Allan CLEMONS, "just turned 20," of Selkirk, slipped into the water and has not been located since.
G.H. HENDERS, branch manager of Booth Fisheries, testified that when the previous captain of the Suzanne-E resigned "I was told to send Mr. JOHNSON down to Port Arthur for an oral examination which we did."
Had the DOT said vessels would need only qualified captains?" If they were available, answered Mr. HENDERS. "Usually these captains and mates come up through the ranks. They get training through experience."
Captain HALE testified Mr. JOHNSON was granted a temporary permit at Port Arthur. It was not a permit to be captain of a vessel the size of the Suzanne-E, however, the rule governing the size of ship was exempted "in order to allow Booth Fisheries time to find a qualified master. "As far as the captain was concerned I have no doubt he was a good man."
HALE said that knowledge required by a certified captain is "not necessarily a detailed knowledge." He would have known about proper loading of a ship, the stability of a ship and the consequence of certain movements aboard ship, such as water movement and stability. There are schools where a person can become a captain in six to eight weeks.
CHRISTINA (nee D'ARCIS) SETTEE (1907-1965)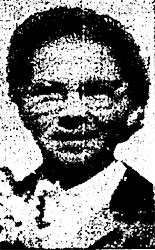 Mrs. Christine Settee (From Winnipeg Free Press)
Christine or Christina SETTEE, the cook from Riverton who drowned during the sinking of the Suzanne-E, was born about 1907, daughter of Maria Jane STEVENSON and James Finlayson D'ARCIS (1877-1965). She was the wife of Alexander SETTEE (b-1907), son of Mary Jane Jemima PHILLIPS and Albert James SETTEE (1872-1945).
** MORE ABOUT ALBERT JAMES SETTEE
WILLIAM POTOSKI (1941-1965)
William "Billy" POTOSKI, age 24, the First Engineer from Hnausa (south of Riverton; east of Arborg). He was born Sep 28, 1941 in Hnausa, son of Annie MOROZ and Andrew POTOSKI (1900-1974) from the Ukraine. In the spring of 1966 his body was found washed up on the shore in Riverton.
RICHARD ZILLMAN (1900-1965)
Richard ZILLMAN, the Second Engineer form Hodgson (MB), was born around 1900. He left a wife (Frances) and a son, Stanley ZILLMAN. He had been employed by Booth Fisheries for many years.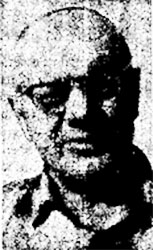 Richard Zillman
BJORGVIN AUGUST HOLM (1907-1965)
On Aug 9, 1967 the Free Press reported that the body of Bjorgvin August HOLM, age 58 of Arborg, had been recovered. Because his body had been in the water for almost two years, identification could only be made through personal belongings found on the body. Salvage crews had been trying unsuccessfully all summer to raise the hull of the Suzanne-E from a spot 45 feet deep, two miles off Grindstone Point. During the operations, Mr HOLM's body came loose and floated to the surface.
Bjorgvin August Holm
Bjorgvin HOLM was survived by his wife Ingibjorg, son Bjorgvin Jr. and daughter Carol.
PETER GOOSEHEAD (1940-1965)
Peter GOOSEHEAD, passenger from Jackhead Harbor, age 25.
TACHE EVERETT (1942-1965)
Tache EVERETT was a cousin of Clifford EVERETT.
ALLAN CLEMONS (1945-1965)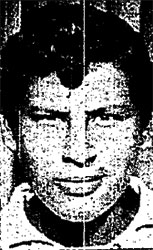 Allan Clemons (From Winnipeg Free Press)
Allan CLEMONS, the 20 year old crewman from Selkirk who drowned after the sinking of the Suzanne-E. I believe ALLAN was the son of Ruth KIPLING and Thomas Edward "Tom" CLEMONS (1907-1989). I'm beginning to believe that Allsn must have been the younger brother of my (Gary STILL's) old friend and one-time school-mate, Glen CLEMONS. I had lost touch with Glen by 1965. Their father, Thomas Edward CLEMONS (1907-1988) was a son of Mope SINCLAIR and Ralph CLEMONS (1874-1938). ** MORE ABOUT THOMAS CLEMONS
CHARLES DONOVAN COOK (1945-1965)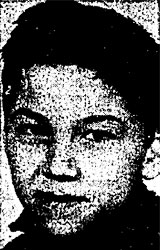 Donny Cook (From Winnipeg Free Press)
Charles Donovan COOK, the 19 year old deckhand from Selkirk who drowned after the sinking of the Suzanne-E, was the son of Nellie MOWAT and John Edward "Donnie" COOK (1908-2004). I (Gary STILL) met his father, Donnie COOK in the mid 1950's when he worked at Booth Fisheries in Selkirk.  I worked up the hill at Roy Stephanson's Fisheries
This Page is Under Construction
As an avid genealogy hobbyist, my purpose of this this narrative is to piece together the story of the Suzanne-E and its tragic end, and with the help of my friends on the Forum of this website, trace the ancestries of the 10 crew members who were aboard when the boat sank. This is an on-going project, and will be updated whenever new information is found.
Apparently on Dec 10, 1996, on Man Alive, the CBC presented "Requiem for the Suzanne E.," the story of the worst disaster in the history of Lake Winnipeg. If anyone known how we can gain access to this presentation, please let us know,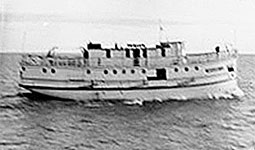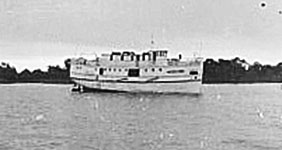 Photos of Suzanne-E taken by Alex Neison (See his comments on the Forum)
Comments and queries at this link: FORUM DISCUSSING the LEGEND OF THE SUZANNE-E