GEORGE VIVIAN (1878-1951)
FRANCES JANE SANDERSON (1886-1928)
(Last Updated: September 10, 2013)
George VIVIAN was born Mar 5, 1878 in Thurlow (Hastings County), Ontario, son of Helen HUYCK and Stephen VIVIAN (1831-1896) who was born in England.
This narrative is being developed in collaboration with John VIVIAN, George's grandson. John made a donation and is providing extra information by way of the Forum (See Forum link below).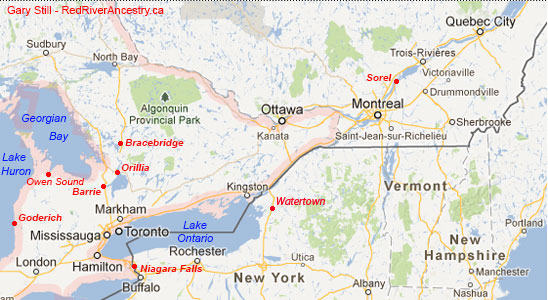 Thurlow is located west of Kingston
In 1891 the VIVIAN family was still living in Thurlow; George was 13 years old then.
On July 29, 1896 George's father (Stephen VIVIAN) died in Belleville, Ontario.
The VIVIAN family moves to Manitoba
In the 1901 Census we find George VIVIAN (age 24) with his mother, Widow Helen VIVIAN (age 58) who seems to be running a boarding house in the Village of Elgin, Manitoba (south of Brandon), along with George's older siblings, Albert VIVIAN (age 32), Mary (29) and Louis VIVIAN (age 26).
In the 1901 Census, George's wife-to-be, Frances Jane SANDERSON (age 15) was recorded with her parents in Prince Albert, Saskatchewan. In the 1906 census when she would have been about 21 years old, Frances was not with her parents and it seems that she may have moved away, probably to Winnipeg for whatever reason.
The Vivian Hotel in Winnipeg
In 1906 we find George in the Vivian Hotel at 146 Lombard Avenue in Winnipeg which is under the proprietorship of his oldest brother, Albert VIVIAN (age 35) and his wife Helen (age 30).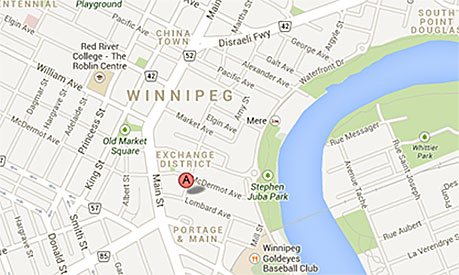 The A symbol marks 146 Lombard Avenue

Vivian Hotel at 146 Lombard Avenue in Winnipeg – Proprietor Albert Vivian
(The John Steel Collection)
Marriage to Frances SANDERSON
1910
On Apr 15, 1910 George married Frances Jane SANDERSON in Winnipeg (MB), daughter of Euphemia WHITFORD and George William SANDERSON (1844-1936). ** MORE ABOUT GEORGE WILLIAM SANDERSON
On Mar 17, 1911 (according to Vital Stats) an un-named daughter was born in Winnipeg. This child does not appear in later census records and probably died in infancy. George (age 33) was then working for his brother as a Bartender in the Vivian Hotel.; his wife Frances (age 26).
The 1916 Census recorded George VIVIAN (age 38) as a Hotel Keeper living at 511 Marion Street in St Boniface. Wife Frances is 28 years old and their children are Jean (age 3), Helen (2), Pearl (age 1) and baby George Jr.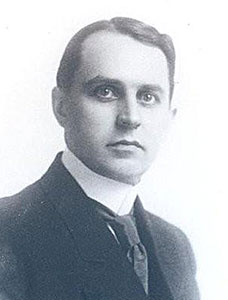 George & Frances Vivian
(From John Vivian)
On Mar 13, 1919 George's brother Albert died.
On July 18, 1919 George's mother (Helen VIVIAN) died in Winnipeg at the age of 78 (from Vital Stats).
On Oct 9, 1928 George's wife, Frances Jean VIVIAN died in Winnipeg at the young age of 42.
In 1931 eldest daughter Jean married John James ROBINSON (age 18) in East Kildonan (MB).
In 1935 daughter Pearl married Frances Hamilton (Kelly) CAMERON (age 20) in Winnipeg.
In 1940 son George Jr. married Willard Fern POOLE (age 24) in Neepawa (MB).
In 1943 daughter Helen married Joseph Howard HAWKINS (age 29) in Winnipeg.
In 1947 son Lewis married Evelyn Alma CURTIS (age 31) in Neepawa (MB).
On Mar 12, 1951 George VIVIAN died in Winnipeg.
In 1954 youngest son Earl Albert married Elizabeth LINDEN (age 33) in Poplar (Greater London) Middlesex, England. These are the parents of John VIVIAN who inspired this family page.
Comments and queries at this link: FORUM DISCUSSING the GEORGE VIVIAN FAMILY
=========================== Family Details ===========================
Children:
1. Mar 17, 1911 Un-named Daughter VIVIAN (Died in infancy?)
2. Sep 11, 1912 JEAN VIVIAN (m. John James ROBINSON)
3. Sep 21, 1913 HELEN FRANCES VIVIAN (m. Joseph Howard HAWKINS)
4. Nov 8, 1914 PEARL VIVIAN (m. Francis Hamilton CAMERON)
5. Jan 8, 1916 GEORGE VIVIAN (m. Willard Fern POOLE)
6. Dec 25, 1916 ANNA VIVIAN (Died in infancy)
7. Nov 25, 1916 LEWIS VIVIAN (m. Evelyn Alma CURTIS)
8. Jan 30, 1919 DOUGLAS VIVIAN (Died in infancy)
9. May 6, 1920 ELSIE VIVIAN
10. Oct 19, 1921 EARL ALBERT VIVIAN (m. Elizabeth LINDEN)