ANTHONY JOHN "TONY" ANDERSON (1856-1922)
Unknown First Spouse
ANN CAROLINE "CARRIE" SAYER (1872-1948)
(Last Updated: March 13, 2016)
Anthony John "Tony" ANDERSON was born Sep 22, 1856 in Norway (Sweden), probably a son of Gertrude (possibly LARSEN) & John ANDERSON (c1835-1913).
Later circumstances suggest that Tony may have been a brother or step-brother of Frederick (Fred) ANDERSON (born around 1880 in Norway).
In 1887 Anthony (Tony) ANDERSON (age 31) immigrated to Canada, eventually settling in Manitoba. He became a naturalized citizen in 1897. In his lifetime he was a sailor, fisherman and farmer.
Anthony ANDERSON's First Wife
1897
Around 1897 Tony was in a relationship with an Unknown Woman, the mother of .Alexander Martin ANDERSON who was born on April 16, 1898 in Selkirk Manitoba. This information comes from Martin's military attestation record which indicates his next-of-kin as his father, Anthony J ANDERSON. We have no information regarding Martin's mother.
Caroline "Carrie" SAYER was born in 1872, a daughter of Emma CAMPBELL and George SAYER (1845-1892), both half-breeds (Métis). ** MORE ABOUT GEORGE SAYER
We don't know when Tony and Caroline SAYER began their courtship. What we do know is that in 1898 Carrie was living in Mapleton (south of Selkirk) and that around that time she separated from her common-law husband, James FIDLER (1870-1929). Their five-year old child, Ventrice, was placed in the care of Margaret & Thomas THOMAS (1845-1926) who lived in the Matlock area at the south end of Lake Winnipeg. Carrie's mother (Emma) had re-married to Cornelius IRVING (1848-1910) and was living in Selkirk. ** MORE ABOUT JIM FIDLER
Tony marries Caroline SAYER
1900
On June 7, 1900 Anthony ANDERSON married Caroline SAYER at the St Clements Church in Mapleton.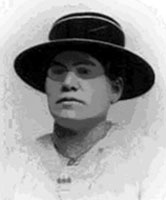 Black Bear Island Lighthouse – Caroline Sayer
In the Census of 1901 Anthony J ANDERSON and his wife Carrie were enumerated on Black Bear Island, the smaller island located just to the north of Matheson Island and the Lake Winnipeg Narrows (Dog Head Point). Tony is recorded as a "Sailor"; age 49, born Sep 22, 1856 in Norway; ethnic origin, Norwegian. It states that he immigrated in 1887 and was naturalized in 1897 (verifying my statement above). Wife Carrie was recorded as age 29; born Feb 14, 1872. With them are Tony's son Martin ANDERSON (age 2) and Carrie's brother, George SAYER (age 29). There was little more than a lighthouse at that location at that time, suggesting this was a temporary stay. Notably this was the year that George SAYER (age 20), a Fisherman, drowned on Lake Winnipeg, very likely while they were all on Black Bear Island. Their brother, Alfred SAYER (age 33), also died that year but we have no information regarding the circumstances of his death.
Interestingly, in the same census of 1901 we find Carrie's 22 year old brother, Duncan SAYER was enumerated as a "Servant" in the household of Sofia and Johannes ANDERSON (born 1837 in Sweden; immigrated in 1899) at Poplar Park (north of Libau, MB). ** This might very well be Tony's father.
On Aug 21, 1903 Caroline's brother, Duncan SAYER, married in Selkirk to Elizabeth BEAR.
By 1906 Tony, Carrie and eight year old son Martin had settled on Eveline Street, near Vaughan Avenue in Selkirk. They were now neighbours of Cornelius & Emma (Carrie's mother) IRVINE and Carrie's brothers (Alfred, Alex and Donald SAYER).Tony became a surrogate father to these young men. They all now made their living primarily as fishermen.
Around 1912 Caroline's brother, Alexander "Sandy" SAYER married Flora KENNEDY.
World War I
1914-1919
On Aug 4, 1914 Great Britain (Canada on Aug 5) declared war on Germany and Austria-Hungary to uphold treaties with France and Belgium which were under German attack. This marked the beginning of World War I.
On Nov 17, 1915 Howard WATERS (Caroline's future husband), age 32 and single, enlisted at Winnipeg.
In the Census of 1916 we find Carrie's son, Donald SAYER (age 29) staying with her and Tony. Of particular interest is their other household member; Andrew ANDERSON (age 40), indicated as Tony's brother. Andrew (about 16 years younger than Tony) is stated as born 1876 in Sweden; immigrating in1909.
On Apr 10, 1916 Tony's brother, Andrew ANDERSON, enlisted at Winnipeg.
On Feb 7, 1917, Caroline's brother Duncan SAYER enlisted at Winnipeg.
On Apr 23, 1918, 20 year old son Martin ANDERSON enlisted at Winnipeg.
On May 21, 1918, Caroline's brother Donald SAYER enlisted at Winnipeg.
On Aug 18, 1919 Caroline's 26 year old son Ventrice (now THOMAS) married Catherine GUIMOND from the Fort Alexander Indian Reserve (Sagkeeng First Nation).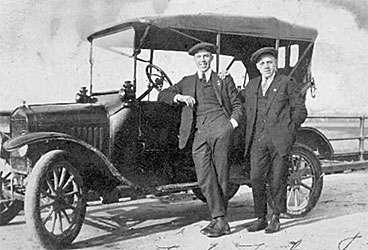 Spring of 1921 at Lockport
Charlie Frost & Martin Anderson
In 1922 Anthony ANDERSON died in Selkirk.
On May 17, 1923 son Martin ANDERSON married Mary Ann PARK. Mary Ann died on June 16, 1924 in Selkirk after giving birth to a daughter named June ANDERSON. Widowed, Martin and his baby moved in with his step-mother Caroline.
Caroline re-marries to Howard WATERS
1924
On June 5, 1924 Widow Caroline ANDERSON re-married to Howard WATERS (1882-1938). Carrie probably got to know Howard WATERS through her step-son Martin and/or her brothers, all fellow soldiers who had probably trained together and served during the War.
Howard & Carrie made their home on Pacific Avenue in Selkirk (not far from the Railway Station). Step-son Martin and granddaughter June ANDERSON remained with them.
On Apr 27, 1926 son Martin ANDERSON died in Selkirk.
It was around this time that Caroline's son Ventrice (now THOMAS) built a house right next-door to his mother on Pacific Avenue. He and Catherine had three children by this time (Don, Peggy & Raymond).
On Feb 27, 1929 Caroline's ex-husband, James FIDLER died at Molson, MB at the age of 58.
In 1938 Howard WATERS died.
World War II
1939-1945
On Sept 4, 1939 Canada and Britain declared war on Germany.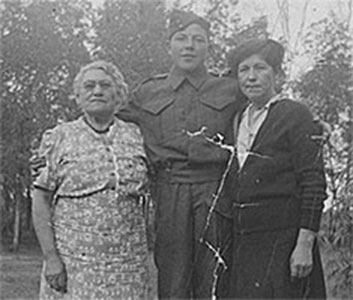 L-R: Caroline (nee Sayer) Waters, Raymond Thomas and Katherine (nee Guimond) Thomas-Smith
(Photo courtesy of Raymond Thomas)
On May 7, 1945, Germany surrendered and the war in Europe ended. On August 14 Japan surrendered and the Second World War was officially over.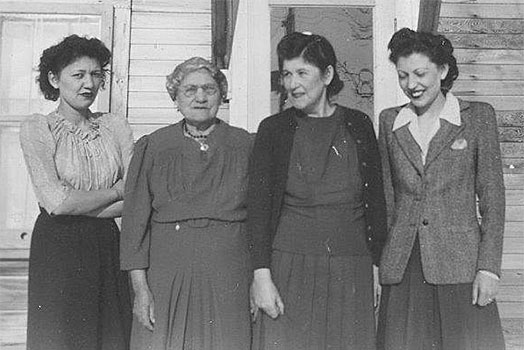 Peggy Thomas, Caroline (Carrie) Sayer-Waters, Catherine (nee Guimond) Thomas-Smith and Doris Thomas
(Photo courtesy of Raymond Thomas)
In 1948 Caroline WATERS died in Selkirk at the age of 75.
Please post comments and queries at this link: FORUM DISCUSSING ANTHONY ANDERSON and his FAMILY
=========================== Family Details ===========================
Anthony's Children by his First Wife(s):
?1c1890 FREDERICK/ALFRED "FRED" ANDERSON (m. Ann)
** I am not sure of Fred as a son; I'm working on it - -
2. Apr 16, 1898 ALEXANDER MARTIN ANDERSON (m. Mary PARK)