LOUIS BELLEGARDE (1830-1906)
ELIZABETH CARDINAL (1840-

(Last Updated: June 17, 2014)
Louis BELLEGARDE was born around 1830 in Red River, son of Marguerite DUFORT and Alexis BELLEGARDE (1792-1852), a French Canadian from Riviere Du Loup, Quebec.
In the 1850 US Census, Louis (age 17) was recorded with his parents in Pembina. His father (Alexis) died there in 1852.
Marriage to Elizabeth CARDINAL
1856
On Feb 4, 1856 Louis married Elizabeth CARDINAL in Pembina, daughter of Marie Louise ADAM and Jeremie CARDINAL (1797-1875). Son Louis Jr. was born there on June 18, 1857.
In the 1850's and 1860's the Metis of the Canada-USA border region were primarily buffalo hunters. They lived a rather nomadic existence, moving from place to place following the migrations of the buffalo herds which by this time were declining in numbers. Particularly on the American side they were frequently in conflict with Dakota Sioux warriors who considered this region their domain. This region is referred to as the Missouri Plateau and the Grand Coteau.
More about Metis conflicts with the Sioux at these links:
BATTLE OF GRAND COTEAU (NORTH DAKOTA, 1851)
THE DAKOTA WAR OF 1862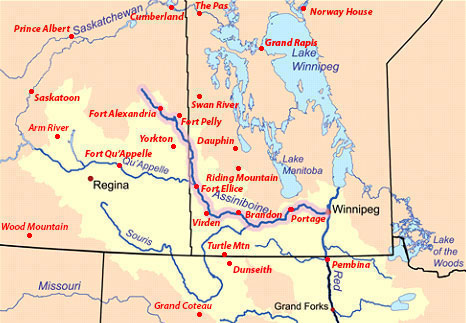 Canadian Confederation
1867
On July 1, 1867 the British colonies in North America were united under the British North American Act to become the Dominion of Canada. Sir John A MACDONALD (1815-1891) was appointed as Canada's first Prime Minister.
Milk River
By the early 1870's Louis and his family were living in Milk River country (see map below).
In 1873 the Cypress Hills Massacre occurred (Fort Walsh area on map below).
** MORE ABOUT THE CYPRESS HILLS MASSACRE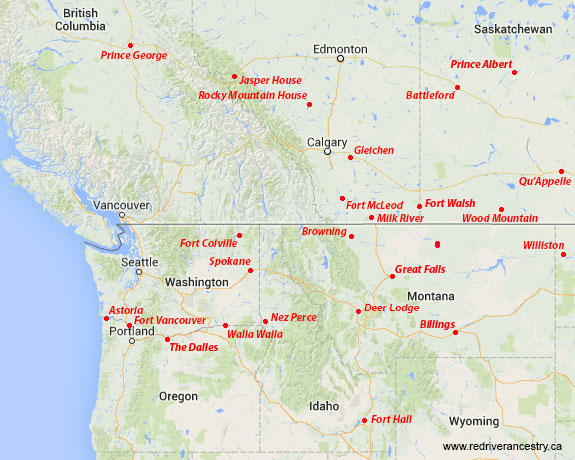 In 1882 son Pierre married Marie (nee FIDLER) DESJARLAIS in Milk River, daughter of Marguerite McGILLIS and WILLIAM FIDLER (1827-1895). ** MORE ABOUT WILLIAM FIDLER
Around 1883 son Louis Jr. was married to Mary MOREAU (b-1866) of uncertain origins.
In 1889 North Dakota reached statehood.
Around 1892 son George Augustus was married to Marie Rose BOTTINEAU, daughter of Suzanne POITRAS and Jonas BOTTINEAU (b-1847).
It is uncertain when (probably around 1900) daughter Alphonsine married Joseph POITRAS, the son of Elizabeth BRELAND and Joseph POITRAS (b-1842).
On May 15, 1906 Louis BELLEGARDE died.
Comments and queries at this link: FORUM DISCUSSING the LOUIS BELLEGARDE FAMILY
========================== Family Details ==========================
Children:
1. Jun 18, 1857 LOUIS BELLEGARDE (m. Mary MOREAU)
2. Nov 15, 1859 PIERRE BELLEGARDE (m. Marie (nee FIDLER) DESJARLAIS)
3. 1863 FRANCOIS BELLEGARDE (m. Euphrosine LAVERDURE)
4. 1864 GEORGE AUGUSTUS BELLEGARDE
5. Dec 14, 1872 AVILA BELLEGARDE
6. 1873 ALPHONSINE BELLEGARDE (m. Joseph POITRAS)
7. Jan 13, 1875 ALEXIS BELLEGARDE