CHIEF WILLIAM BERENS (1865-1947)
NANCY EVERETT (1870-1970+)
(Last Updated: December 22, 2014)
William BERENS (TABASIGIZIKWEAS)was born around 1865 at Berens River, son of Mary McKAY & Chief Jacob BERENS (1835-1916). ** MORE ABOUT WILLIAM BERENS in MHS
In the summer of 1874, William (age 9) helped in building a church and house for the first Missionary, Methodist Egerton Ryerson YOUNG (1840-1909), who arrived that fall. - - The YOUNG family resided at Berens River for two years.
** MORE ABOUT REVEREND EGERTON RYERSON YOUNG in DCBO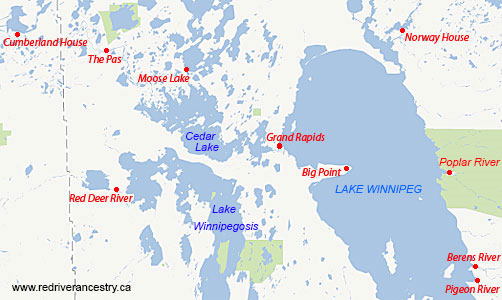 The first steamboat arrives at Berens River
Treaty No. 5
William's father, Jacob BERENS becomes Chief
1875
In 1875 the steamship Colville arrived at Berens River with Treaty Commissioners Alexander MORRIS (1826-1889) and James McKAY (1827-1879) to negotiate Indian Treaty Number Five. William's father, Jacob BERENS, was elected as the first Treaty Chief of the Berens River Indian Band and in the negotiations he represented a large area reaching up the river to Little Grand Rapids (MB) and Pikangikum ON). Later these communities acquired their own chiefs and band status.
** MORE ABOUT TREATY FIVE
** MORE ABOUT JACOB BERENS in DCBO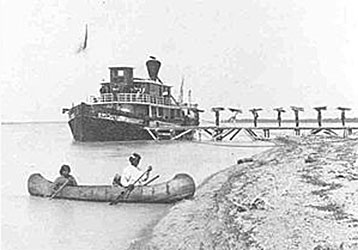 The SS Colville docked at Norway House c.1880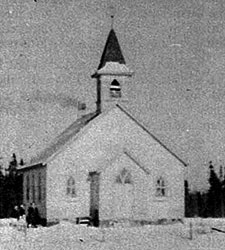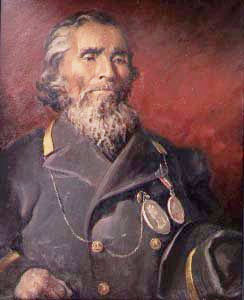 Berens River Mission, date unknown - Nah-Wee-Kee-Sick-Qauh-Yash (Chief Jacob Berens)
In the Census of 1881 William (age 16) was still living with parents.
Around 1887 William contracted with the HBC to serve as an Interpreter and do other jobs at the Berens River Post.
Marriage to Nancy EVERETT
1899
In January of 1899, William married Nancy EVERETT at Berens River, the daughter of Nancy BOUCHER and William EVERETT (1846-1921+), both half-breeds. On Mar 3, 1901 son Jacob was born.
World War I
William succeeds his father as Chief
1914-1918
On Aug 4, 1914 Great Britain (Canada on Aug 5) declared war on Germany and Austria-Hungary to uphold treaties with France and Belgium which were under German attack. This marked the beginning of World War I.
On July 7, 1916 William's father, Chief Jacob BERENS died, and William succeeded him as Chief.
November 11, 1918, Armistice Day (Remembrance Day) marked the end of the First World War.
In the census of 1921 William's children were recorded as Jacob (age 22), William (18), Alice (14), Gordon (11), Percy (9), Margaret/ Rosie (7) and baby John.
In 1926 son William Donald married Charlotte BITTERN in Berens River, a daughter of Mary NANAKOWAP and Donald BITTERN (1870-1942).

Around 1928 daughter Alice was married to an Unknown EVERETT (origins uncertain at this time). Alice would later marry Jacob James GIBEAULT (1913-1991) in Berens River, the son of Flora SOWANASS and John J GIBEAULT (b-1876). These marriages are currently under review. If anyone has more information about these marriages, we would love to hear from you on the Forum.
In 1931 son Gordon married his sister-in-law Charlotte BITTERN at Berens River, daughter of Mary NANAKOWAP and Donald BITTERN (1870-1942).

In 1931 George KEMP (1882-1935) built the Log Cabin Inn at Berens River.

Before 1933 daughter Margaret (Rosie) married her brother-in-law Antoine BITTERN in Berens River, the son of Mary NANAKOWAP and Donald BITTERN (1870-1942).
Hallowell visits Berens River
1933
In the summer of 1933, Alfred Irving HALLOWELL (1892-1974), an American anthropologist, made his first visit to Berens River. In collaboration with Chief William BERENS he authored the book 'Memories, Myths and Dreams of an Ojibwe Leader'.  This is a 'must-read' for anyone interested in all the finer details of the Chief's life.
** MORE ABOUT THE BOOK at McGILL-QUEEN'S UNIVERSITY PRESS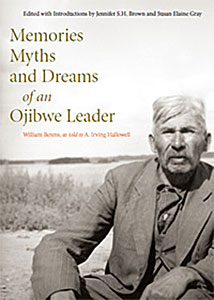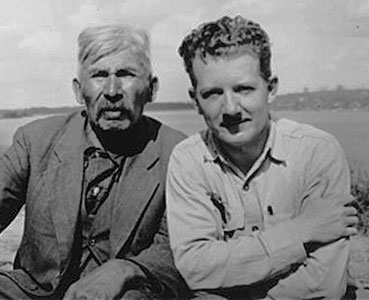 Left: Memories, Myths, and Dreams of an Ojibwe Leader, by William Berens as told to A. Irving Hallowell
Right: Chief William Berens with Hallowell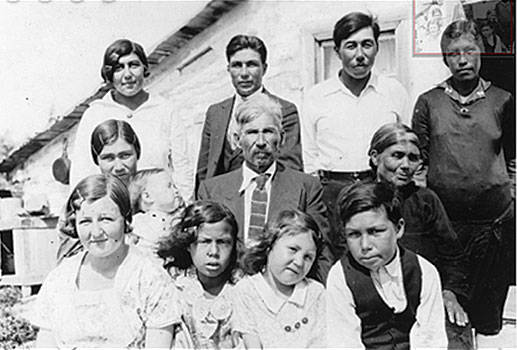 Berens family portrait, outside log building by Alfred Irving Hallowell who first visited Berens River in 1933
From left to right, top row: Rosie Berens (Mrs. Atoine Bittern), Percy Berens, William Berens, Jr., Mary Rose (his wife);
middle row: Alice (Dolly) Berens (Everett) with infant [Marie?], William Berens, Nancy (Everett) Berens;
bottom row: Ida May Berens, Bertha and Mathilda Everett (Alice's daughters), John Berens.
World War II
1939-1945
On Sept 4, 1939 Canada and Britain declared war on Germany, and almost immediately new recruits began pouring into Winnipeg to sign up with the Winnipeg Grenadiers and the Royal Rifles of Canada.
MHS: During World War II BERENS created some controversy over his pacifist leadership of his people. BERENS did not fear warfare because of a boyhood dream in which he was told that bullets would never hurt him. However he refused to allow the people in his band to go overseas and kill people they did not know.
On May 7, 1945 Germany surrendered and the War in Europe ended; the next day, May 8, is declared VE Day.
On Aug 23, 1947 Chief Jacob BERENS died at Berens River.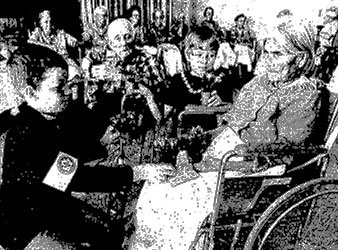 One of the oldest patients in the St Vital Hospital, Nancy Berens, 100, of Berens River
(Free Press, March 19, 1970)
Youngest son John BERENS who it is said to have married Mary Louise BITTERN of uncertain origins.  It appears that they were the parents of Liberal MP Maurice BERENS born in 1951. Mary Louise BITTERN may have later married Charles ROSS. ** All of this is currently under review, and we would very much appreciate more information from relatives on the Forum.
Comments and queries at this link: FORUM DISCUSSING CHIEF WILLIAM BERENS and his DESCENDANTS
========================== Family Details ==========================
Children:
1. Mar 3, 1901 JACOB BERENS
2. 1905 WILLIAM DONALD BERENS (m. Mary Rose BITTERN)
3. 1907 ALICE LOUISE "DOLLY" BERENS (m1. Unknown EVERETT; m2. Jacob GIBEAULT)
4. Aug 2, 1910 GORDON BERENS (m. Charlotte BITTERN)
5. 1911 PERCY EARL BERENS
6. 1915 MARGARET (ROSIE) BERENS (m. Antoine BITTERN)
7. 1920 JOHN BERENS (m. Mary (nee BITTERN) ROSS)