MAGNUS BIRSTON (c1768-1837)
NANCY INDIAN (c1775-)
(Last Updated: August 26, 2016)
Magnus BIRSTON was born around 1768-69 in Ronaldshay, in the Orkneys of Scotland. He was an older brother of Alexander BIRSTON (1775-1829). ** MORE ABOUT ALEXANDER BIRSTON
I have seen references indicating that Magnus & Alex may have been sons of Malley CROMERTY (b-1756) and Magnus BIRSTON SR (b-1850) but have so far been unable to verify or substantiate that. If anyone knows more about our Magnus' parents, please let us know.
Magnus begins his career with the Hudson's Bay Company
1790
In 1790 Magnus BIRSTON entered the service of the Hudson's Bay Company (HBC) as a Labourer in the York Factory District. His career is outlined in the HBC Archives and can be seen at this link: HBCA BIO re MAGNUS BIRSTON
On May 13, 1793 Magnus' younger brother Alex also joined the HBC.
Early HBC Forts (Created by Gary Still using a Yahoo base map)

The HBC was expanding inland to compete with the North West Company (NWC) when they hired Magnus and his younger brother Alex. For the HBC, manpower was a problem as they had no Voyageurs or 'River-Rats' as they were sometimes called, as had the NWC. They hired many Orkney men to man the boats that travelled the inland routes.

Magnus and an Indian woman named Nancy
1798

Around 1798 Magnus began a connubial relationship with an Indian woman names Nancy. They were probably wed "in the custom of the country" (an Indian ceremony). Most likely Nancy was a "Homeland Cree" woman, a child of one of the Cree families who lived in the vicinity of York Fort. Around 1803 younger brother Alex was similarly wed to an Indian woman of unknown origins.

In 1801 both Magnus and his brother Alex were listed as Steersmen at York Factory, and they remained together much of the time. As voyageurs they would have made frequent trips inland.

Lake Winnipeg District
1811-1814

From 1811 to 1814 both Magnus and his brother Alex were working in the Lake Winnipeg District and points west.

Oxford House - Island Lake

Daughter Catherine & John TOD
1814-1821

From 1814 to 1819 Magnus served as the Outpost Master at Oxford House. Such posts were only occupied during the winter trading season. His family probably remained with Nancy's Cree relatives at York Factory during Magnus' absence. In the late summer and fall traders would transport trade goods to their outpost, trade for furs during the winter and return to their families at York for the summer.

Around 1817 (according to HBC Archives), Magnus' daughter Catherine began romancing John TOD (1794-1892), a young Scotchman who was then a Master Trader at Severn House. They probably became acquainted during a summer season at York. ** MORE ABOUT JOHN TOD in HBCA 

Also see this: THE PIONEER EXPLORATIONS of "Scotch Boy" JOHN TOD

Around 1818, according to the HBC Archives, daughter Catherine gave birth to John TOD's child, James TOD.

From 1819 to 1821 Magnus was the Assistant Trader at Island Lake. Meanwhile his brother Alex was worked out of Cumberland House until 1816 when he was assigned to Jack River (Norway House) for the rest of his career. During Magnus' term at Island Lake, son-in-law John TOD became the District Trading Master there.

The HBC - North West Company Merger
Magnus & Alex settle in Red River
1821

As a result of the HBC-NWC union the HBC immediately began to reduce staff, demoting and retiring many of its employees. Among those receiving their 'pink slips' around that time: Magnus and Alex BIRSTON. Both were retired to the Lower Rapids, Red River where they were offered land on which to become settlers.

This was the beginning of a new era of settlement in Red River. George SMPSON (1786-1860) became the new HBC Governor of Rupertsland. Reverend John WEST (1778-1845) had recently arrived in 1820 as the first HBC Chaplain to Rupert's Land. He established a mission church and an Indian school. Upper Fort Garry was built in 1822.

In 1823 John TOD was assigned a clerking position at Fort George in the New Caledonia District (Present day British Columbia). It is said that Catherine and James refused to go with him. It is also said that he was not to see his son James again until he was a grown man, although he did pay for his education and received reports of his well-being. TOD would have two more wives and many more children.

On July 30, 1824 daughter Catherine and sons James and Alexander were baptized by Reverend John WEST.

In 1826 son William married Angelique BERCIER, daughter of Josephte (Indian) and Alexis BERCIER (1772-1840).
** MORE ABOUT ALEXIS BERCIER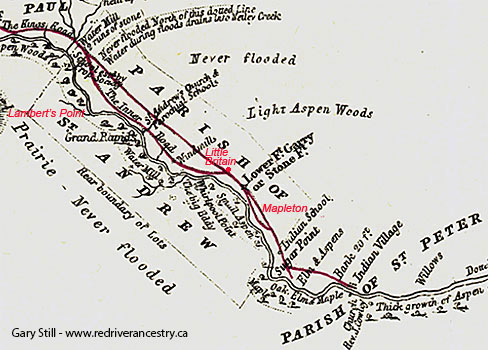 Part of Henry Hind's Map based on his observations of 1857
Magnus' Bio in the HBC Archives only mentions four children namely Catherine, James, Alexander and William. The 1827 census indicates there were five children as follows:
Red River Census of 1827 (re Gail Morin):  Magnus BIRSTON as 57 years old, a Protestant from the Orkneys, un-married with one adult daughter (over 15), three sons under 16 years of age, and one daughter under 15 years of age. This is a rather dubious and puzzling record. Magnus has a house, barn and stable; two horses, two mares, a bull, 10 cows, six oxen, three calves, five swine. Also four carts, a plow, two harrows, a boat and a canoe. All of that indicates that he had become a very successful farmer.
In 1829 Magnus' brother Alex BIRSTON died. In his will, Alex left his brother Magnus 10 Pounds Sterling.
On Dec 3, 1829 daughter Catherine married William NORN who was born May 20, 1798 in Sandwick, Orkney, son of Elspet ALLAN & David NORN (1775-) from Stromness.
On Dec 16, 1830 son James married Grizzel ROWLAND at St Johns, daughter of Elizabeth FLETT & Robert ROWLAND from the Orkneys.
On Jun 28, 1832 son Alexander married Janet TAIT, daughter of John TAIT (1777-1851) from the Orkneys.
On May 23, 1837 Magnus BIRSTON died.
The BIRSTONS join the SINCLAIR Party of Settlers to Oregon
1841
In 1841 the HBC organized a party of 23 families from Red River to emigrate to the Columbia River, hoping that, as settlers, they would strengthen British claims to the Oregon, then in dispute with the United States. James SINCLAIR (1810-1856) led the party across the plains and through the little-known southern Rocky Mountains
I extend and invitation to anyone with further information comments or queries about this family to post them under the following Forum Topic: ** FORUM DISCUSSING the FAMILY OF MAGNUS BIRSTON (c1768-1837)
============================ Family Details ============================
Children:
?1. c1799 MILES BIRSTON (m. Mary Ann UNKNOWN)
2. 1802 WILLIAM BIRSTON (m. Angelique BERCIER)
3. c1806 CATHERINE BIRSTON (m1. John TOD, m2. William NORN)
4. 1809 JAMES BIRSTON SR (m. Grizzel ROWLAND)
5 1811 ALEXANDER BIRSTON (m. Janet TAIT)