MICHAEL "MIKE" CHOLOSKY (1931-2000)
ALMERNA JOYCE "MYRNA" STILL (1932-2017)
(Last Updated: December 09, 2017)
On Oct 13, 1931 Michael "Mike" CHOLOSKY was born in Selkirk, Manitoba, son of Tekla "Teenie" BILOWICZ & Karol CHOLOSKY (1887-1957). Mike's siblings were Walter CHOLOSKY, Joe, Olga, Lillian and Eddie CHOLOSKY.
Myrna STILL
On Jan 27, 1932 Almerna Joyce "Myrna" STILL was born at her parents home (the WARREN place near Miniota, Manitoba, the fifth child and only daughter of Bessie CONROD & Thomas James STILL (1894-1980).  This was at the beginning of the Great Depression, the 'Dirty Thirties'. ** MORE ABOUT JIM STILL
In 1936, when Myrna was four years old,  the STILL family moved in with their CONROD grandparents in Old England (near Selkirk) until her father was able to clear enough brush to build a house on Sunnyside Road near the Manitoba Rolling Mills (MRM).
THE WAR YEARS
1939-1945
World War II: On Sep 10, 1939, a special session of Parliament approved Prime Minister Mackenzie KING's request that Canada join the war in Europe. The decision, seen by most Canadians as inevitable, came exactly one week after England and France declared war on Nazi Germany. It was the first time that Canadians made their own declaration of war as a sovereign nation.
When the War began, Mike CHOLOSKY was about eight years old (Myrna STILL about seven).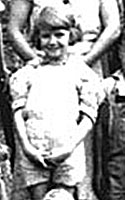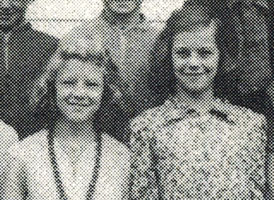 Left: Myrna in 1940 (from a family photo)
Right: Myrna and her cousin Vera CONRAD from the Mapleton Class of 1944
On May 7, 1945 the War was over when Germany surrendered unconditionally after a final attack across the Rhine.
Until about 1946 Myrna attended Mapleton School (to Grade 8). ** MORE ABOUT MAPLETON SCHOOL
As a teenager Myrna took music lessons from Rose PALMER (1908-1990) on Pruden Avenue. She became very good a playing a Hawaiian guitar.
To complete their high-school, both Myrna and Mike attended the Selkirk Collegiate. This therefore was probably where they first met.
Mike the Soldier
As a young man, Mike joined the Canadian Armed Forces and served in Canada and Continental Europe, receiving a Special Services Medal and an honourable discharge from the army. (need details & pictures)
In 1957 Mike's father (Karl) died.
Myrna & Mike Marry
1958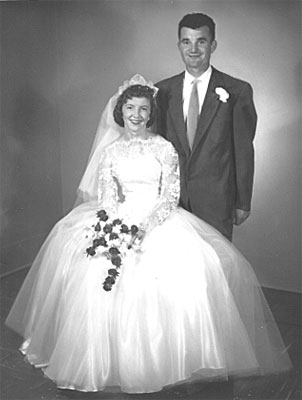 On June 28, 1958, Mike and Myrna married at the St Clements Church in Mapleton. They made their first home at 705 Vaughan Avenue in Selkirk.
Mike becomes a Psychiatric Nurse at the Selkirk Mental Hospital
1959
In 1959 Mike graduated as a Psychiatric Nurse and for the next 20 years the Selkirk Mental Hospital would be his workplace (a relatively short walk from his home).
In 1967 daughter Lorena was born, son Carl in 1968 and finally son Philip in 1972.
In his free time, Mike became involved with the Selkirk Ambulance Service and the Selkirk Funeral Chapel.
Mike also became actively involved in the affairs of the St Clements Anglican Church at Mapleton. He was on the Church Vestry Committee.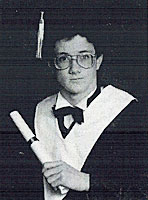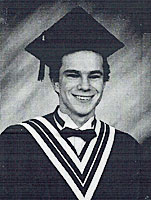 Carl  (L) & Philip ®  at their Graduations
Tragic Death of son Carl
1990
On Dec 20, 1990, son Carl died in Selkirk. He was only 22 years old.
Daughter Lorena marries Reno GERL
1996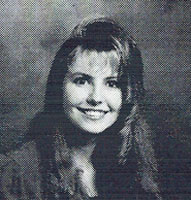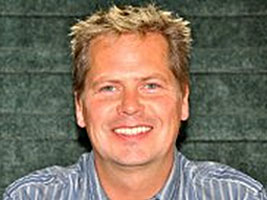 Lorena & Reno Gerl
On July 20, 1996, daughter Lorena married Reno GERL, son of ? (Waiting for more info). They made their home in East Kildonan (just south of Chief Peguis Overpass).
Stead Road, Gull Lake
1996
It was around 1996 that Mike, Myrna and son Philip moved to acreage on the Stead Road, south of Gull Lake, Manitoba.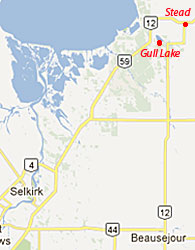 To their great delight, on July 2, 1998 Lorena presented Myrna & Mike with their first grandchild, Carly Dawn GERL.
Mike Dies
2000
On May 15, 2000, Mike CHOLOSKY died at his home in Gull Lake at the age of 69. For many years he had shown great inner strength and courage while coping with a Manic Depressive Illness, a Bipolar Disorder (a serious medical condition with many emotional, cognitive, physical and behavioral symptoms). ** MORE ABOUT BIPOLAR DISORDER
In the summer of 2001, I (Gary STILL) visited Myrna at Gull Lake and stayed with her for a couple of weeks. She was 62 years old now had adapted well to the life of a widow living alone. She had lots of friends in the area who visited frequently; she was actively involved with community social events. In the evenings it was typical to find her knitting or more likely doing her crossword puzzles (this was her favourite pastime (she had piles of Crossword Books). She also shared (with me) a great interested in family genealogy, so we had a great time browsing through her collection of books, pictures and old newspapers (she had a huge pile of those too).
She asked me to paint the house and garage because plans were under way for her to sell the place so she could move to Winnipeg where she would be closer to children and granddaughter. While I was there, Philip and later Lorena with granddaughter Carly, dropped in for visits. Little Carly was about three years old then, an active little imp, cute as could be and obviously the main focus of Myrna's affection.
Lorena & Reno GERL were living in East Kildonan now. Lorena was the Manager of Emotional Support Services at the Canadian Cancer Society. Reno was the Music Supervisor for the St Boniface/ Norwood School Division in Winnipeg and a Teacher of the Band, jazz band and vocal jazz at Windsor Park Collegiate. 
Philip by then was living in the same area, working as a Medical Lab Technician while pursuing his real passion as a musician.
Myrna moves into Kildonan House
2002
Myrna moved to North Kildonan (Winnipeg), Kildonan House, an apartment for seniors.
On Jan 16, 2002, Myrna's second granddaughter, Megan Lauren GERL was born.
Phil CHOLOSKY and the Tin Foil Phoenix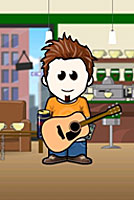 Phil the Guitarist in caricature and for real
Phil and his band have earned a place in an Encyclopaedia: TIN FOIL PHOENIX in Wikipedia
They also have a Website: TIN FOIL PHOENIX WEBSITE

This is a cover of the song "Man of Constant Sorrow"
They also have another song that was featured in the widely popular video game called NHL 2K10
Watch it here: "THE STUFF"
On Dec 7, 2017, Myna (nee STILL) CHOLOSKY died at the age of 86.
Please post comments and queries at this Link: FORUM DISCUSSING MYRNA & MIKE CHOLOSKY
========================== Family Details ==========================
Children:
1. Jun 8, 1967 ANNA LORENA CHOLOSKY (m. Reno GERL)
2. Oct 2, 1968 CARL JAMES CHOLOSKY
3. Sep 23, 1972 PHILLIP THOMAS CHOLOSKY