ANCIENT CONRAD / CONROD ANCESTORS IN GERMANY
(Last Updated: September 09, 2012)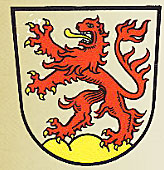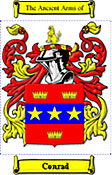 Two different versions of the Conrad Coat of Arms found on the Web
The CONRAD name means "One who is considered to be a bold, aggressive councillor".  It was written this way originally and only later changed by some German families to KONRAD.  Other Variations are KONRADT, CONRADT, CONRAD and CONROD. These name can be traced a wa-a-ay back.  Archeological evidence shows that what is now Germany was inhabited from the earliest times i.e. the Stone Age Peoples and the Bronze Age Peoples. 
Some Famous CONRADS who weren't even CONRADS
Here are a few famous CONRADS who I was soon disappointed to discover were not even CONRADS.
Joseph CONRAD:  Famous English novelist and short-story writer of Polish descent, whose works include the novels Lord Jim (1900), Nostromo (1904), and The Secret Agent (1907).  During his lifetime he was admired for the richness of his prose and his renderings of dangerous life at sea.  Actually, his real name was Jozef Konrad KORZENIOWSKI, definitely Polish.
Robert CONRAD, Actor:  Sorry! - he wasn't really even a CONRAD. He was Konrad Robert FALKOWSKI or FALK. ** MORE ABOUT ROBERT CONRAD in Wikipedia
William CONRAD, Actor:  I remember him well in the days of radio when he created the US Marshal Matt Dillon for the 11-year run of "Gunsmoke" (CBS Radio 1949-60).  He was the commanding, heavy-set actor, perhaps best known as TV's "Cannon" (1971-75) and later the unshaven PI in "Jake & the Fatman" (1987-88, 89-92).   He was born Sep 27, 1920 and died Feb 11, 1994. This guy was actually born John William CANN. Presumably William CONRAD was only his screen-name. ** MORE ABOUT WILLIAM CONRAD in Wikipedia 
Some Famous CONRADS
Documented but Unproven Ancestoral Connections
CONRAD Kings
911-918: CONRAD I, German king (911-918) and member of the powerful Franconian dynasty known as the Conradines.  1024-1039: CONRAD II (1024-39) and Holy Roman Emperor
Conrad III, son of Frederick, was the King of Germany and the Holy Roman Emperor from 1138-52, the first king of the Hohenstaufen dynasty. Throughout his reign there was a fierce struggle between his followers, the Ghibellines, and the Guelphs, the followers of Henry the Proud, duke of Saxony and Bavaria (1108-1139), and later of his son Henry the Lion (1129-1195).  Conrad was succeeded by his nephew, Holy Roman Emperor Frederick I.
1237-1251: CONRAD IV, German King from 1237 and King of Sicily from 1251.
===================== // =====================
Charles "Pete" CONRAD Jr:  American astronaut, co-pilot of the Gemini 5 spaceflight (1965), command pilot of Gemini 11, spacecraft commander or the Apollo 12 flight to the Moon, third man to walk on the Moon, and commander or the Skylab 2 mission.  He was born June 2, 1930 in Philadelphia, PA and he died July 8, 1999 after losing control of his 1966 Harley motorcycle on a mountain road near Ojai, CA.  He was 69 years old at the time?! 
The War of Roses
1455-1485

Some of our younger CONROD descendants have probably played this Computer Game
Some of your CONRAD ancestors are said to have been mercenaries who were hired to fight in a series of English battles known as "the War of Roses".  The House of York fought the House of Lancaster for the English crown.  This was a civil war that was an internal battle among members of the English Royal Family.  Because Lancaster's heraldic badge was a red rose and York's badge was a white rose, the long conflict came to be known as the Wars of the Roses (1455-1485).  These wars started when the nobles of York rose against Henry VI of Lancaster who was a feeble ruler.  Edward IV of York replaced Henry as king, but lost his crown once more to Edward after the Battle of Tewkesbury in 1741.  These were the days of the sword and cross-bow. Versions of this battle appear in some modern computer games.
After the War of Roses, the Conrad mercenaries were eventually paid for their services by being given land on the newly discovered continent of North America.  A settlement was begun in the area being called New Scotland (Nova Scotia).
Martin LUTHER (1483-1546), who is sometimes referred to in relation to our CONRAD genealogy, was born at Eisleben, Germany and died there in 1546. The Protestant Reformation began back in 1517.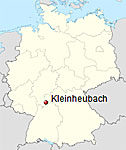 Ancestral CONRAD birthplace: Kleinheubach, Germany
Located on the south side of the Main River, between Wurzburg and Frankfurt
INTERESTING BUT DEBATABLE ANCESTORS
After reviewing the countless genealogical references I have accumulated over many years I have reached the point of pulling my hair out!  The vast array of information out there is laced with conflicting, erratic and contradictory evidence. Who is the real expert on the subject? At this point, for myself, I can most definitely concede that it most certainly is not me; I remain a sceptic!
ANNA MARIA VON LUDWIG who married a CONRAD
A 'WITCH' - 'BURNED AT THE STAKE'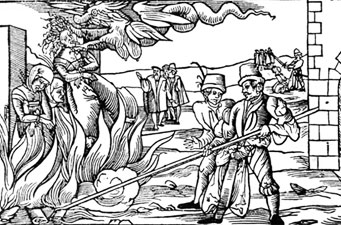 This woodcut shows a witch being burned at the stake in Dernburg in 1555.
Some 25,000 alleged "witches" were executed between 1500 and 1782 in Germany.
Germany was responsible for the deaths of some 40 percent of the 60,000 witches
who were tortured and killed in Europe during the infamous era.
See details in: Germany Rehabilitates Its Persecuted 'Witches'
This was during the time of the Thirty Years War and the Holy Roman Empire.
Quotes by Dean Tanner on the Geni.com Website
"Anna Maria, the wife of Georg the Elder, became openly sympathetic to Martin LUTHER's Teachings. LUTHER was associated with the devil. So rumor quickly spread through the village that Maria CONRAD was a witch! You can image what Maria's reaction to this accusation would have been. During the great witch trials of Europe, Maria, like so many other innocent women was given a trial and found guilty of being a witch.
Many people gathered in the community to witness the great event, which would take place next... After she was tortured three times, she was tied up in the village and burned at the stake! It was believed that a mortal could not survive being burned alive. Well, Maria did just that! She survived the burning, much to the shock of the villagers. Records show it would have been better for her had she died because she was... locked away in a cell. So, was Maria really a witch? It is believed that Georg the Elder bribed the guards, because Maria mysteriously escaped from her cell and fled to the village of Grosheubach where she could not be tried since it was a different principality and under different kings. Maria would never visit Kleinheubach again. She was the last woman of the village to be accused of witchcraft in Kleinheubach. Ironically she died on Christ's birthday, 1646! Her son Burkhardt became the sexton of the village. In English that means he was the bell ringer."
The rest of her family (i.e. father, mother, siblings), was burned at the stake for heresy/witchcraft as well.
Johann CONRADT died in 1641 at Lowenstein, age 50.  Anna Maria died at Miltenburg on Christ's birthday, Christmas Day, Dec 25, 1646, age 52.
===================== // =====================
Scott Winston Teal is a respected genealogist and author of many books relating to our CONRAD ancestors in Germany. We are privileged that he visited the Forum of this website with his views on the whole matter. While many of us remain sceptical and confused, Scott Teal has become steadfast and adamant that he has found some answers that are undisputable. To begin TEAL hotly disputes the claim that Anna Maria VON LUDWIG was an ancestor of our Lorentz CONRAD (1701-1762). I have accordingly modified this page. To see Scott's comments in this regard, click on the next link below:
Please post queries and comments at this Link: FORUM Discussing the ANCIENT CONRADS OF GERMANY
OUR NOVA SCOTIAN CONRAD ANCESTOS FROM GERMANY
BURKHARDT CONRADT SR (1618-1673) married MARGARETHA SCHWIND (1629-1684).
Their son: BURKHARDT CONRADT JR (1670 - 1714) married ANNA MARIA RENTZ (1671-1709).  Their son was JOHANN LORENTZ (1701-1762) who married ANNA MARIE SALOME WORTHER. These are our CONRAD ancestors who immigrated to Canada. Their descendants are dealt with in a series of separate Family Pages, beginning at the following Link:  JOHANN LORENTZ CONRAD (1701-1762)