ST PIERRE COOK alias PETER SPENCE (1870-1938)
MARIE MONZINI (1878-1955)

(Last Updated: December 27, 2016)
Peter (St Pierre) COOK was born May 5, 1870 in the Sandy Bay Indian Reserve (Manitoba). ** We are still uncertain of Peter's biological parents.
Granddaughter Sharon Isbister-Bocchini: Peter COOK was raised by Jean Baptiste SPENCE.
Census of 1881: St Pierre SPENCE (age 11) with Marie and Jean Baptiste SPENCE (1812-1889) in Sandy Bay Reserve.
** MORE ABOUT JEAN BAPTISTE SPENCE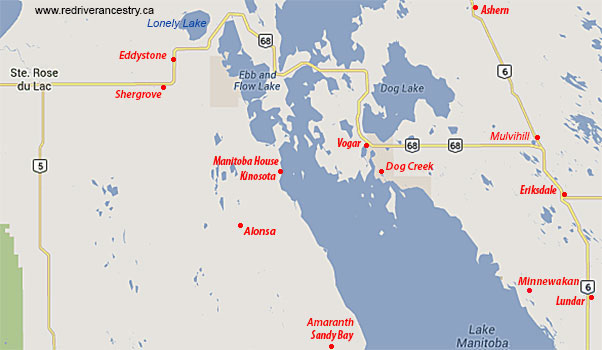 Marriage to Marie MONZINI
1893
In 1893 Peter married Marie MONZINI, daughter of Elizabeth ALLARY and Martin MONZINI (b-1849).
Census of 1901 in Ochre River (MB): St Pierre (Peter) COOK, age 31; wife Marie, age 23. Children: Louis (age 3) and Mary (age 2).  ** Ochre River is located to the west o Ste Rose du Lac (shown on map above). Their fourth child, Mary Rose was born in 1903 in this area as well.
The Family moves to Saskatchewan
1903+
Some time after 1903 Peter moved his family to the vicinity of Jasmin, Saskatchewan. Jasmin is located midway between Kelliher and Ituna (see map below ).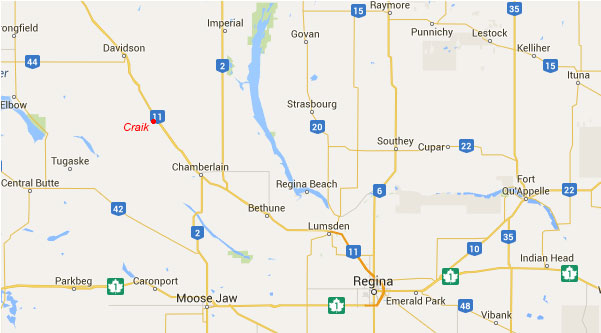 Census of 1906 near Jasmin, SK: Peter COOK, age 32; wife Mary, age 28. Children: Louis Alfred (age 9), Mary Jane (7) and Mary Rose (age 4). Siblings: Margaret COOK, Mary Jane (age 24), George (21) ,Catherine (14), and Baptiste COOK (age 12). Father-in-law Martin MOSINI, age 52 and his children? Alfred (age 16) and Paul (age 12).
Census of 1911 near Jasmin, SK:Peter COOK, age 40; wife Mary, age 34. Children: Wilfred (age 13), Mary (11), Marie (8) and baby George (age 5 months).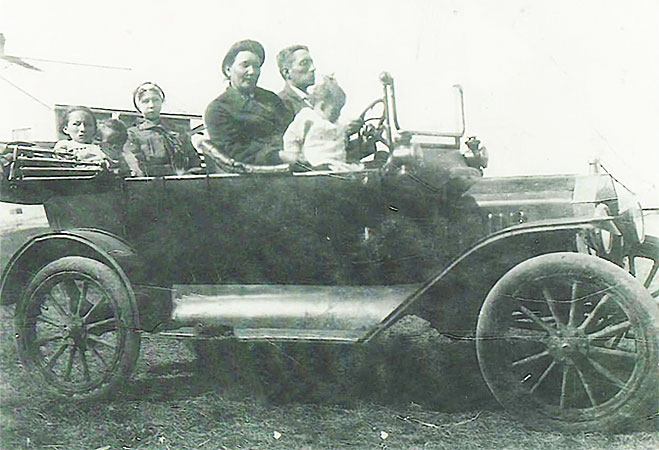 Great Grandpa Peter and Mary Cook Family
Peter Cook, Mary Cook (Mosionier). Rosanna on Mary's lap, Mary Jane, Agnes and Adeline
(Photo from Leonard Melton)
Census of 1916 near Jasmin, SK:Peter COOK, age 46; wife Mary, age 39. Children: Mary Jane (age 16), Rose Mary (13), Adeline (3) and Rosanna (age 1).
According to Ronald Runyan, dauthter Bertha "Mimi" COOK was born May 5, 1918 in Jasmin, SK. ** Unable to find her in the 1921 census.
Census 1921: Mary (age 41) and Peter COOK (age 54) in household of son Louis in Village of Lestock, SK. ** Lestock is along Hwy 15, west of Ituna; north of Fort Qu'Appelle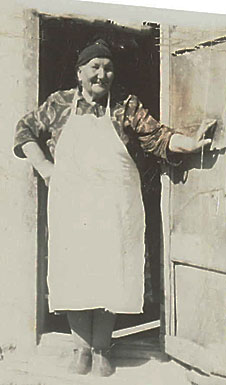 Mary Cook (Mosionier) (Photo from Leonard Melton)
Comments and queries at this link: FORUM for DISCUSSING THE PETER COOK FAMILY

========================== Family Details ==========================
Children:
1. Dec 22, 1897 LOUIS ALFRED COOK (m. Bertha)
2. Oct 11, 1898 MARY JANE COOK
3. Sep 11, 1899 MARY ANNA COOK
4. Jan 16, 1903 MARY ROSE COOK
5. 1911 GEORGE COOK
6. 1913 ADELINE COOK
7. 1915 ROSANNA COOK
8. May 5, 1918 BERTHA "MIMI" COOK (m. Wilbert Spencer ISBISTER)