WILLIAM COOK (1870-1935)
CATHERINE SPENCE (1873-1924)

(Last Updated: December 04, 2017)
William COOK was born Nov 5, 1870 at Moose Lake (SE of The Pas), son of Jane INKSTER and Joseph COOK (1843-1923), William grew up in the Cumberland District where his father (Joseph) was an Interpreter for the Hudson's Bay Company (HBC) until he retired in 1890 to Red River.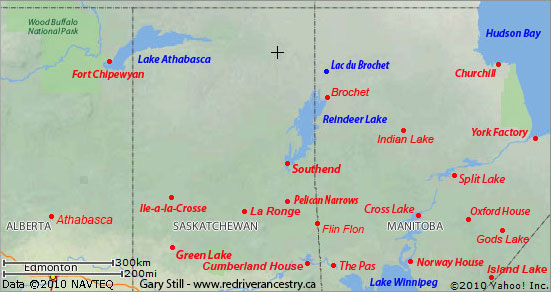 Marriage to Catherine SPENCE
1890
On May 12, 1890, William married Catherine SPENCE in St Andrews.
Census of 1906 in the Poplar Park area (31-15-6-E1): William COOK, age 35; wife Catherine b-c1874, age 32.  Children:  Joseph J (age 15), John R (13), Mary (11), Catherine (7) and Rosa (age 4).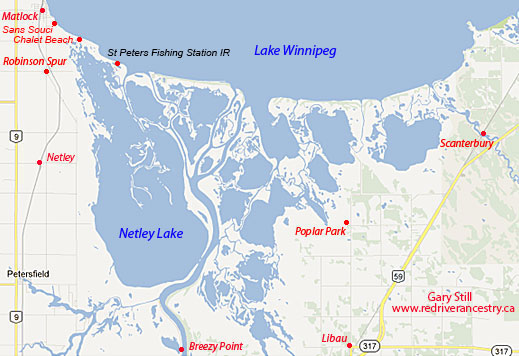 Census of 1911 in Poplar Park: William COOK, age 39; wife Catherine, age 38. Children: John (age 18), Mary (15), Katie (12) and Rosie (age 8).
In 1913 daughter Elizabeth married David Thomas PRUDEN in St Clements, theson of Alice LEASK and William PRUDEN (1862-1900).
World War I
1914-1918
On Aug 4, 1914 Great Britain (Canada on Aug 5) declared war on Germany and Austria-Hungary to uphold treaties with France and Belgium which were under German attack. This marked the beginning of World War I.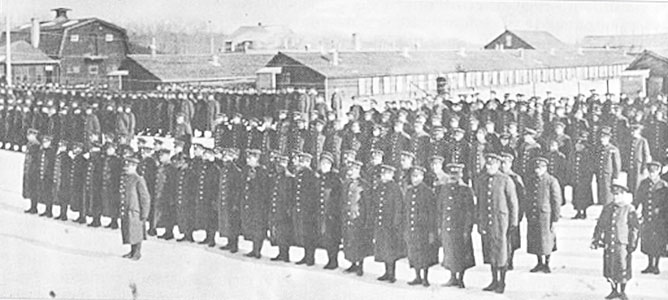 Soldiers at Red Feather Farm barracks in Selkirk during WW I
On Sep 15, 1916 son John Robert enlisted at Winnipeg. He was less than 15 years old. On Apr 19, 1917 Robert died in the Battle at Vimy Ridge in France.
November 11,1918, Armistice Day (Remembrance Day) marked the end of the First World War.
Census 1921 in St Clements Parish (19-15-6-Epm): William COOK, age 49 (b-1872 in NWT) and son Donald, age 7.
On Mar 17, 1924 Catherine (nee SPENCE) COOK died in Selkirk, age 50 (b-c1874).

Pat Clarke: Standing in back Mary Elizabeth (nee COOK) PRUDEN and David Thomas PRUDEN
Seated in Front Catherine (nee SPENCE) and William COOK
 On Aug 30, 1935 William COOK died in Selkirk, age 58 (b-c1877).
Comments and queries at this link: FORUM FOR DISCUSSING THE WILLIAM COOK FAMILY
=========================== Family Details ===========================
Children:
1. Dec 4, 1890 JOSEPH JAMES STEVENSON COOK (Died age 19)
2. Nov 22, 1892 JOHN ROBERT COOK
3. Oct 1, 1895 MARY ELIZABETH COOK (m. David Thomas PRUDEN)
4. Dec 26, 1898 CATHERINE COOK (Died age 18)
5. Jul 23, 1902 ELLEN ROSALINE (ROSA) COOK
6. Jan 31, 1914 COLIN DONAVON (DONALD) COOK