HENRY WILLIAM (HARRY) CORRIGAL (1853-1923)
MARTHA JANE ALLEN (1860-1952)
(Last Updated: October 06, 2015)
Note: These are the maternal great grandparents of Dusty Walsh (docdusty75) on our Forum.
Henry William (Harry) CORRIGAL was born on Oct 6, 1853 in Red River, son of Catherine FLETT and James CORRIGAL (1795-1874). ** MORE ABOUT JAMES CORRIGAL
Marriage to Martha Jane ALLEN
1877
Dusty: Around 1877 Harry married Marth Jane ALLEN (born May 29, 1860 in Woodstock, Ontario), daughter of Matilda EARGOOD and Oliver ALLEN (b-1826).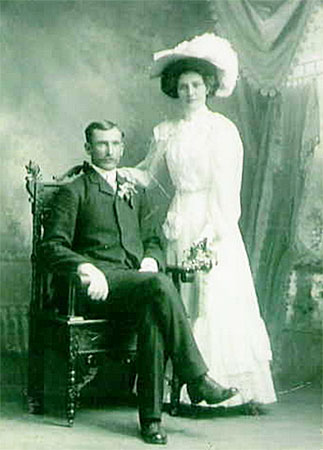 Harry and Martha Jane (From Corrigal Family Tree)
Western Land Grants: Document dated 1878/01/04 lists a 240 acre land grant to Henry CORRIGAL for SE and E1/2 of 14-14-9-W1. This location is just south of the Westbourne Settlement. However, census records for 1881 and 1891 indicate he and his family were living in the Town of Portage la Prairie.
Census of 1891in the Town of Portage la Prairie: Harry CORRIGAL, age 37; wife Martha, age 31. Children: James (age 13), Jennie (11), John W (8), Lovern (6), Lizzie (3) and baby Rosella (age 11 months).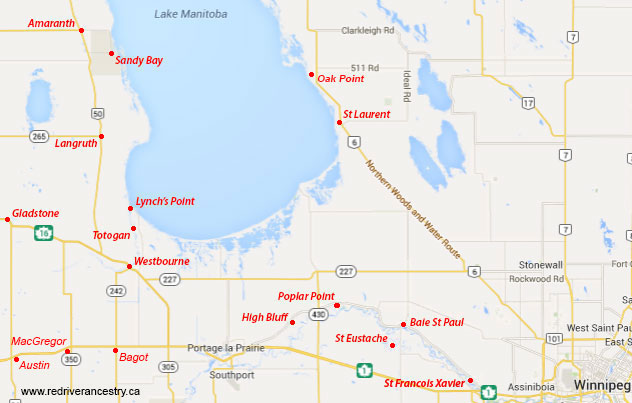 Farm near Austin, Manitoba
Canada & The South African War – The Boer War
1899-1902
By 1899 Henry had a farm on Section 22-12-11 Wpm. This location is about two miles southeast of Austin, Manitoba. He remained here for the rest of his life, according to census records.
Son John Wellington enlisted with the Fifth Contingent of the Canadian Mounted Rifles, and arrived in South Africa for the purpose of serving in the War against the Boers, but owing to the close of the War, he was not on active service. When he enlisted John gave his address as Austin P.O., Manitoba. It is unclear exactly when he enlisted. He was about 17 years old in 1899.
The South African War (1899-1902) or, as it is also known, the Boer War, marked Canada's first official dispatch of troops to an overseas war. ** MORE ABOUT CANADA & THE BOER WAR in CANADIAN WAR MUSEUM

Census of 1901: Harry CORRIGAL, age 47; wife Martha, age 41.  Children:  James F (age 23), Susan J (21), John W (19), Lovern (17), Elizabeth (13), Myrtle R (11), Harry A (9), Flora M (7), Fanny E (5) and George E (age 3).
In 1904 eldest daughter Susan Jane married William SMYTH of uncertain origins.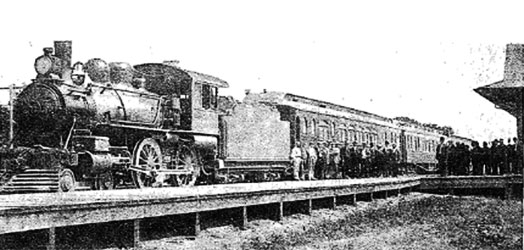 The first passenger train to reach Portage la Prairie from the east,
Over the Grand Trunk Pacific, is shown here as it arrived at the Union Starion on July 30, 1908
In 1910 eldest son James Franklin married Clara ROACH in North Norfolk.

In 1911 son John Wellington married Matilda HILLS in Souris, MB.
Census of 1911: Harry CORRIGAL, age 57; wife Martha, age 51. Children: Barney (age 27), Myrtle (20), Harry (19), Laurie (17), Fanny (14) and Earl (age 12).
In 1911 daughter Elizabeth (Cory) married George PORTEOUS (1880-1939) in Prince Albert, Saskatchewan.
World War I
1914-1918
On Aug 4, 1914 Great Britain (Canada on Aug 5) declared war on Germany and Austria-Hungary to uphold treaties with France and Belgium which were under German attack. This marked the beginning of World War I.
In September of 1914 son-in-law George PORTEOUS, enllisted at Valcartier, Quebec.
In 1916 youngest daughter Minnie married Rowland Orland McKELVY in RM of North Norkfolk.
Census of 1916: Harry CORRIGAL, age 62; wife Martha, age 56. Children at home: Florence (age 22) and George (age 17).
On Dec 5, 1917 son Harry Allan married Christina LAXDALL in Swan River. About two weeks later, on Jan 18, 1918, son Harry Allan enlisted at Winnipeg.
November 11, 1918, Armistice Day (Remembrance Day) marked the end of the First World War.
In 1919 son Henry Lovern married Eva Mildred NESBITT in Swan River, .daughter of Hannah Ann REED and William George NESBITT (1868-1930).
Also in 1919 daughter Myrtle Rosella married William Thomas ELGIE in Swan River, his origins uncertain.
In 1921 youngest son George Earl married Ida LAMBERT in Portage la Prairie; her origins uncertain.
Census of  1921: Henry CORRIGAL, age 67; wife Martha, age 61. Children at home: George (age 29); John (age 39), his wife Matilda (age 30) and their children: Edith (agd 7), Audrey (5) and Hazel (age 1).

On Jan 18, 1923 Henry William CORRIGAL died in RM of Westbourne, MB.

In 1925 daughter Florence May married Thomas William ANDERSON in St Boniface, MB.

On Feb 21, 1952 Martha Jane (nee ALLEN) CORRIGAL died in Manitoba

Comments and queries at this link: FORUM DISCUSSING THE HENRY CORRIGAL FAMILY
========================== Family Details ==========================
Children:
1. Nov 18, 1878 JAMES FRANKLIN CORRIGAL (m. Clara ROACH)
2. May 29, 1880 SUSAN JANE "JENNIE" CORRIGAL (m. William SMYTH)
3. Sep 28, 1882 JOHN WELLINGTON CORRIGAL ((m. Matilda HILLS)
4. Aug 6, 1884 HENRY LOVERNE (BARNEY) CORRIGAL (m. Eva Mildred NESBITT)
5. Jul 9, 1888 ELIZABETH ANN HARRIET "LIZZIE, CORY" CORRIGAL (m. George PORTEOUS)
6. 1890 MYRTLE ROSELLA CORRIGAL (m. William Thomas ELGIE)
7. Jul 4, 1892 HARRY ALLAN CORRIGAL (Christina LAXDALL)
8. Jul 17, 1894 FLORENCE MAY (FLORA, LAURIE) CORRIGAL (m. Thomas William ANDERSON)
9. Jul 17, 1896 MINNIE VIOLA (FANNY EMMA) CORRIGAL (m. Rowland Orland McKELVY)
10. Jul 31, 1898 GEORGE EARL CORRIGAL (m. Ida Ettry LAMBERT)