WILLIAM COUMONT (1888-1961)
ELIZABETH (ALICE) SPANE (1894-1963)
(Last Updated: January 21, 2015)
William COUMONT was born in 1888 in Omro, Minnesota, USA, the son of Elizabeth ZAHAN and Peter COUMONT (1838-1902) who was born in Germany.
In 1906 William came to Canada (Prince Albert area of Saskatchewan).
Marriage to Elizabeth SPANE
1911
In 1911 William married Elizabeth (Alice) SPANE in Whitfield, SK (northwest of Prince Albert) the daughter of Rosa and John Joseph SPANE (1848-1918) who was born in Switzerland and died Sep 27, 1918 in Saskatchewan.
Census of 1916 in Cudworth (SK): William COUMONT, Mechanical Engineer; age 28; wife Elizabeth, age 21. Children (all born in SK): John (age 4), Dominic (2) and Lavina (age 1). Cudworth is south of Prince Albert and south of Wakaw.
Census of 1921 in RM of Boyne (SK): William COUMONT, age 32; wife Elizabeth, age 26. Children: John (age 9), Dominic (7), Lavina (6), Henry (5), William (3) and Clara (age 1).
In 1932 eldest son John William married Elsie Margaret Dorothy CASAVANT aka BRACONNIER in Saskatchewan.
In 1936 eldest daughter Lavina married Ludger DUVAL in Prince Albert (SK), son of Virginie DUPUIS and Henri DUVAL (1856-1930) who was born in Quebec.
The family moves to Manitoba
1938
In 1938 William and his family moved to Manitoba (Kirkness; east of Lockport on map below).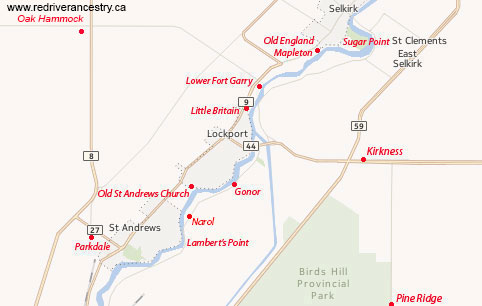 Son Henry married Alva SWAIN, daughter of Florence CLARKE and John Robert SWAIN (1885-1965).
               
Son Dominic married Julie MAHIN, daughter of Marie COPET and Leandre MAHIN (1869-1938)
In 1940 son William married Madeline SIEBEN in Rosenheim, AB
Son Roman married Margaret Marie PATTON.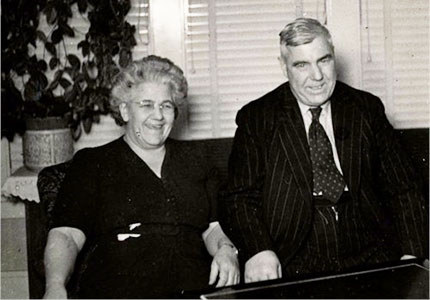 William & Elizabeth Coumont 1945
In 1945 son Francis married Audrey Eileen McRAE in Selkirk, daughter of Mary Emily NORQUAY and Colin McRAE (1882-1942).

Also in 1945 son Ernest married Margaret (Peggy) WRIGHT in Selkirk, the daughter of Alice LYONS and Grant WRIGHT (1905-1998).
Son Gordon married Audrey SANDERS. ** More details needed.
Daughter Dorothy married Ralph KRAUSE (1919-2002).
In 1952 daughter Isabel marred John McMURCHY, son of Minnie KIRKNESS and John Clarke McMURCHY (1890-1955).
In 1954 son Martin married his sister-in-law, Mildred Jean McMURCHY.
In 1955 youngest daughter Bernice married Allen Leonard BAKER (1926-2003) in Stettler, AB.
On July 19, 1961 William COUMONT died in Selkirk.
On March 2, 1963 Elizabeth (nee SPANE) COUMONT died in Kirkness, MB.
Elizabeth's obit  indicates that she was predeceased by one son (Clarence) and survived by 11 sons: John of Edmonton; Dominic of Victoria; Henry, Francis and Alfred of Sel,kirk; William of East Kildonan; Martin of North Kildonan; Roman of Balmoral; Wilfred of St Jean, SK; and Gordon of Bittern Lake, AB. Four surviving daughters: Mrs. L DUVAL (Lavina) of Selkirk; Mrs R KRAUS of Big Valley (AB); Mrs. J McMURCHY (Isabel) of Kirkness (MB) and Mrs. A BAKER of Edmonton (AB).
Comments and queries at this link: FORUM DISCUSSING the WILLIAM COUMONT FAMILY
========================== Family Details ==========================
Children:
1. Jun 1, 1912 JOHN WILLIAM COUMONT (m. Elsie Margaret Dorothy CASAVANT aka BRANCONNIER)
2. 1914 DOMINIC PETER COUMONT (m. Julie MAHIN)
3. 1915 LAVINA MARIE COUMONT (m. Ludger DUVAL)
4. Sep 11, 1916 HENRY COUMONT (m. Alva SWAIN)
5. Mar 7, 1918 WILLIAM MARTIN COUMONT (m. Magdalena Mary (Madeline) SIEBEN)
6. Dec 17, 1920 DOROTHY MARY (CLARA) COUMONT (m. Ralph KRAUSE)
7. Aug 26, 1921 ROMAN LEO COUMONT (m. Margaret Marie PATTON)
8. Dec 22, 1922 FRANCIS JOSEPH COUMONT (m. Audrey Eileen McRAE)
9. Sep 17, 1923 ERNEST ENGELBERT COUMONT (m. Peggy WRIGHT)
10. Dec 7, 1927 GORDON COUMONT (m. Audrey SANDERS)
11. Nov 2, 1929 CLARENCE COUMONT (Died in infancy)
12. Nov 3, 1931 MATTHEW JOSEPH MARTIN COUMONT (m. Mildred Jean McMURCHY)
13. ISABEL COUMONT (m. John McMURCHY)
14. WILFRED COUMONT
15. Oct 16, 1935 ALFRED ROBERT "ALFIE" COUMONT (m. Private)
16. Oct 18, 1936 BERNICE HELEN COUMONT (m. Allen BAKER)