GEORGE MELVILLE COVE (1876-1957)
ADA MAUD TRAN (1883-1959)
(Last Updated: February 11, 2016)
George Melville COVE was born in 1876 at Amherst Head, Nova Scotia, son of Mary Elizabeth STEWART and Bedford COVE (1846-1928). It seems very likely that George was a descendant of a Richard COVE who was born about 1760 in England and immigrated to Nova Scotia in the late 1790's.
** These are the great grandparents of Brenda (nee COVE) STILL (wife of Rev. Murray STILL).
Census 1881, 1891: George (age 2, 12) with parents in Amherst Shore, Cumberland, Nova Scotia.
Boer War
1899
The South African War (1899-1902) or, as it is also known, the Boer War, marked Canada's first official dispatch of troops to an overseas war. In 1899, fighting erupted between Great Britain and two small republics in South Africa. The two republics, settled by Boers, descendants of the region's first Dutch immigrants, were not expected to survive for long against the world's greatest power. ** MORE ABOUT THE BOER WAR in the Canadian War Museum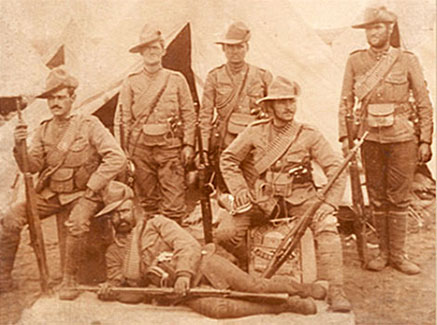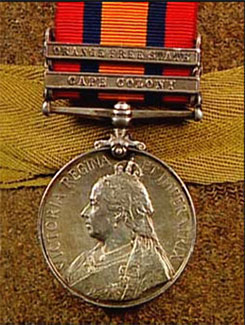 Canadians in the veldt in South Africa – Upon discharge, George was presented with the Queen's South African Medal
(QSA) which was awarded to all officers and men who served in the Boer War
George's service in the Boer War
1901-1903
Interestingly, in 1901 a Soldier named George COVE (age 22) was included in a List of Inmates of the Halifax Poor Asylum. George enlisted in the South African Constabulary and served with the British Forces in South Africa (The Boer War) from Feb 22, 1901 to May 18, 1903. On Nov 21 that year the Manitoba Morning Free Press reported that G.M. COVE was dangerously ill with enteric (typhoid) fever. At that time his father (Bedford) was living at Amherst Head, NS.
Marriage to Ada Maud TRAN
Brandon, Manitoba
1906
After the Boer War and before 1906, George apparently made his way to the Brandon area of Manitoba.
On Feb 15, 1906 George married Ada Maud TRAN in Brandon, Manitoba, daughter of Cordelia ANGUS and John Charles TRAN (1838-1916) from England.
Census of 1906: George COVE (age 27) and his wife Ada (age 22) were 'servants' at the farm of Pierce COULING (b-1877) south of Brandon near Hayfield. On Nov 26 that year their first child, Walter Allan, was born.
In 1908 George applied for a Military Land Grant at Brandon. ** Under the Volunteer Bounty Act of 1908, veterans of the South African War were entitled to 320 acres of Dominion Land. Most veterans opted to receive scrip in the amount of $160 rather than a land grant, or sold their land grant entitlement to a "substitute".
Census of 1911 in the City of Brandon (58-8th Street): George COVE, age 32; wife Ada, age 27. Children: Walter (age 4), William (2) and Vera (age 1).
Census of 1916 in Brandon (713-17th St): George COVE, age 36; wife Ada, age 31. Children: Wallis (age 9), Willie (7), Vera (6), Margaret (4), David (4) and Beatrice (age 1).
Census of 1921 in the RM of Cornwallis (south of Brandon): George COVE, age 42; wife Ada, age 36. Children: Walter (age 14), William (12), Vera (10), Margaret (9), David (8), Beatrice (6) and George (age 4).
In 1930 daughter Vera married Thomas Bowles MARTIN in the RM of Pipestone.
In 1933 daughter Margaret married Thomas Maxwell DICKISON, son of Margaret STEVENS and Thomas DICKISON (1878-1931). They lived in Calgary.
In 1935 son David married Catherine Pearl IRWIN in Strathcona (MB, daughter of Margaret Catherine SPRING and Thomas James IRWIN(1878-1947). In 1936 son David COVE died in Rosser (north of Headingly) at the young age of 23.
Brenda: David was working on a farm near Warren, MB when he developed a throat abscess. In that era, patients in hospital were sedated at bedtime; however, the Doctor left an order not to sedate him because if the abscess broke and he was sedated, the poison would kill him. Unfortunately, he was sedated and perished.
Around 1939 Widow Catherine re-married to her brother-in-law (David's older brother), Walter Allan COVE. ** No evidence of a formal (legal) marriage, so this may have been a common-law relationship.
It is uncertain when daughter Beatrice married Cecil Hubert LAMBKIN, son of Lulu Ann MONEY and Henry Hubert LAMBKIN (1888-1965).
On March 14, 1957 George Melville COVE died at the Deer Lodge Hospital in Winnipeg.
On Jan 29, 1959 Ada (nee TRAN) COVE died in Souris.
Comments and queries at this link: FORUM DISCUSSING GEORGE MELVILLE COVE AND HIS DESCENDANTS
========================== Family Details ==========================
Children:
1. Nov 26, 1906 WALTER ALLAN COVE (m. Catherine Pearl IRWIN)
2. Feb 17, 1908 CHARLES BEDFORD COVE (Died in infancy)
3. Mar 15, 1909 WILLIAM MINER COVE (m. Mary)
4. Mar 7, 1910 VERA MAE COVE (m. Thomas Bowles MARTIN)
5. Sep 20, 1911 MARGARET ELIZABETH COVE (m. Thomas Maxwell DICKISON)
6. Aug 2, 1913 DAVID JOHN WESLEY COVE SR (m. Catherine Pearl IRWIN)
7. Mar 14, 1915 BEATRICE IRENE COVE (m. Cecil Hubert LAMBKIN)
8. Mar 24, 1916 GEORGE ALBERT COVE (m. Bay/ Beatrice)