HENRY THOMAS DESMARAIS (1861-1942)
MARIA CAMPBELL (1861-1951)
(Last Updated: April 30, 2014)
Henry Thomas DEMERAIS was born Jul 4, 1861, most likely in the White Mud Settlement (later named Westbourne) south of Lake Manitoba (see map below). In various documents variations of this surname include DEMERAIS, DEMARAIS, DEMERIA, etc.
Cassandra: Thomas H DESMARAIS b1850 d 1942. His dad was Absolom LAROCQUE b 1838 no other information and he married Eliza DESMARIAS b 1838 which is the daughter of John and Sophia. ** This relationship is under review/
Thomas future wife, Maria (Mary) Ann CAMPBELL was born on Jan 7, 1861 at the north end of Lake Manitoba in the Kinosota area (Manitoba House). She was a daughter of Angelique THORN and Alexander (Alexis) CAMPBELL (b-1836).
** MORE ABOUT ALEXANDER (ALEXIS) CAMPBELL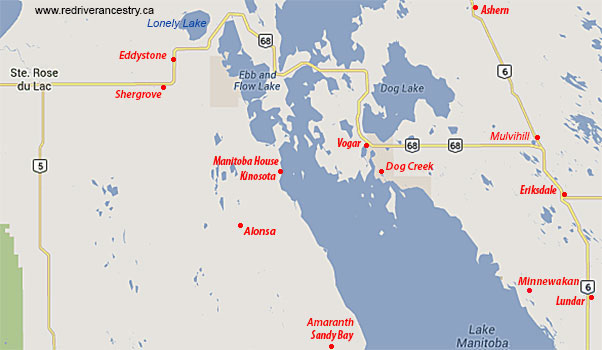 Canadian Confederation
Red River Rebellion
Manitoba becomes a Province
1867-1870
On July 1, 1867 the British colonies in North America were united under the British North American Act to become the Dominion of Canada. Sir John A MACDONALD (1815-1891) was appointed as Canada's first Prime Minister; a month later he won the first federal election.William McDOUGALL (1822-1905) became the Minister of Public Works, and he began negotiations to acquire Rupert's Land from the HBC, sending out surveyors to prepare the way for an expected influx of settlers.
On Oct 11, 1869, Louis RIEL (1844-1885) placed his foot on the surveyors' chain to tell them their work was finished. This marked the beginning of a Red River Metis Rebellion.
On July 15,1870Manitobabecame the fifth province of Canada, the Canadian Government having acquired the territory previously governed by the HBC. The Rebellion was essentially over.
Marriage to Maria Ann CAMPBELL
1883
Around 1883 Thomas began a connubial relationship with Maria (Mary) Ann CAMPBELl.On Nov 4, 1883 daughter Henriette was born at Gladstone. On July 6, 1885 he and Maria CAMPBELL were formally wed at Manitoba Post (Kinosota).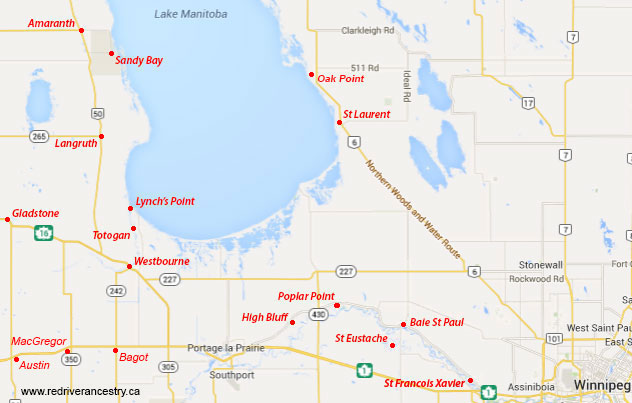 In 1896 daughter Henriette died in Portage la Prairie.
Census of 1901 in Gladstone: Thomas DEMERAIS, age 40; wife Maria, age 40. Children: Henry (age 15), Peter (13), Mary (10), Colin (11), Gilbert (4) and baby Albert. With them is Thomas' brother, Frank DEMERAIS, age 21 (born Sep 7, 1879). They have boarders: Widow Elizabeth J THOMPSON, age 35 (born Apr 7, 1866); Sarah SMITH, age 19 (born Nov 9, 1881); Henry T SMITH, age 28 (born Aug 12, 1872); Sam SMITH, age 22 (born Nov 12, 1878); Widower Fritz BAKER, age 35; and Rufee THOMPSON, a baby born Jan 8, 1901. ** My note to Cassandra: This brother Frank should be a good clue for determining Thomas' parentage.
Census 1906: Thomas DEMERAIS, age 46; wife Maria, age 42. Children: Mary (age 16), Gilbert (8), Albert (6), Flora (3) and baby Sarah (age 3 months).
On Sep 25, 1909 Henry Thomas DEMARAIS received a Land Grant for the SE quarter Section 12-25-13-W1 (NE of St Rose; east of Dauphin Lake; north of Shergrove). In the 1911 census he was recorded there with children as Gilbert (age 14), Albert (12), Flora (7) and Sarah (age 5).
World War I
1914-1919
On Aug 4, 1914 Great Britain (Canada on Aug 5) declared war on Germany and Austria-Hungary to uphold treaties with France and Belgium which were under German attack. This marked the beginning of World War I.
In 1915, when son Wm Jas enlisted, Annie was living in Winnipegosis district

Census 1916: Westbourne District; 18-10-W1): Thomas DEMARAIS, farmer, age 32; wife Mariah, age 54. Children: Colin (age 27), Gilbert (18), Albert (16), Flora (14) and Sarah (age 10). This location is west of the Sandy Bay Reserve, south of Amaranth.
In 1916-17 when sons Henry, Colin & Albert enlisted Henry & Maria were at Bluff Creek (near Alonsa).
In 1918 son Albert Edward married Louise Mildred KINGSLAND in London, England. (A War-bride)
November 11, 1919, Armistice Day (Remembrance Day) marked the end of the First World War.
Census 1921: Dauphin District (12-25-13-W1): Henry DESMARAIS, age 62; wife Maria, age 59. Daughter Sarah, age 16. Adopted: Mae (age 9) and Alice (age 8). This location is NE of St Rose du Lac (east of Lake Dauphin)
In HH-59 (Section 6) is son Peter DESMARAIS, age 36 and his wife Martha, age 27(born (born 1894 in England; immigrated 1919). ** Cassandra – Who was Martha?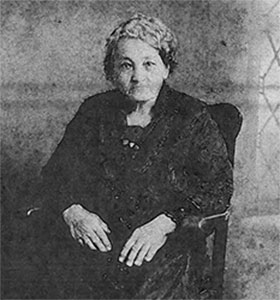 Marie circa 1930's
(From Sherri Webb)
In 1936 son Peter married Rita Mae RUSSELL in Winnipeg.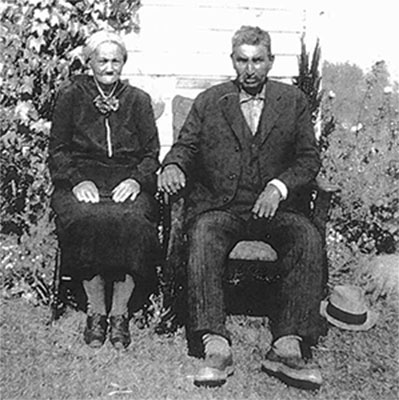 Marie & Tom circa 1940 at Mackinac, MB
(From Sherri Webb)
In 1942 Thomas Henry DESMARAIS died.
In 1951 Marie Anne (nee CAMPBELL) DESMARAIS died.
Comments and queries at this link: FORUM DISCUSSING the HENRY THOMAS DESMARAIS FAMILY
========================= Family Details =========================
Children:
1. Nov 4, 1883 HENRIETTE DESMARAIS (Died age 13)
2. Feb 28, 1886 HENRY CHARLES DESMARAIS
3. Oct 7, 1887 PETER DESMARAIS (m. Rita Mae RUSSELL)
4. Mar 27, 1888 COLIN DESMARAIS (?m1. Rosie CAPLETTE, m2. Annie CLAIRE)  
5. Feb 14, 1891 MARY DESMARAIS
6. Sep 29, 1893 WILLIAM JAMES DEMARAIS
?7. Jun 15, 1895 JOHN JAMES DESMARAIS
8. Aug 14, 1896 GILBERT DESMARAIS
9. Aug 24, 1898 ALBERT EDWARD DESMARAIS (m. Louise Mildred KINGSLAND)
10. 1903 FLORA DESMARAIS
11. Apr 3, 1906 SARAH DESMARAIS (?m. Lars Anton ERICKSON)