WILLIAM AUGUSTUS "GUS" DURIE (1870-1954)
MARY ELIZABETH COOK (1888-1940)

(Last Updated: July 06, 2016)
William Augustus "Gus" DURIE was born Dec 29, 1870 in Selkirk, son of Jane Ellen SETTEE and William Lawrence DURIE (1847-1885) who was born in Toronto, Ontario. He was a grandson of William Smith DURIE (1813-1885) who founded The Queen's Own Rifles of Canada in 1863. ** MORE ABOUT WILLIAM SMITH DURIE in DCBO

Gus' mother, Jane Ellen (of unknown origins) was baptized on Feb 12, 1871 in St Peters (Red River) by Reverend James SETTEE (1809-1902) who took her in as a foster child. ** MORE ABOUT REVEREND JAMES SETTEE
Around 1875 Gus' mother (Jane SETTEE) began a common-law relationship with John BOUSKILL(1823-1890), a carpenter from Port Hope, Ontario. BOUSKILL was still married to Margaret (nee BLECHER) who was still in Port Hope with most of his seven children. At that time Gus was still with his maternal SETTEE grandparents who essentially raised him.
In the 1881 census Gus (age 10) was recorded with Grandpa SETTEE in Prince Albert, Saskatchewan. That same year his mother (Jane) was recorded in the Stony Mountain area of MB with John BOUSKILL. She was recorded then as Jane SETTEE (age 27), but she had two children, Robert (age 5) and Sarah (age 4) who were recorded with the surname BOUSKILL.
In 1883 Gus' mother, Jane SETTEE married Frank WHYTE of uncertain origins (born 1851 in Ontario).
In 1887 Gus was probably still with Grandpa SETTEE when he returned that year to the mission at Jackhead, west of Lake Winnipeg, and then in 1888 in the St Peters Indian Reserve.
In 1890 John BOUSKILL died in Stony Mountain at the age of 68.
In 1891 Gus' mother and step-father, Jane (age 40) and Frank WHYTE (age 39) were recorded in the Matlock area (west side of Lake Winnipeg) with his half-siblings, Robert (age 15) and Lucy (Sarah), age 14. These were Jane's children with John BOUSKILL.
In the Census of 1901 Gus (age 30) and his half-siblings, Robert (age 25) and Sarah (age 24) were now with their mother and step-father Jane and Frank WHYTE on Matheson Island.
On Nov 15, 1901 Margaret (nee BLETCHER) BOUSKILL died in Port Hope, Ontario.
In 1902 Gus' grandfather, Reverend James SETTEE died at Lac du Bonnet, MB.
A Short Stint with the Canadian Mounted Rifles near the end of the Second Boer War
1902
On Apr 26, 1902 Gus DURIE enlisted at Winnipeg to serve in the Second Boer War. His attestation record indicates that he was 28 years old and single. He was 5' 8" and weighed 125 lbs. He had a dark complexion, brown eyes and brown hair. He stated his next of kin as his mother, Jane WHYTE of Lake Winnipeg (P.O. West Selkirk).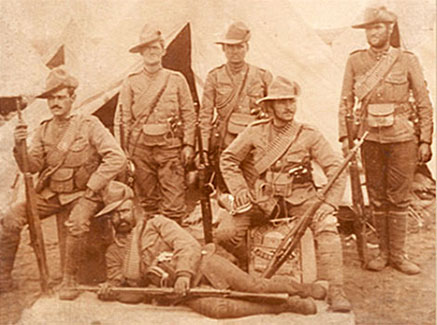 Canadian Soldiers in the Boer War
From Canadian War Museum: In April 1902, the British requested from Canada a fourth contingent of 2,000 men recruited and funded on the same basis as the 2nd Regiment, Canadian Mounted Rifles. The contingent was recruited in April 1902 and organized into four regiments of Canadian Mounted Rifles. Each regiment had 26 officers, 483 men and 539 horses, organized into a headquarters and four squadrons. The contingent therefore could field 16 squadrons, three more than the combined strengths of the second and third contingents, plus Strathcona's Horse. Each regiment was commanded by a veteran of previous service in South Africa, and included a large number of veterans in both its commissioned and non-commissioned ranks. These units arrived in South Africa after the war had ended, however, and returned to Canada in July 1902 at which time they disbanded.
Marriage to Mary Elizabeth COOK
1904
On Oct 20, 1904 Gus married Mary Elizabeth COOK.in St Clements, daughter of Mary Elizabeth KENNEDY and Matthew COOK (1860-1935) from the St Peters Indian Reserve.
In January of 1911 Gus' grandmother, Sarah SETTEE died at Lac du Bonnet.
Census 1911: Selkirk (#22), SD-56, pg 7 (St Peters IR), HH-64: Cree family of William Augustine DURIE, age 37 (born 1874); wife Mary, age 23 (born 1888). Children: Gordon 2; baby Harold.
World War I
1914-1918
On Aug 4, 1914 Great Britain (Canada on Aug 5) declared war on Germany and Austria-Hungary to uphold treaties with France and Belgium which were under German attack. This marked the beginning of World War I.
On Oct 4, 1915 William Augustus DURIE enlisted at Winnipeg. He was 35 years old; 5' 7", dark complexion, brown eyes and dark hair. He stated his next of kin as Mary DURIE of Lac du Bonnet, MB.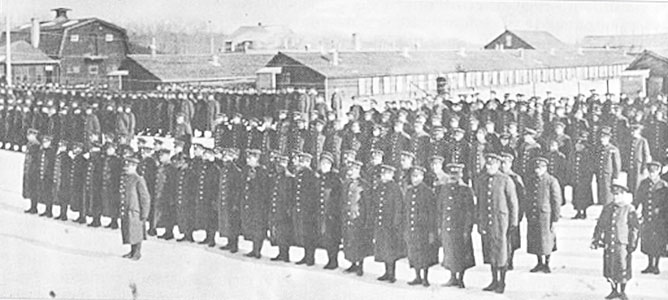 Soldiers at Red Feather Farm barracks in Selkirk during World War I
November 11,1918, Armistice Day (Remembrance Day) marked the end of the First World War.
In 1931 Gus' mother, Jane Ellen WHYTE died in Selkirk at the age of 84.
In 1939 son Harold Wilfred was married to Renee Madeleine FIDLER, and in 1940 son Roy married Evelyn Mary FIDLER in Selkirk, both daughters of Julie Marie MOTTE and Peter Jasper FIDLER (1893-1952).
Coldwell:  In 1940 Mary Elizabeth died in Selkirk
On Feb 12, 1954 Gus DURIE died in Selkirk, age 81, both he and Mary Elizabeth were buried in St Clements Cemetery at, Mapleton.
Comments and queries at this link: FORUM DISCUSSING the FAMILY OF WILLIAM AUGUSTUS DURIE
=========================== Family Details ===========================
Children re Anc.com/MB Deaths:
1. Sept, 1906 MATTHEW AUGUSTUS DURIE (Died in infancy)
2. 1908 GORDON DURIE
3. Aug 15, 1910 HAROLD WILFRED "ALLIE" DURIE (m. Renee Madeleine "Babe" FIDLER)
4. Jan 4, 1913 ROY DONALD DURIE (m. Evelyn Mary FIDLER)
5. 1914 ALBERT "BERTIE" DURIE (Died in infancy)
6. Dec, 1916 ALEXANDER LAWRENCE DURIE (Died in infancy)