JEAN BAPTISTE FIDDLER (1858-1950)
VERONIQUE GERVAIS (1867-1959)

(Last Updated: November 24, 2016)
Jean Baptiste FIDDLER was born on Jan 11, 1858 in St Francois Xavier, MB (SFX), son of Josephine LAPLANTE and François FIDDLER (1838-1893). ** MORE ABOUT FRANCOIS FIDDLER
Census 1870, 1881: Jean Baptiste (age 9, 19) recorded with his parents in SFX.
Dispersal of the Metis After the Red River Resistance (1869-70): The Scrip system's failure to properly extinguish the Métis Aboriginal title was perhaps the main reason why the Metis dispersed from Manitoba starting in the 1870's. - - In 1882-83 twenty families from SFX moved to Batoche, SK. - -
Marriage to Veronique GERVAIS
1884
On Sep 21, 1884 Jean Baptiste married Veronique GERVAIS at Batoche (SK), daughter of Catherine ROSS and Cleophas GERVAIS (b-1844).
North West Rebellion
1885
1885 was the year of the historic North-West Rebellion and the Battle of Batoche.
** MORE ABOUT THE NORTHWEST REBELLION in WIKIPEDIA

Jules MORIN was told that his great-grandparents, Veronique (nee GERVAIS) & Jean Baptiste FIDLER b-1859 (son of Francois), participated in the resistance, and that Baptiste was one of the younger participants (he would have been about 26 years old).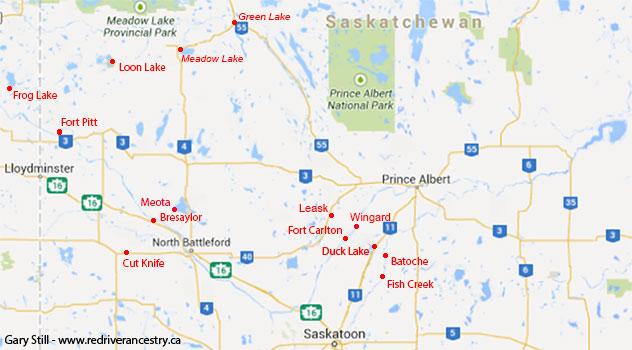 In November of 1885 son Alexandre was born at Fish Creek (south of Batoche).
Following the 1885 Resistance, the Metis once again dispersed from their lands. Most of the Metis who left went to the North Dakota and Montana Territories. Most of the migrants eventually moved back to Canada. (Mention of Jean-Baptiste FIDLER settling at Pincher Creek)
On Jul 6, 1889 son William was born at Duck Lake.
Montana Territories
1896
On July 2, 1896 son John Thaddeus "Theodore" was born in the North West Territories (SK); being baptized Oct 18, 1896 in St Peter's Mission, Montana.
Census of 1906 in Emmaville, SK: J Baptiste FIDDLER, age 46; wife Veronique, age 38. Children: Joseph (age 21), Louis (18), W John (17), M Adele (13), Theodore (12), Flora (6), Frank (4), Azilda (2) and baby M Antoinette (age 8 months). ** Emmaville is SE of St Walburg (SK) and NE of Lloydminster.
Meadow Lake
1908
Heritage Memoires pg 141 (on MetisGen): In 1908 they (Veronica & JB) moved to Meadow Lake, SK. JB farmed west of Meadow Lake. He was foreman of the crew that built the road from Meadow Lake to North Battleford.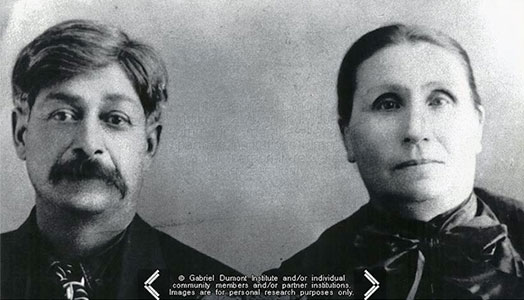 Jean Baptiste Fiddler and his wife Veronique (nee Gervais)
Around 1911-12 son Louis married Emilia BOUSQUE of uncertain origins.
In 1911 son William married Avelina DELARONDE of uncertain origins.
Census of 1911 in Meadow Lake area: Jean Baptiste FIDDLER, age 53; wife Veronique, age 43. Children: Garneau (age 24); Mary Adele (18), Theodore (17), Florence (12), Frank (10), Ezilda (9), Mary Antoinette (7), Fred Toby (4), Malvina (3) and baby Maxime.
Daughter Mary Adele married Emile MORIN, son of Marie DESJARLAIS and Jean Baptiste MORIN (1856-1903).
Census of 1916 in Meadow Lake area: John Baptiste FIDDLER, age 54; wife Margaret, age 47. Children: Flora (age 17), Frank (15), Matilda (13), Antoinette (11), Fred (10), Malvina (9) and Max (age 6).
By 1916 son Theodore was married to Mary Ann MORIN, daughter of Pelagie LINKLATER and Joseph Henry MORIN (b-1868).
By 1918 daughter Florence was married to her brother-in-law, Norbert MORIN, son of Pelagie LINKLATER & Joseph Henry MORIN (b-1868).
In 1928 son Louis married a second time to Virginia FRASER, daughter of Margaret AUBICHON and Norbert FRASER.
Also In 1928 daughter Malvina married Harry Bruno SANREGRET in Meadow Lake, son of Marie COLLIN and William John SANREGRET (1877-1910).
Son Maxime married Melanie KENNEDY, daughter of Eugenie MORIN and Antoine Charles KENNEDY (1874-1944).
On Mar 11, 1950, Jean Baptiste FIDDLER died in Meadow Lake. In December of 1959 his widow, Veronique (nee GERVAIS) FIDDLER died there too.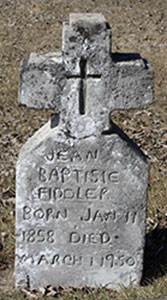 Gravesmarker in Meadow Lake Woodlawn Cemetery
Comments and queries at this link: FORUM for DISCUSSING THE FAMILY OF JEAN BAPTISTE FIDDLER
========================== Family Details ==========================
Children:
1. Nov 23, 1884 JOSEPH FIDLER
2. Nov, 1885 ALEXANDRE FIDLER (Died in infancy)
3. Dec 1887 GARNEAU FIDDLER
4. Feb 20, 1888 LOUIS FIDDLER (m1. Emilia BOUSQUI, m2. Virginia Excellia FRASER)
5. Jul 26, 1889 WILLIAM JOHN "BILL" FIDDLER (m. Avelina DELARONDE)
6. Jul 19, 1891 MARIE HELENE FIDDLER
7. May, 1893 MARY ADELE FIDDLER (m. Emile MORIN)
8. Nov, 1894 THEODORE FIDDLER (m. Marie Ann (Ange) MORIN)
9. May, 1899 FLORENCE FIDDLER (m. Norbert MORIN)
10. Apr, 1901 FRANK FIDDLER
11. Jan, 1902 EZILDA FIDDLER
12. Nov 14, 1904 MARY ANTOINETTE FIDDLER
13. May, 1907 FRED TOBY FIDDLER
14. May, 1908 MALVINA FIDDLER (m. Harry Bruno SANREGRET)
15. Oct, 1910 MAXIME FIDDLER (m. Melanie (Bella) KENNEDY)