CHIEF ROBERT FIDLER (1861-1939)
SARAH (1861-?)
(Last Updated: March 08, 2017)
Robert FIDDLER was born about 1861, a son ofZHAUWUNO-GEEZHIGO-GAUBOW and one of his five wives. His father belonged to the Sucker people of Sandy Lake, on the upper reaches of the Severn River (See map below). Members of this group had little contact with whites.
From 1887 Robert's father was often listed in HBC records as Jack FIDDLER and his people were sometimes referred to as the FIDDLER tribe, reportedly because they had started to carve fiddles like the ones they saw at company posts. ** Note: This FIDDLER family had Ojibway origins (Oji-Cree), definitely NOT English.
** MORE ABOUT ZHAUWUNO-GEEZHIGO-GAUBOW (JACK FIDDLER) in DCBO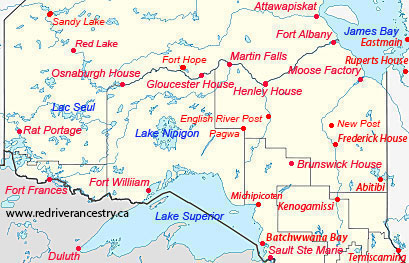 The Deer Lake Reserve is located to the south of Sandy Lake as shown on this map (west of Red Lake)
Big Sandy Lake is located to the south of Lac Seul; East of Rat Portage (Kenora) and Dryden, ON
People of the Sandy Lake – Deer Lake area were semi-nomadic, and like all Anishinababe peoples organized themselves by doodem (Clan). Individual groups maintained seasonal camps and moved around according to where the best hunting and fishing was.
Robert FIDDLER and Sarah
1888
Around 1888 Robert's wife was a lady named Sarah.
Census of 1901 in the Island Lake District: Robert FIDDLER, age 35; wife Sarah, age 30. Children: Jane (age 12 or 2?) and John (age 1).
By 1904 Robert and Sarah had at least seven children: Moses (9), Elizabeth (8), James (6), Jane (5), John (3), Isaac (age 2) and baby Thomas. ** Based on information gathered as of the latest update.
Robert becomes Chief
1907
On Sep 30, 1907 Robert's father (Jack FIDDLER) died at Norway House. Robert then became Chief of the Sandy Lake – Deer Lake Band.
Robert signs Adhesion to Treaty Number Five
1910
In 1910, John SEMMENS (1850-1921) stopped at Deer's Lake East (also known as Reindeer Lake), where the band a year earlier had rejected incorporation with the Island Lake band.  The Government accepted their claim to separate status, and on June 9, 1810, Chief Robert FIDDLER formally accepted Treaty 5 on behalf of his band. ** Note: The original Treaty #5 had been signed back in 1875 at Berens River.
** MORE ABOUT JOHN SEMMENS in DCBO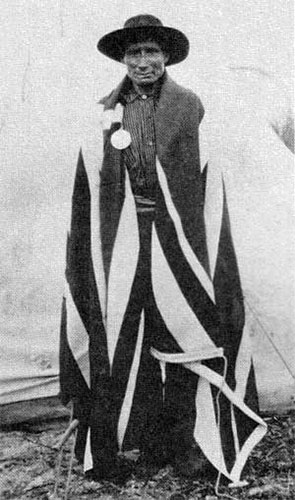 Chief elect, Robert Fiddler, Deer's Lake Band East, June 9, 1910.
Commissioner Semmens pinned upon Robert's coat a silver medal, and three around his shoulders a
Union Jack, telling him that the flag would protect him from his enemies.
(Archives of Manitoba)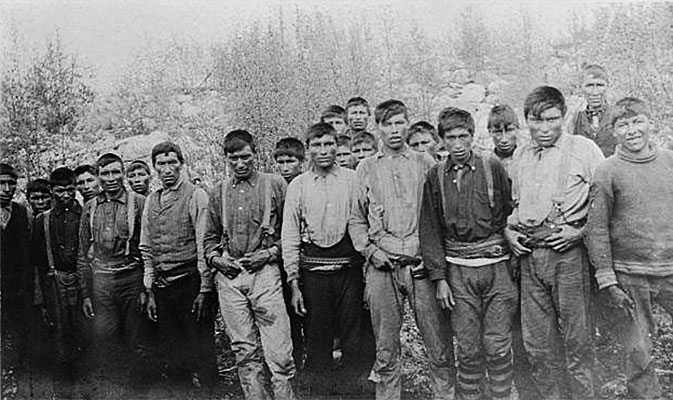 Men of Deer's Lake East Band, taken just after Treaty was made, June 9, 1910
(Archives of Manitoba)
Census of 1911 in the Deer Lake Indian Reserve: Saulteaux family of Robert FIDDLER, age 50; wife Sarah, age 50. Children: Moses (age 16), Elizabeth (15) James (13), John (10) and Isaac (age 9).
Census of 1921 in the Deer Lake Indian Reserve: Robert FIDDLER, Trapper, age 48; wife Sarah, (age 48) and son Isaac, age 30.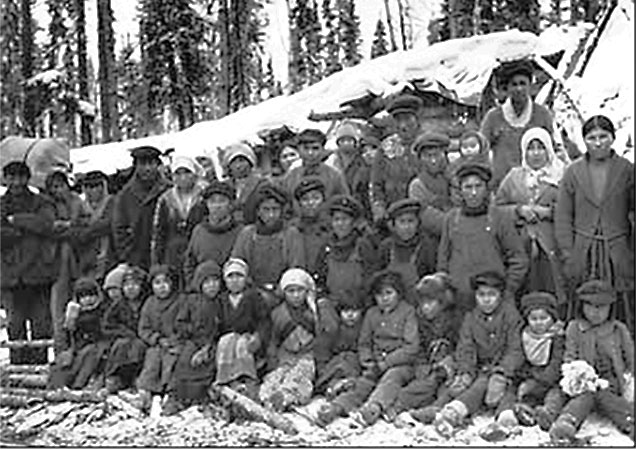 Group at Deer Lake West around 1925 (Archives of Manitoba)
Big Sandy Lake Reserve Established
1926
The Little Suckers remained at Deer Lake until 1926 when Robert FIDDLER decided to establish the reserve for his people at the mouth of Finger Lake at "Big" Sandy Lake. This location was chosen because it was a well forested area and had ground suitable for root crops. When Robert FIDDLER and the Little Suckers arrived at Sandy Lake they joined the CRANE, the HARPER, KAKEGAMIC, KAKEPETUM and LINKLATER families who had been settled on "Big" Sandy Lake since Treaty.
When Robert FIDDLER passed away in 1939, Thomas FIDDLER then became Chief until his retirement in 1968.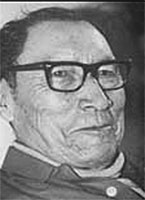 Chief Thomas Fiddler
We would love to hear from descendants of Chief Robert FIDDLER. Anyone who can provide more details or who may be able to identify people in the above photos.
Comments and queries at this link: FORUM DISCUSSING DESCENDANTS of CHIEF ROBERT FIDDLER
========================== Family Details ==========================
Children:
?1. Mar 30, 1890 HENRY FIDDLER (m1. Nancy MONIAS; m2. Margaret)
2. 1895 MOSES FIDLER (m. Ellen)
3. 1896 ELIZABETH FIDLER
4. 1898 JAMES FIDLER
5. 1899 JANE FIDDLER
6.  1901 JOHN FIDLER
7. 1902 ISAAC FIDLER
8. 1904 THOMAS FIDLER (m. Mary Ann)