RODERICK FIDLER (1890-1941)
MARY ELIZABETH LEA (1900-1950)

(Last Updated: July 12, 2017)
Roderick FIDLER was born May 30, 1890 in Selkirk, Manitoba, the son of Elizabeth CAMPBELL and Thomas FIDLER (1843-1890).
Home for most of Roderick's early life was at 967 Eveline Street in Selkirk. The census record for 1921 recorded him as a 28 year old Marine Engineer, living with his parents there.
Marriage to Mary Elizabeth LEA
1923
On Aug 21, 1923 Roderick married Mary Elizabeth LEA in St Andrews, the daughter of Esther Jane BELL and George Henry LEA (1869-1950). Mary Elizabeth was born in England and came to Canada with her family around 1902-03.
World War II
1939-1945
On Sept 4, 1939 Canada and Britain declared war on Germany, beginning World War II. Almost immediately new recruits began pouring into Winnipeg to sign up with the Winnipeg Grenadiers and the Royal Rifles of Canada.
In WWII Roderick served in the Navy with the Royal Canadian Navy Reserve aboard the HMCS Windflower.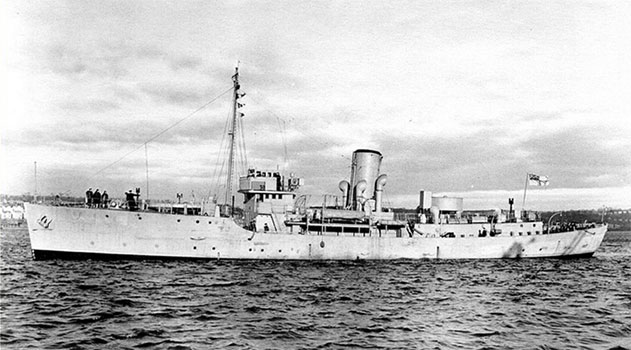 Photo of the Canadian corvette HMCS Windflower during acceptance trials in 1940.
Most of the ship's armament has not yet been fitted.
On 7 December 1941, Windflower was escorting Convoy SC.58 when she collided with Dutch merchant Zypenberg in dense fog on the Grand Banks at 46° 19N, 49° 30W. 23 crew were lost in the sinking, including Roderick FIDDLER. He was buried in Halifax, NS.
** MORE ABOUT THE HMCS WILDFLOWER in Wikipedia
On May 7, 1945 Germany surrendered and the War in Europe ended; the next day, May 8, was declared VE Day.
In the early 1950's son Raymond married Marjorie BOLAM, the daughter of Blanche PRADEY and David George BOLAM (1893-1945) who came to Canada in 1921 from England.
On Oct 27, 1950 Mary Elizabeth (nee LEA) FIDLER died at the Selkirk General Hospital. At that time her residence was on Dufferin Avenue in Selkirk,
In 1955 son Harold married Janet PRUDENat the Wakefield Church north of Clandeboye (MB), the daughter of Nellie MASTERS and Harold PRUDEN (1902-1979).
Comments and queries at this link: FORUM FOR DISCUSSING THE FAMILY OF RODERICK FIDLER
========================== Family Details ==========================
Children:
1. 1925 RAYMOND EDWARD "RAY" FIDLER (m. Marjorie BOLAM)
2. Nov 1, 1927 CLARENCE JAMES "JIM" FIDLER
3. Apr 21, 1931 RODERICK FRANK FIDDLER (m. Lorraine)
4. Feb 17, 1933 HAROLD THOMAS FIDLER (m. Janet Eleanor PRUDEN)
5. LEONARD "LEN" FIDLER