ALFRED HERBERT FOWLER (1873-1948)
MARY ANN TERESA LEEMAN (1872-1940)

(Last Updated: September 18, 2016)
Alfred Herbert "Herb" FOWLER was born Sep 16, 1873 in Carver, Minnestoa (USA), son of Margaret SCOLLIE and Samuel FOWLER (1848-1911). ** MORE ABOUT SAMUEL FOWLER
Inspiration to create this Family Page came from Donald FOWLER, Herb's grandson, who made a donation and is cooperating in its development.
Census of 1891:Alfred (age 17) with parents in Athens Village (ON).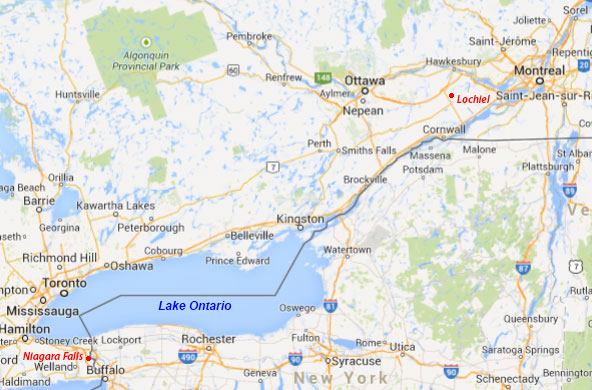 \
Marriage to Mary Ann Teresa LEEMAN
1894
On July 18, 1894 Alfred married Mary Ann Teresa LEEMAN in Kingston (ON), daughter of Catherine MURPHY and John Joseph LEEMAN (1844-1935).
South African War or the Second Boer War
1899-1902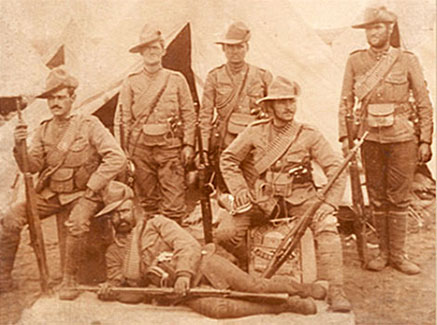 Canadian Soldiers in the Boer War
The Second Boer War, also known as the South African War, started on Oct 11, 1899 and ended on May 31, 1902.
** MORE ABOUT CANADA in THE SOUTH AFRICAN WAR in HISTORICA CANADA
Donn: Herb, known as "the Boss," was a career soldier in Canada from the age of eighteen, and saw action in South Africa's Boer War.
Census of 1901 in Kingston, Ontario: Herbert FOWLER, Sergeant in RCA, age 27; wife Mary, age 28. Children: Arthur (age 4), William (2), Kathleen (1) and Margaret G (age 1). Cousin: Kate HINGEY, age 20 (born Feb 24, 1881 in ON).
World War I
1914-1918
On Aug 4, 1914 Great Britain (Canada on Aug 5) declared war on Germany and Austria-Hungary to uphold treaties with France and Belgium which were under German attack. This marked the beginning of World War I.
On Sep 23, 1914 Herbert enlisted at Valcartier (PQ). His attestation record indicates that he was born Sep 16, 1873 in Cobourg, ON, that he was 5' 7" with a dark complexion, grey eyes and brown and gray hair. He stated his next of kin as Mrs. Mary FOWLER of 96 Rideau St. in Kingston, ON. Previous service: Dec 24, 1892 to date with RCHA (Royal Canadian Horse Artillery). Note from Donn: FOWLER was actually born in Carver Village Minnesota but elected to go to war as a Cobourg Canadian Artilleryman.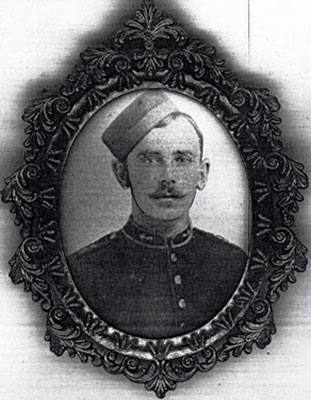 Alfred H. Fowler (1873-1948), Donald Fowler's grandfather, served in the South African (Boer)
War and the First World War as a career Canadian army soldier.
In 1915 son Arthur enlisted at Kingston.
November 11, 1918, Armistice Day (Remembrance Day) marked the end of the First World War.
In 1918 son William married Mary Evelyn MENARD in Frontenac.
In 1919 son Arthur married Rose Agnes COYLE in Frontenac (ON), daughter of Mary HAMMOND and John COYLE.
Census of 1921 in Kingston (104 Rideau): Herbert FOWLER, age 47; wife Mary, age 48. Children: Edward (age 19), Herbert (16), Mabel (15) and Robert (age 12).
In 1923 son Herbert married Grace May SEDORE in Frontenac, daughter of Alicc DAFOE and Alexander SEDORE (1869-1943).
Donn: On retirement, FOWLER returned to a home at 104 Rideau Street, Kingston, next door to the first home of John Alexander MACDONALD who later became Prime Minister of Canada., FOWLER had established the Kingston Riding Academy there with six English saddle horses each one named beginning with the egocentric letter "F" .
In 1924 daughter Mabel married Arthur Raymond GALBRAITH in Lennox and Addington, ON, son of Maria Augusta LUNDBERG and William GALBRAITH (1864-1950).
In 1933 son Robert married Irene Anne GOULET in Ottawa, daughter of Catherine BARRY and Henri GOULET (1864-1938).
On Sep 1, 1940 Mary (nee LEEMAN) FOWLER died in Kingston, Ontario.
On Jan 23, 1948 Alfred Herbert FOWLER died in Kingston.
Comments and queries at this link: FORUM DISCUSSING THE FAMILY OF ALFRED HERBERT FOWLER
========================== Family Details ==========================
Children:
1. Sep 10, 1895 HERBERT JOHN FOWLER (Died in infancy)
2. Nov 18 1896 ARTHUR REGINALD FOWLER (m. Rose Agnes COYLE)
3. Jul 21, 1897 WILLIAM HENRY FOWLER (m. Mary Evelyn MENARD)
4. Oct 3, 1899 MARY KATHLEEN FOWLER
5. Dec 19, 1900 MARGARET GERTRUDE FOWLER
6. May 8, 1902 ALBERT EDWARD JOHN FOWLER (m. Zella Mary)
7. Jul 21, 1904 HERBERT JAMES FOWLER (m. Grace May SEDORE)
8. Jul 25, 1905 MABEL EDNA FOWLER (m. Arthur Raymond GALBRAITH)
9. Apr 3, 1909 ROBERT GEORGE FOWLER (m. Ann Irene GOULET)