JOHN GOOD (1830-1900)
JANE ARDILL (1840-1926)
(Last Updated: October 20, 2015)
John GOOD was born Apr 15, 1830 in Marlborough, Ontario (SW of Ottawa), son of Marjory McGEE and John GOOD SR (1791-1860) who was born in Tipperary, Ireland, and came to Canada around 1860.
Marriage to Jane ARDILL
1860
On Nov 29, 1860 John married Jane ARDILL in Nepean, Ontario (Ottawa area).  Jane was born in Ireland, the daughter of Jane BROWN and Thomas ARDILL.(b-1821).
Canadian Confederation
A Red River Rebellion
Manitoba becomes a Province
1867-1870
On July 1, 1867 the British colonies in North America were united under the British North American Act to become the Dominion of Canada.  Sir John A MACDONALD (1815-1891) was appointed as Canada's first Prime Minister. William McDOUGALL (1822-1905) became the Minister of Public Works, and he began negotiations to acquire Rupert's Land from the HBC; surveyors were sent to Red River to prepare the way for an expected influx of settlers.
On Oct 11, 1869, Louis RIEL (1844-1885) placed his foot on the surveyors' chain to tell them their work was finished! This marked the beginning of the historic Red River Métis Rebellion.
On July 15, 1870 the Rebellion ended when RIEL's Provisional Government accepted the terms of the Manitoba Act and Manitoba became the fifth province of Canada.
Census of 1871 in the Carleton District (Nepean), Ontario: John GOOD, age 40; wife Jane, age 29. Children: Jane A (age 9) and William R (age 7)
.
Homesteading in RM of Rockwood, Manitoba
Homesteading policies written into The Dominion Lands Act of 1872 encouraged settlers to establish their homes in Western Canada. It offered 160 acres of land for a $10 administrative fee. The Act partitioned the land into townships. Each township was divided into 36 plots that measured one square mile, and each section was divided into quarters of 160 acres The homesteader had three years from the date of filing an affidavit, to build a permanent dwelling and cultivate 40 acres of land.
In 1881 eldest daughter Jane married Hugh McEWAN (1848-1929) from Ontario; origins uncertain.
It was probably after 1888 that John came to Manitoba as a homesteader.
Census of 1881 in the RM of Rockwood, Manitoba: John GOOD, age 51; wife Jane, age 40. Children (all but Isabella born in Ontario): William R (age 17), Thomas B (15), John (12), Milton M (10), Henry P (8), David (6), Margery L (3) and Isabella M (age 1).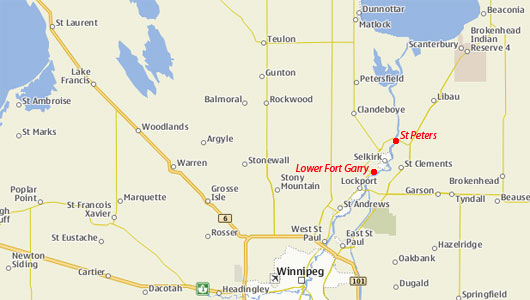 Western Land Grants: Dated Sep 21, 1883 for John GOOD for West Half of NE 18-14-2-Epm (Stonewall area).
In 1889 son William married Mary Alice STOREY in Rockwood. Her origins uncertain.
Census of 1891 in Rockwood: John GOOD, age 62; wife Jane, age 51. Children: Henry P (age 18), David L (15), Margery (13), Bella M (11) and George J (age 7). ** The George J is somewhat of a puzzler.
In 1892 son Thomas married Jane McQUARRIE in Rockwood, daughter of Mary RAE and William McQUARRIE (1844-1888).
In 1897 son John Edward married Mary LITTLE in Rockwood, daughter of Wilhelmine "Minnie" SEWERS and James LITTLE (1849-1903).
In 1899 daughter Marjorie married John Thomas WILLIS, son of Rachel JONES and Morris WILLIS (1832-1925).
In 1900 son Milton married Jessie MITCHELL in Rockwood, daughter of Grace HYDE and James A MITCHELL (1846-1925).
In 1900 daughter Isabella May married Charles Edwin CAMPBELL (1878-1951) in Rockwood. His origins are uncertain at this time.
On May 18, 1900 John GOOD died in Rockwood, age 70.
Census of 1901 in Rockwood: Widow Jane GOOD, age 60 Children with her: Henry (age 28) and David (age 25).
In 1902 son Henry married Jessie Christina CURRIE in Rockwood, daughter of Janet CAMPBELL and John CURRIE (1838-1919).
In 1903 son David married Esther MUDD in Rockwood. Her origins are uncertain.
Census 1911: Widow Mrs. J GOOD (age 68) with daughter and son-in-law, Margery and John WILLIS.
On Feb 23, 1926 Jane (nee ARDILL) GOOD died in RM of Rockwood at the age of 88.
Comments and queries at this link: FORUM DISCUSSING THE JOHN GOOD FAMILY
========================== Family Details ==========================
Children:
1. Aug 29, 1861 JANE ANNE GOOD (m. Hugh D McEWAN)
2. Jan 1, 1864 WILLIAM ROBERT GOOD (m. Mary Alice (Ella) STOREY)
3. Jun 3, 1866 THOMAS BROWN GOOD (m. Jane McQUARRIE)
4. July, 1867 JOHN EDWARD GOOD (m. Mary LITTLE)
5. Sep 5, 1870 MILTON McGEE GOOD (m. Jessie MITCHELL)
6. Mar 17, 1872 HENRY PETTIT GOOD (m. Jessie Christina CURRIE)
7. May 5, 1875 DAVID LEONARD GOOD (m. Esther MUDD)
8. Mar 29, 1878 MARGERY (MARJORIE) MARCELLA GOOD (m. John Thomas WILLIS)
9. Jun 10, 1880 ISABELLA MAY GOOD (m. Charles Edwin CAMPBELL)