HALFORD SPENCER GOULDHAWKE (1831-1906)
ELIZABETH GREENLEAF aka SETTEE (1855-1908)

(Last Updated: October 06, 2016)
Halford Spencer GOULDHAWKE was born on Oct 27, 1831 in Calcutta, West Bengal, India, son of Frances Golledge and James GOULDHAWKE (1790-1839).
Canadian Confederation
A Red River Rebellion
Manitoba becomes a Province
1867-1870
On July 1, 1867 the British colonies in North America were united under the British North American Act to become the Dominion of Canada.  Sir John A MACDONALD (1815-1891) was appointed as Canada's first Prime Minister. William McDOUGALL (1822-1905) became the Minister of Public Works, and he began negotiations to acquire Rupert's Land from the HBC; surveyors were sent to Red River to prepare the way for an expected influx of settlers.
On Oct 11, 1869, Louis RIEL (1844-1885) placed his foot on the surveyors' chain to tell them their work was finished! This marked the beginning of the historic Red River Métis Rebellion.
On July 15, 1870 the Rebellion ended when RIEL's Provisional Government accepted the terms of the Manitoba Act and Manitoba became the fifth province of Canada.
Census of 1870: Elizabeth SETTEE (age 16) with her parents in the St Peters Indian Reserve.
Marriage to Elizabeth GREENLEAF SETTEE
1870
On Oct 16, 1870 Halford married Elizabeth GREENLEAF-SETTEE at Fairford, Manitoba. The marriage was officiated by Elizabeth's father, Reverend James SETTEE (1809-1902). ** MORE ABOUT REVEREND JAMES SETTEE

On July 23, 1871 their first child, Frances Harriet, was born at Brokenhead River (MB).
In the Service of the Hudson's Bay Company
1876-1880
From 1876 to 1880 Halford was employed by the Hudson's Bay Company (HBC) as a Storeman at Fort a la Corne in the Cumberland District.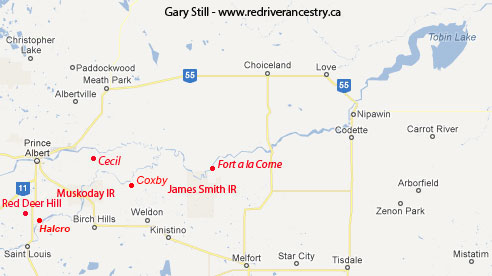 ** Here's an interesting blurb from the Saint Paul Globe and Mail (Minnesota, USA); issue date Jan 10, 1884, page 8: "Judge Simons granted a divorce yesterday in the district court to Sarah GOULDHAWKE from Halford Spencer GOULDHAWKE for willfully deserting her thirteen years after marriage. The defendant made no answer in the case and it was evident that this 'hawke' had flown away for good and all from his mate." ** If anyone can explain this one, please do so on the Forum.
The North-West Rebellion
1885
1885 was the year of the historic North-West Rebellion led by Louis RIEL (1844-1885).
** MORE ABOUT THE NORTHWEST REBELLION in WIKIPEDIA
The following bits are found in the Library of Archives Canada (LAC):
From LAC 1886: H.S. GOULDHAWKE, Prince Albert, Re his Claim to Scrip and List of Men who served under him as scouts.
From LAC 1887-1888: H.S. GOULDHAWKE – Rebellion Losses Claim
** These blurbs seem to indicate Halford's involvement in the Rebellion, but cannot find more details to explain them.
Census of 1891 in Red Deer Hill: Halford GOULDHAWKE, Gunsmith, age 60; wife Elizabeth, age 37. Children: Frances (age 19), Halford (15), Alexander (13, Alice (9), John (7) and George (age 11 months). Adopted: Adelaide COOK, age 9 (born 1882).
Around 1893 daughter Frances was married to George Edward YOUNG (1893-1974) of uncertain origins.
In 1899 son Alexander married Angelina Maria LACERTE in Rosthern (SK), daughter of Margarete and Dionnes LACERTE.(b-1858) from Quebec
.
Census of 1901 at Devils Lake: Spencer H S GAULDHAWK, age 69; wife Elizabeth, age 45. Children: Frances Harriet (age 29), Halford (23), Alexander L (21), Alice Theresa (19), Adelaide COOK (19; adopted), John G H (16), George Vic (?), Thomas Rowland (4) and Catherine Theodora (age 2; adopted). ** This is probably the Devils Lake north of La Ronge.
Around 1901 son Halford Jr. married Catherine McKAY of uncertain origins.
On Jun 30, 1902 Halford sold his property at the SW Quarter of 24-44-20-W2 to Robert T GOODFELLOW (b-1862). This property is located in the Fort a la Corne area.
Saskatchewan Residents Index (SRI) 1902: H.S. GOULDHAWKE at Craik, SK (On Hwy 11 between Saskatoon and Regina).
In 1904 daughter Alice married Olaus OLSON, son of Britta ENDRESDR and Bartel OLSON (1846-1920) from Norway.
On May 25, 1906 Halford Spencer GOULDHAWKE died in Sandy Lake (SK).
In 1906 son John married Emma Jane ISBISTER in Mont Nebo (SK), daughter of Mary Jane ANDERSON and George B ISBISTER (1855-1937).
Son Thomas married Mary FROESS b-1918, daughter of Elizabeth KOSOKOWSKY and Valentine FROESS (1890-1957) from Russia.
Census of 1906 in Shellbrook: Widow E. GOLDHAWK, age 50. Children: Thomas (age 10) and Catherine (age 8).
On May 23, 1908.Elizabeth (nee SETTEE) GOULDHAWKE died, and was buried in Lac du Bonnet, Manitoba.
Comments and queries at this link: FORUM DISCUSSING THE FAMILY OF HALFORD SPENCER GOULDHAWKE
============================== Family Details ==============================
Children:
1. Jul 23, 1871 FRANCES HARRIET GOULDHAWKE (m. George Edward YOUNG)
2. Nov 12, 1875 SARAH ELIZABETH GOLDHAWKE (Died in infancy)
3. Nov 12, 1876 HALFORD NAYTHON GOULDHAWKE (m. Catherine McKAY)
4. Apr 6, 1879 ALEXANDER LAMBERT GOULDHAWKE (m. Angelina Marie LACERTE)
5. Nov 27, 1881 ALICE THERESA GOULDHAWKE (m. Olaus Bertel OLSON)
6. Jun 12, 1882 ADELAIDE COOK (Adopted) GOULDHAWKE
7. Jun 25, 1884 JOHN ISAAC HENSON SKINNER GOULDHAWKE (m. Emma ISBISTER)
8. Sep 3, 1887 JAMES ROWLAND CROS GOLDHAWKE (Died in infancy)
9. May 24, 1891 GEORGE VICTOR GOLDHAWKE
10. Mar 6, 1897 THOMAS ROWLAND GOLDHAWKE
11. Oct 25, 1899 CATHERINE THEODORA (adopted) GOLDHAWKE