JOHN EMIL HENNIG (1888-1960)
MARGARET SCHOEPP (1891-1972)
(Last Updated: August 28, 2012)
John Emil HENNIG (of German origin) was born Jun 24, 1888 in Vohlynia, Russia, son of Juliana SIERPINSKI & Gustav Konstatin HENNIG (1851-1917).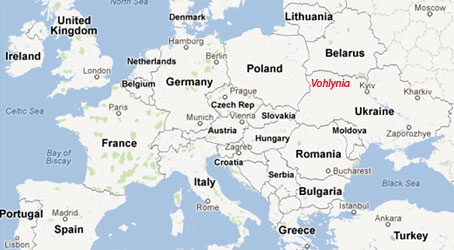 Emil's father (Konstatin HENNIG) was born in Germany, later moved to
Poland where in 1879 he married Emil's mother (Juliana SIERPINSKI)
and by 1888 they moved to Vohlynia (NW Ukraine) where Emil was born.
In 1901 Emil was around 13 years old when he came to Canada with his parents (Juliana & Gustav) who settled in the Golden Spike area, south of Spruce Grove), Alberta.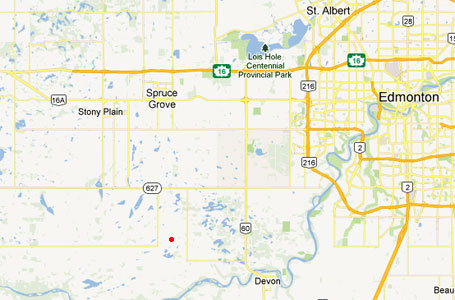 The red dot is the location of Emil Hennig's property (Golden Spike area)
In the Census of 1906: Emil (age 18) was recorded with his parents on 30-51-27-W4.
Marriage to Margaret SCHOEPP
1908
On Oc5 3, 1908 Emil married Margaret SCHOEPP at Golden Spike, daughter of Anna Marie DAUNHEIMER & Johann Philip SCHOEPP (1867-1928).
Western Land Grants: Undated: John Emil HENNIG; NE-15-51-27-W4. This location is shown by a red dot on the above
map. In the Census of 1911 Emil was recorded on this property as age 24; wife Maggy, age 20 with baby John.
World War I
1914-1919
On Aug 4, 1914 Great Britain (Canada on Aug 5) declared war on Germany and Austria-Hungary to uphold treaties with France and Belgium which were under German attack. This marked the beginning of World War I.
1916 Census: Emil (age 28), Margarita (age 25) and children as John (age 5), Amelia (4), Louisa (3) and Martin (one month old).
On Dec 11, 1917, Emil's father, Gustav Konstantin HENNIG died in Stony Plain.
** On Jun 27, 1918, a John HENNIG of Stony Plain, Alberta enlisted for Canadian military service. His attestation papers indicate that he was born on Jan 5, 1896 in Austria (Town not known), He stated his next of kin as Christian HENNIG (address P.O. Box 74, Stony Plain, AB). He was 22 years old; 5' 4", fair complexion with blue eyes and fair hair. John was the son of Karoline METZLER, 2nd wife of Christian HENNIG (1850-1933), who may have been Emil's uncle (making John a cousin to Emil).
November 11, 1919, Armistice Day (Remembrance Day) marked the end of the First World War.
In 1928 St. John Evangelical Lutheran Church of Golden Spike was founded by predominantly German Lutherans and was a part of the Manitoba Lutheran Synod. Today, St. John is a member of the Evangelical Lutheran Church in Canada (ELCIC).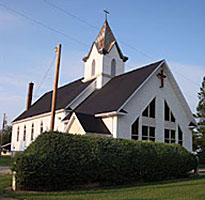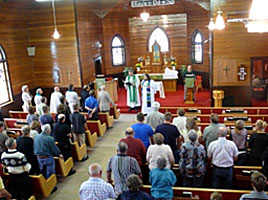 St John Lutheran on the Spike
51301 Range Road 274
On Feb 5, 1932 eldest son John married at Golden Spike to Martha (1914-1998), daughter of Philipine SCHULTZ & Ludwig GOEBEL.
On Feb 12, 1935, Emil's mother, Juliana, died.
World War II
1939-1945
On Sept 4, 1939 Canada and Britain declared war on Germany.
Oct 29, 1939 son Martin Philip married in Spruce Grove to Frieda Maria GOEBEL, daughter of Philipine SCHULTZ & Ludwig GOEBEL.
On June 6, 1944 eldest daughter Emilie married at Golden Spike to Milo Cecil ELLIS (1922-1978).
May 7, 1945: Germany surrendered, the war in Europe ended; the next day, May 8, was declared VE Day.
August 14, 1945: Japan surrendered - VJ Day. The Second World War was officially over.
On Sep 4, 1960 Emil HENNIG died in Golden Spike.
On Aug 29, 1972 Margaret died.
This Family Page is under Construction – More to come
Please post stories, comments & queries at this link: FORUM DISCUSSING FAMILY of MARGARET & EMIL HENNIG
========================== Family Details ==========================
Children:
1. Jul 19, 1910 JOHN RUDOLPH HENNIG (m. Martha Barbara GOEBEL)
2. Nov 21, 1912 AMELIA (EMILIE) EUGENIE HENNIG (m. Milo Cecil ELLIS)
3. Oct 24, 1913 LOUISE HELENE HENNIG (m. Michael NONAY)
4. Apr 18, 1916 MARTIN PHILLIP HENNIG (m. Frieda Maria GOEBEL)
5. Jan 31, 1918 WALTER GUSTAF HENNIG (m. Ida GITZEL)
6. Dec 26, 1919 ANNE/ANNA JULIANNA HENNIG (m. Edmund GITZEL)
7. Feb 4, 1922 CARL ALFRED HENNIG (m. Olive Emilie DORIN)
8. Mar 12, 1924 ELSIE THERESA HENNIG (m. James "Jim" BURN)
9. ARTHUR HENNIG (m. Marvilen)
10. NORMAN L HENNIG (m. Gwendolyn Ann "Gwen" ELBRE)
** Grandparents of Carissa HENNIG-STILL
12. EILEEN HENNIG (m. Bob OSWALD)