JOHN GILBERT ISERHOFF (1859-1926)
LOUISA ISERHOFF (1860-1907)
(Last Updated: January 29, 2016)
John Gilbert ISERHOFF was born about 1859 either at Eastmain or Waswanipi (Waswonaby), son of Caroline CHILTON and Joseph ISERHOFF (1815-1891).
Around 1880 John married Louisa ISERHOFF in Waswanipi, daughter of Mary Ann MOORE and John ISERHOFF (1820-1865).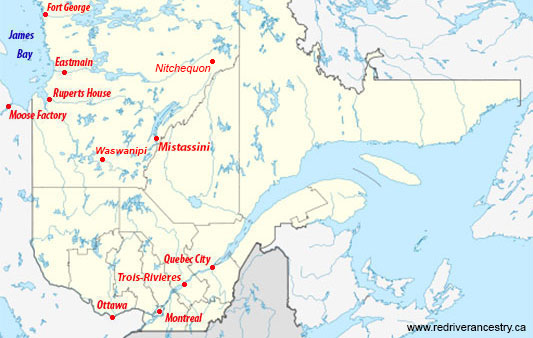 Employed by the Hudson's Bay Company
1884
On June 1, 1884 John began to work for the Hudson's Bay Company (HBC) at Waswanipi as a Guide.
Eastmain
1892
In 1892 John was posted to Eastmain as a Canoe Builder where he remained the rest of his life.
On Nov 18, 1907 Louisa ISERHOFF died in Eastmain.

In 1910 daughter Clara Caroline married Edward William LOUTIT, son of Caroline and Edward LOUTIT (1844-1905).
In 1911 eldest son Samuel married Sarah HESTER at Eastmain, daughter of Dinah JOLLY and David HESTER. ** This is the noted Reverend (Canon) Samuel ISERHOFF ordained in 1946.
Census of 1921 in Eastmain, James Bay: Cree family of John ISERHOFF, widowed HBC servant and carpenter, age 62. Children: Christiana (age 33), Minnie (30), David (25), Phillip (21) and Henry (age 11).
On June 1, 1922 John was pensioned by the HBC at Eastmain.
It was around 1924 that son Philip married Annie ATKINSON, daughter of Sarah BRUCE and William Edward ATKINSON (1865-1925).
On Apr 21, 1926 John Gilbert ISERHOFF died in Eastmain.
Around 1928 son John Henry married Sophia GEORGE of uncertain origins.
Comments and queries at this link: FORUM DISCUSSING THE FAMILY OF JOHN GILBERT ISERHOFF
========================== Family Details ==========================
Children:
1. 1885 CANON SAMUEL ISERHOFF (m. Sarah HESTER)
2. Jul 9, 1890 CHRISTINE (CHRISTIANA) ISERHOFF
3. 1891 MINNIE ISERHOFF
4. 1895 CLARA CAROLINE ISERHOFF (m. Edward William LOUTIT)
5. 1896 DAVID ISERHOFF
6. Feb 11, 1900 PHILLIP CHARLES ISERHOFF (m. Annie ATKINSON)
7. 1904 JOHN HENRY ISERHOFF (m. Sophia GEORGE)