REVEREND ROY SPALDING "MONTY" MONTGOMERY (1885-1973)
ESSE VIRTUE DICK (1888-1958)
(Last Updated: August 28, 2012)
Roy Spalding "Monty" MONTGOMERY was born Mar 20, 1885 in Lanark, Ontario, son of Elsie SPALDING & Oswald MONTGOMERY (1856-1926).
Census 1891: Roy (age 6) with parents in South Cypress (Marquette District).
Throughout his bachelor years, home for Roy was at #1 Cathedral Avenue in Winnipeg. His father (Oswald) was a 'Hotel Keeper' in that part of the City until he retired around 1910.
Winnipeg Morning Free Press, July 11, 1904: Roy S MONTGOMERY, son of Oswald MONTGOMERY, of the Queen's University, has left to join a survey party at British Columbia.
Most of the quotations (and photos) that follow are from the excellent book compiled by Vernon RAILTON; St Clements Church 125th Anniversary, a History by Vernon Railton.
"Roy received his education at St John's School and College, Winnipeg; Queen's University, Toronto; and Trinity College, Toronto. He received his Deaconate in 1913."
From 1913-1915 he was Curate of Brock, Saskatchewan, and in the Qu'Appelle Diocese 1913-1922.
Roy marries Esse DICK
1919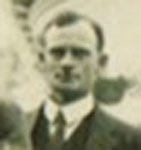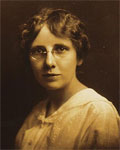 Roy Montgomery & Esse Dick
On Jun 26, 1919 Roy married in Winnipeg to Esse Virtue DICK.
From 1922-28 Roy was the Rector at St Michael and All Angels, Moose Jaw, SK.
From 1929 to 1930 he was Rector of St Peters Church, Selkirk Avenue, Winnipeg.
Christ Church in Selkirk and St Clements Church at Mapleton
1930-1950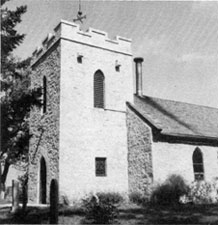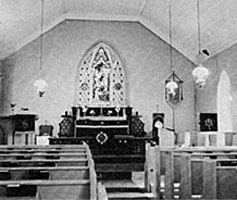 St Clements Anglican Church, Mapleton
In December of 1930, Rev L SWALWELL resigned as the Rector of the St Clements Anglican Church at Mapleton; his replacement was Rev R.S. MONTGOMERY, who at the same time was also Rector of Christ Church in Selkirk at the time. He would serve as Rector for both churches for the next 20 years.
"The dark clouds of the Depression were forming as he (Roy) took charge of the Parish. At the Annual Meeting two years later (1933) the Rector sated – "In view of the financial position of the Parish, owing to the Depression, I accept a 10 % cut in my stipend." By December of the same year, things had become so bad that the Rector agreed to take part of his salary in green wood the parishioners had cut and also agreed to take some vegetables in place of salary."
In October of 1933 Mrs. MONTGOMERY (Esse), told of the Mission Study at Christ Church Women's.Auxilliary (W.A.), and offered her assistance to the group at St Clements Parish, which was gratefully accepted.
"During the hard years of the Depression the ladies were invaluable in keeping the Church going. They were always holding projects to raise money for lights, fuel, etc. Wood for the heating was provided by the ladies. One such Woodcutting Bee was held in 1934 when 17 loads of wood were cut and neatly piled. The voluntary crew consisted of 12 men with three horses. The ladies of the Parish provided the lunch. Presiding over these events was the jovial Rev. MONTGOMERY. "Monty" as he was universally known, was an ever-welcome visitor in the homes he visited. His jovial nature acted as a tonic in an era that was grim indeed. The Church did its part by holding concerts and suppers, many of them free, which did a lot to dispel the gloom of the times."
"I was not until the Annual Meeting in 1937 that the Rector's stipend was restored to its original amount."
"Monty was a 'walking priest'. Having no car, he commuted on foot to his various duties. On these journeys he was always ready to stop and chat with acquaintances." Around 1944-45 I (Gary STILL) remember one of his visits to our house when he baptized me at home. I still remember him dipping his fingers in water and making the cross on my forehead.
In 1950 Rev R.R. HOLMES replaced Roy as the minister for the St Clements Church in Mapleton. Roy, however, was only semi-retired.
In 1951 was Priest-in-Charge at St Andrews and St Thomas, Lockport. Thereafter, he continued part-time, with visitations at St Thomas, St James, Holy Trinity, St George, Crescentwood and St Albans.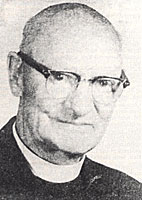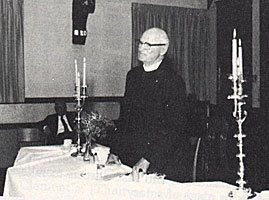 Roy Montgomery at the 50th Anniversary of his Ordination May 27, 1963
"Until his death, Roy was Honorary Priest Emeritus All Saints, Winnipeg. From 1967 until 1973 he resided at the Middlechurch Home of Winnipeg and conducted regular Church Services and visitations within the home."
On July 15, 1973 Rev. R.H. MONTGOMERY died in Winnipeg at the age of 88, after 61 years in the priesthood.
=========================== Family Details ===========================
Children:
1. IRENE MONTGOMERY (m. Gerald Albert COX)
2. ROY LESLIE MONTGOMERY (m. Coleen Ruth-Yvonne MACK)
3. 1921 ALLAN CRAIG MONTGOMERY (m. Beatrice NORQUAY)