ANGUS NORMAN JAMES MORRISON (1913-1978)
ELIZABETH GRACE CUNNINGHAM (1913-1974)
(Last Updated: January 07, 2016)
Angus Norman James MORRISON was born Feb 19, 1913 in Speers, Saskatchewan, son of Catherine PARRES and Angus Norman MORRISON SR (1874-1948). ** MORE ABOUT ANGUS NORMAN MORRISON SR
Census 1916, 1921: Angus (age 3, 8) with parents in Mayfield, North Battleford District. ** Fielding on map below is in the RM of Mayfield.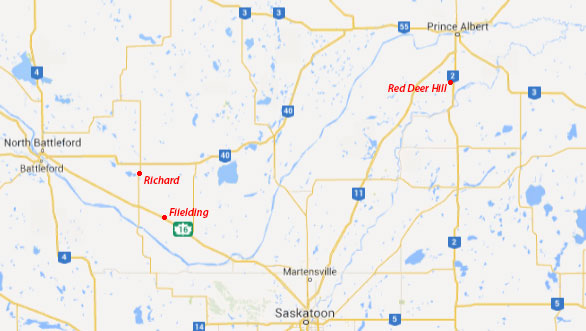 Speers is located to the east of Richard as shown on this map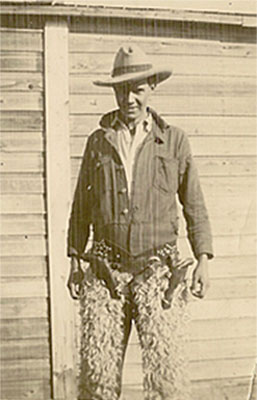 Angus Morrison dressed in cowboy gear (from Maryann)
Marriage to Elizabeth Grace CUNNINGHAM
In the early 1930's eldest son Angus married Elizabeth Grace CUNNINGHAM, daughter of Elizabeth Mary Ann BLANDEN and David CUNNINGHAM (1872-1962).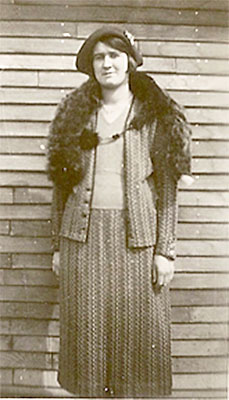 Grace Elizabeth Cunningham (from Maryann)
Maryann: On May 27, 1974 Grace Elizabeth (nee CUNNINGHAM) MORRISON died in Port Albirni, BC.
On May 14, 1978 Angus Norman James MORRISON died in Kamloops, BC.
Comments and queries at this link: FORUM DISCUSSING THE FAMILY OF ANGUS NORMAN JAMES MORRISON
========================== Family Details ==========================
Children:
1. 1934 DAVID ANGUS CUNNINGHAM MORRISON
2. 1936 VERNA HAZEL ELIZABETH MORRISON
3. JOYCE MORRISON
3. NORMAN MORRISON