ALEXANDER MONTGOMERY MUCKLE (1844-1908)
CHAPTER ONE
MUCKLE ANCESTORS
(Last Updated: August 28, 2012)
Alexander Montgomery MUCKLE, of Irish descent, was born Dec 3, 1844 in Quebec City (Uppertown), son of Mary MONTGOMERY & John McClure MUCKLE (1805-1859), a prominent merchant from Ireland. His father established the first shipbuilding yard at Point Levis and was part owner of the first steamer on the St Lawrence River.
By 1856 his father's health was failing and the family had moved to Toronto where the children could attend school and college.
Anna MUCKLE & Robert HARRISON
1857
In late 1857 Alex's 18 year old sister Anna first met 24 year old Robert Alexander HARRISON (1833-1878), a wealthy and prestigious young lawyer. HARRISON's friends and colleagues belonged to the upper echelons of society and included Sir John A. MACDONALD (1815-1891), the future first Prime Minister of Canada, as well as prominent businessmen of the day.
On June 2, 1859, Anna MUCKLE married Robert HARRISON. HARRISON kept a diary that was published in a book titled The Conventional Man; the Diaries of Ontario Chief Justice Robert A. Harrison. The MUCKLE family is frequently mentioned in HARRISON's diary during his courtship with Anna; their marriage; Anna's death in 1866 and Robert's second marriage to Johanna SCOBIE in 1868.
Not long after Anna's marriage, Alex's father, John MUCKLE, died. Mrs MUCKLE was left a widow with three young sons and a baby daughter at home, Alexander (age 15), Henry (age 12), Robert (age 10) and baby Mary Minnie. Alex was probably attending Upper Canada College around this time, and receiving military training as well.
Robert HARRISON essentially assumed the role of guardian and father-figure to the entire MUCKLE family. He willingly accepted these responsibilities because it greatly pleased his wife Anna, who he adored.
In the spring of 1860, Anna's first child was born, but sadly the baby contracted diphtheria and died in June of 1861. Later that year, another family crisis arose for Robert HARRISON, culminating in his father's death (due to alcoholism). If that wasn't enough, Anna's second pregnancy ended in a miscarriage. Finally, in August of 1864, after a difficult pregnancy, Anna gave birth to a healthy child (Baby Anna). However, sadly, Anna's health remained serious and she never recovered.
In 1865, the Royal Canadian Bank was founded, primarily by Toronto interests, and Robert HARRISON played a large role in its affairs from the beginning as director. Soon after, Robert got Alexander MUCKLE his first job as a bank clerk.
With growing prestige, HARRISON built an impressive mansion in Englefield on lower Spadina Road, into which he and his wife moved. Tragically, Anna was already in the advanced stages of tuberculosis; she was moving to her new home to die!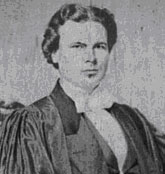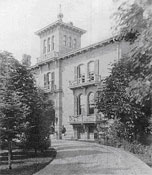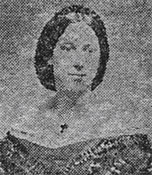 Left: Robert Harrison - Right: Anna Muckle
Centre: Englefield, the Harrison home at Spadina Road near Queen Street (Toronto)
This lavish estate makes a statement about Harrison's class, wealth, and values
(Archives of Ontario)

Early in the New Year of 1866, Robert HARRISON was delighted when Mrs MUCKLE and Anna's three siblings, Alexander, Henry and Minnie, came to live in Englefield. Everyone knew that Anna was dying and it was a great comfort to have her mother and siblings in residence to provide palliative care and comfort.

Unfortunately, Alex MUCKLE's way of dealing with his sister's condition was to frequently stay out late at the bars, much to the disgust of HARRISON. He began to refer to Alex as 'hard-hearted Alex' for supposedly "enjoying himself while his sister was dying". He imposed a curfew on him and said he must leave Englefield unless he mended his ways.

On March 9, 1866, Robert HARRISON's mother died, and on March 26, Anna died at the age of 27.

After Anna's death Robert had his own siblings (Richard, Frank and Sophia HARRISON) move in with him at Englefield. The MUCKLE family returned to their own residence, apparently within walking distance, and HARRISON, naïve and foolish, seemed to believe that he could unite the two families, a project in which he failed abruptly and abjectly.

Now, Baby Anna would become the object of contention. Mrs. MUCKLE became a regular (and not always welcome) presence at Englefield and soon Mrs. MUCKLE and Robert's sister, Sophie HARRISON, were engaged in a raging feud; the former mother-in-law was expelled from the mansion, her visits curtailed.

The Irish Invasion of Canada

By 1866 a union of about 25, 000 Confederate veterans of the Civil War (members of the Finian Brotherhood), calling themselves the Irish Republican Army (The Fenians), had gathered along the northern American border. On St Patrick's Day (March 17), they held a mass meeting in New York and threatened to invade Canada. They intended to force Britain to negotiate independence for Ireland. These threats were taken seriously on both sides of the border, and 10, 000 Canadian militia were placed under arms as a precaution.

On May 31, 1866 the Governor General of Canada called out the militia. The primary leaders in the Fenian encounters were Colonel Alfred BOOKER (1824-1871), Lieutenant-Colonel John Stoughton DENNIS (1820-1885) and Colonel George PEACOCKE.

Recruiters of the Queen's Own Rifles hastily called out for volunteers, and Alexander MUCKLE was one of the 28 men from Toronto who volunteered their service. These were mostly teenage boys and young men; students, farmers' sons, shopkeepers, apprentices and clerks such as Alex.

On Friday, June 1, 1866, the volunteers took the train from Toronto to Fort Colborne where they awaited their orders. During the battles that ensued, the man second in command was none other than Lt. Col. DENNIS who would play a significant role in Alex MUCKLE's life a few years later as well.

The Battle of Ridgeway and the Battle of Fort Erie

Most of the initial 'battles' that involve Alexander MUCKLE and Lt. Col. John Stoughton DENNIS were short, yet bloody skirmishes that occurred on Saturday, June 2, 1866; none lasted more than a few hours. These are recorded as the Battle of Ridgeway and the (first) Battle of Fort Erie. The militia units that the Toronto volunteers were associated with were forced into retreat after both of these first engagements.

Historians do not speak kindly regarding the character of John Stoughton DENNIS during these battles. When the fighting got intense, it was reported that he ran and hid in a farmer's house while most of his charge were making a stand. He shed his uniform and shaved off his luxurious sideburn whiskers in order to disguise himself as a common laborer during his escape. He would later face a court-martial for deserting his men but he was acquitted by two of the three officers serving on the tribunal.

It wasn't until the following day (June 3) that the Fenians were ultimately defeated; after the survivors of those first encounters had joined forces with the British Regulars under Col. PEACOCKE.. And so it was that Alexander MUCKLE and his not-so-gallant leader shared in the glory of that final victory. Participants were granted land and awarded the Canada General Service Medal.

For more about the battles, click on this link: BATTLE OF RIDGEWAY

Toronto's surviving 'weekend warriors' returned home triumphant and resumed their normal occupations, Alex MUCKLE to his job at the bank and DENNIS to his surveying career.

Alex's story is continued at this link: THE MUCKLE STORY – CHAPTER TWO

Please post comments & queries at this link: FORUM DISCUSSING THE MUCKLE FAMILY

========================= Family Details =========================

Children of Mary MONTGOMERY & John McClure MUCKLE (Alex and his siblings):
1. 1839 ANNA E MUCKLE (m. Robert Alexander HARRISON)           
?2. Jan 24, 1842 JOHN MOORE MUCKLE
3. Dec 3, 1844 ALEXANDER MONTGOMERY MUCKLE JR (m. Janet GUNN)
?4. Sep 16, 1845 MARY JANE MUCKLE
5. Jun 20, 1847 JOHN HENRY MUCKLE (Died age 24)
6. 1849 ROBERT JAMES TENANT MUCKLE (m. Mary MOORE)
7. c1856 MARY "MINNIE" EMILY MUCKLE (Died age 34)