OUR RODDY McKENZIE
(Last Updated: December 12, 2013)
First, let me define who I mean by OUR RODDY. The 'OUR' means Roderick McKENZIE (c1792-1859) who married Angelique MALOTTE (c1784-1859); ancestors of several of my own nieces & nephews, as well as many of the early pioneers of Red River, Manitoba.
I have spent years studying the genealogy of this man, and to this date (days away from 2011) all I have is a hint at who his parents were (Catherine & Alexander McKENZIE). One thing is for certain, no one has been able to prove to me that he was a cousin of either of the distinguished fur-trade cousins (Sir Alex or Roddy of Terrebonne) described below. Until can straighten out the information about his parents and grandparents, we cannot say for certain that he was a cousin of anyone!
For his story, click on this link: OUR RODERICK McKENZIE
McKENZIE COUSINS in the FUR TRADE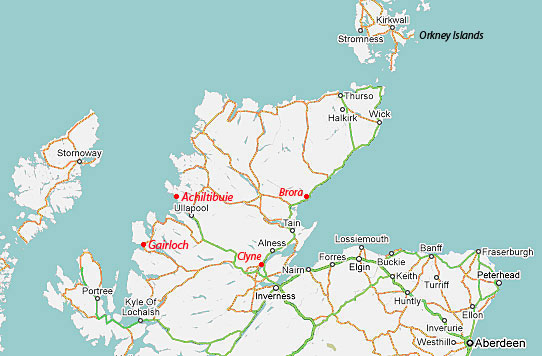 The McKenzie Ancestral Homeland, Scotland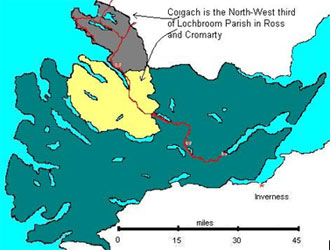 Mainland Ross and Cromarty, omitting the Isle of Lewis to the north-west
There were many McKENZIE families (also spelled MacKENZIE by many historians) connected with the early fur trade, the North West Company (NWC) and the Hudson's Bay Company (HBC). The most prominent of these were Sir Alexander MacKENZIE and Roderick McKENZIE of Terrebonne.
Sir Alexander MacKENZIE was born around 1764 in Stornoway, Isle of Lewis, in the Northern (Outer) Hebrides. In 1778, during the American Revolutionary War, Alex went to Montreal, where he entered the employ of a fur trade firm (John Gregory, Macleod & Company) in 1779. It was actually much later that Alex was knighted as Sir Alex.
** MORE ABOUT SIR ALEXANDER MACKENZIE in DCBO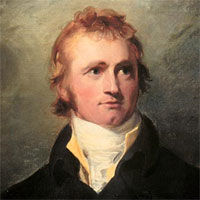 Left: (Sir) Alexander MacKenzie (1764-1820)
Middle: The Honourable Roderick MacKenzie of Terrebonne (1761-1844)
Right: Donald McKENZIE (1783-1851)
Roderick MACKENZIE of Terrebonne was born around 1761, "a native of Ross-Shire, Scotland". OUR Roddy is most often confused with this man. From 1817 to 1838 Sir Roddy was a member of the Legislative Council of Lower Canada. More about that below.** MORE ABOUT RODERICK MACKENZIE of TERREBONNE in DCBO
Donald McKENZIE was born Jun 16, 1783 Ross-shire (Near Inverness), Scotland. From 1825 to 1833 Donald was the Governor of Assiniboia, Red River. ** MORE ABOUT DONALD McKENZIE in DCBO
Many historians, researchers and genealogists have filled the literature and the internet with a genealogist's nightmare of erratic and confusing information regarding the name Roderick McKENZIE. Here is another one who has been mistaken as OUR Roddy:
RODERICK McKENZIE JR (c1791-1830)
SARAH "SALLY" SUTHERLAND (c1801-1829)
For a long time I was convinced that this was OUR Roddy because in Sprague & Frye's Genealogy of the First Métis Nation (On-line version), ID-3427 is defined as Roderick McKENZIE, European origin; born 1772 and died 1859. There are two descriptions for ID-3427, both referring to the same Roddy. However, one indicates his wife as Sarah SUTHERLAND, Métis, born 1777 and died 1827. The other indicates his wife as Angelique, Métis, born 1784 and died 1859. "Ahah!" said I, "this OUR Roddy; and he had two wives!" Not so! I have come to realize that Sprague & Frye information is not always reliable; in fact can be very problematic at times. The error here is in that there should be two different ID's for these Roddys. Further research bears this out.
This Roderick McKENZIE was born around 1791 in Gairloch County, Rosshire, Scotland (HBC Archives; Ontario Historical Soc. and Simpson's Journal). On July 17, 1811, he entered the service of the HBC at Stornoway, Scotland. I have more information about him, and perhaps I will post it at a later date. Here, I simply want to emphasize that this is definitely not OUR Roddy.
EXPLORING A RELATIONSHIP


http://freepages.rootsweb.com/~coigach
Donald MacDonald-ROSS has an excellent web page (Coigach; link above) that includes most of the fur trade McKENZIE cousins of interest to us. The information he provides is by far the most comprehensive and that I have ever found. I particularly like his honest approach; he admits that there are many unanswered questions.
The Coigach Intro: The fur trade in North America in the late 18th, early 19th century period had as central characters five MacKENZIEs from Scotland; Alexander (later knighted) from Stornoway on the Isle of Lewis, and four brothers from the Coigach district of Lochbroom; Roderick, James, Henry, and Donald. The brothers are in many records noted as cousins to Alexander, but nowhere are the details of the relationship made clear other than that Alexander and Roderick knew each other well in Scotland before emigrating. It is generally assumed that Catherine MacKENZIE, mother of the brothers, was a sister to Kenneth MacKENZIE, the father of Alexander. For more, click here:  Exploring a Relationship
My only disappointment with the Coigach Descendancy Chart is that the only (indirect) reference to OUR Roddy is the one referring to his son-in-law and daughter:  Achiltibuie: (2-1-4-3-3-2-1-2) Roderick MacKENZIE, born 1821 at Ullapool, died 26 September 1896 in Canada; married 11 September, 1853 in Rupert's' Land to Jane MacKENZIE (born 1827 in Rupert's' Land to Roderick MacKENZIE and Angelique MALLOTTE, died 15 February, 1897).
OUR RODDY vs. SIR RODDY
OUR Roddy (NWC and HBC) is most often confused with Roderick McKENZIE of Terrebonne, the Nor'Wester (NWC). The source of the problem is obvious; both of their parents were apparently named Catherine (nee McKENZIE) & Alexander McKENZIE, supposedly four different people, all born around the same time. It is no wonder that this creates a genealogists' nightmare! In fact this is almost so hard to believe that one has to wonder if there might be some major genealogical blunders involved in this whole picture!
This old tree is beginning to decompose and we need to come to its rescue before it's too late, before some of the eldest if the elders pass away. Perhaps we can yet restore some of the twigs and branches to their proper places on this tree. As an old forester of sorts, I am familiar with the practice of hybridizing trees, a good analogy to use where some genealogists inadvertently attach names to a family tree in places where they don't necessarily belong. Often this is done quite innocently in order to explore possibilities (I have to confess, I do it myself) but unfortunately others pick up on these anomalies and like bad gossip it gets spread throughout the genealogical community as fact. Another analogy that comes to mind is the old adage "Let's throw some shit at this brick wall and see which pieces stick!"
In Coigach Notes: In Lochinver Cemetery is a table stone with the following inscription; "Sacred to the memory of Alexander MACKENZIE, Ullapool, who died the 12th March 1802. Erected by his son Roderick, Chief Factor for the Honourable Hudson's Bay Company, with affectionate love.http://freepages.genealogy.rootsweb.ancestry.com/~coigach/ullapool.htm
The Burial Stone
Lochinver Burial Ground, Stone 32:  Alexander MacKENZIE, Ullapool, died March 12, 1802; stone erected in 1834 by his son, Roderick MacKENZIE, Chief Factor with the HBC, Canada.
To the best of my knowledge, Roddy of Terrebonne never was an HBC employee. He retired from the NWC in 1803 and the HBC-NWC union didn't occur until 1821.
Here are the few most reputable references that I have regarding our Roddy's origins
Hudson's Bay Company Archives (online version):
Roderick MacKENZIE (SR) (c1772-1859); Parish: Lochinver & Assynt, Scotland. Father: Alexander of Ullapool, died Mar 12, 1803 (A.5/10 p.195)
Link: http://www.gov.mb.ca/chc/archives/hbca/biographical/mc/mckenzie_roderick-sr1804-1852.pdf
Angelique and her Children by Elizabeth Arthur: Arthur states regarding our Roddy: "- - he never returned to Scotland even on furlough; there are references to his occasional presence in Montreal in the early years, but no indication that he ever travelled east of Lake Superior in the last 40 years of his life. She supports this with the following reference in her Footnotes: MacLeod, p. 169, Letitia Hargrave to Mary McTavish, Sep 12, 1843. Minutes of Council contain frequent references to his eligibility for leave at various times, and the reversion to some other officer as he failed to take advantage of it.
To me, this merely suggests that our Roddy may not have actually been there in person to place this stone. He more likely paid for it and had someone else place it.
I would be very grateful to anyone who can provide some enlightenment, and look forward to discussions on the Forum at this link: ** FORUM DISCUSSING THE McKENZIE COUSINS