WILLIAM ROBERT PURVIS (1863-1947)
ELLEN (NELLY) DIXON (1871-1952)

(Last Updated: October 22, 2016)
William Robert PURVIS was born May 12, 1863 in Kincardine, Bruce County, Ontario, son of Annie FROST and William PURVIS SR (1830-1914) who was born in Scotland. Kincardine is north of Goderich (SW of Owen Sound) on the east side of Lake Huron.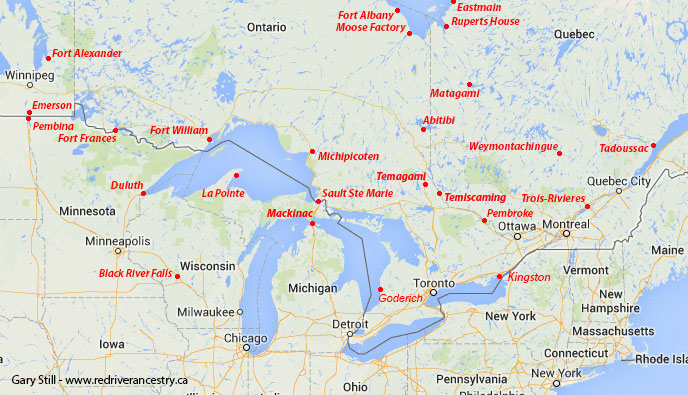 Marriage to Ellen DIXON
1893
On Jan 11, 1893 William married Ellen (Nelly) DIXON in Gore Bay on Manitoulin Island (ON), the daughter of Elizabeth PALMER and George DIXON (1824-1901) from England. Manitoulin Island is SE of Sault Ste Marie on the map above.
The Klondike Gold Rush
1896-1899
In 1898, during the Klondike Gold Rush, in company with his brother (Alex. PURVIS), William went to the Klondike and remained there for two years. Here in legendary country of Soapy SMITH and Robert SERVICE he built barges until the gold rush petered out and there were no more barges to build.
** MORE ABOUT THE KLONDIKE GOLD RUSH in HISTORICA CANADA
Selkirk, Manitoba
1901
Shortly after his return to Ontario from the Klondike the family moved to Selkirk. That was in 1901 and the PURVIS family has been building barges, fish freighters, pleasure boats and assorted other vessels at Selkirk ever since. William PURVIS, together with J.W. SIMPSON, Jack SEAMAN, Captain Tom POLLOCK and W.J.GUEST formed the Northern Fish Company. ** This company later became the Selkirk Navigation Company.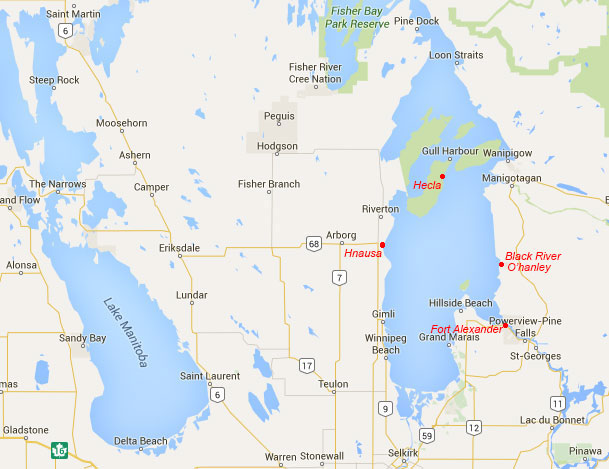 In 1905 Bill PURVIS contributed his first effort to the Northern group, building the 120-foot Mikado. ** In 1913 the Mikado was rebuilt as the Grand Rapids.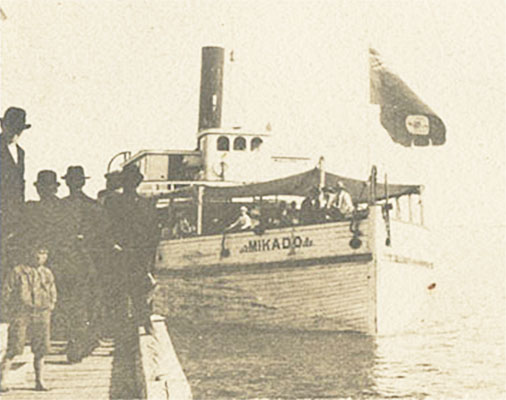 The Mikado freighter (Photo from Caroline Taylor Christopherson)
Census of 1906 on Taylor Avenue in Selkirk:  William PURVIS, age 37; wife Nellie, age 34. Children: William (age 12), Roy (9) and Annie (age 4). Mother-in-law, Widow Elizabeth DIXON, age 64.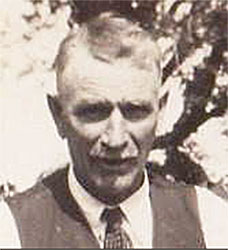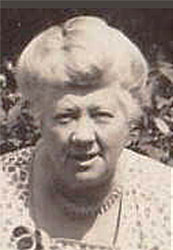 William and Ellen (nee Dixon) Purvis
Census of 1911 on Taylor Avenue in Selkirk:  William PURVIS, Master Machinist Lake Winnipeg, age 46; wife Ellen, age 39.  Children: William G (age 16), Roy A (14), Helen A (9), Nellie E W (4) and Harold E A (age 4). Mother-in-law, Widow Elizabeth DIXON, age 69.
World War I
1914-1918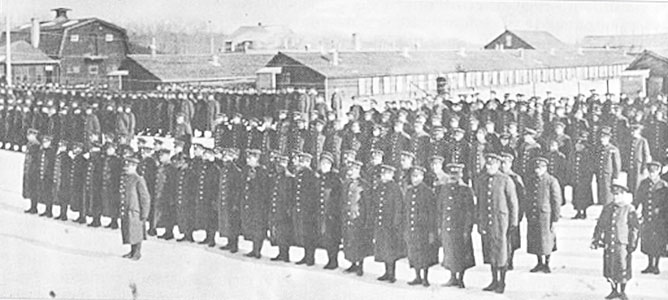 Soldiers at Red Feather Farm barracks in Selkirk during the First World War
On Aug 4, 1914 Great Britain (Canada on Aug 5) declared war on Germany and Austria-Hungary to uphold treaties with France and Belgium which were under German attack. This marked the beginning of World War I.
In the fall of 1915 sons William George (age 20) and Roy Adam (age 19) enlisted at Winnipeg (Canadian Expeditionary Force).
William's first captainship was with the Dominion Fish Company.
Census of 1916 at 124 Taylor Ave in Selkirk: William PURVIS, Steamboat Captain, age 53; wife Ellen, age 43. Children: William G (age 21), Roy A (19), Annie H (14), Nellie E W (9) and Harold E A (age 9).
November 11,1918, Armistice Day (Remembrance Day) marked the end of the First World War.
Census of 1921 at 146 Taylor Avenue in Selkirk: William PURVIS, Merchant, age 58; wife Ellen, age 49. Children: William (age 28), Roy (24), Annie (20), Nellie and Edward (both age 14).
In 1925 son William George married Johanna FREEMAN in Winnipeg, daughter of Johanna SIGURDARDOTTIR and Barney FREEMAN (1875-1938) who were both born in Iceland.
In 1926 daughter Helen married Leslie Pittar LANSDOWN in Selkirk.
In 1929 son Roy married Winnifred VANCE in West Kildonan, daughter of Lydia and Captain Alexander VANCE (1867-1936).
In 1933 daughter Nellie married William James Ivan PURVIS, son of Christina Catherine BAILEY and James PURVIS (b-1870).
Perhaps around 1940 son Harold Edward (Ted) married Mae GRIFFITH, daughter of Ann Myrtle TAYLOR and Wilbert Hubert GRIFFITH (1888-1972).
On May 26, 1947 Captain William PURVIS died at his residence, 146 Taylor Avenue in Selkirk, age 84. He was buried in the Little Britain Cemetery. His obituary in the Gore Bay Recorder mentions that the late Mr. PURVIS spent many years on Lake Winnipeg as Captain on their boats and then assumed the position of manager of Black River, and later at Georges Island, then at Warren's Landing, until 1936 when he retired from active labor.
On Oct 1 0, 1952 Ellen (nee DIXON) PURVIS died at her residence at 219 Taylor Ave, age 81. Burial in the Little Britain Cemetery.
Comments and queries at this link: FORUM for DISCUSSING THE FAMILY OF WILLIAM ROBERT PURVIS
========================== Family Details ==========================
Children:
1. Dec 7, 1894 WILLIAM GEORGE PURVIS (m. Johanna FREEMAN)
2. Apr 7, 1897 ROY ADAM PURVIS (m. Winnifred VANCE)
3. Nov 30, 1901 HELEN ANNIE JEAN PURVIS (m. Leslie LANSDOWN)
4. Nov 25, 1906 HAROLD EDWARD (Twin) PURVIS (m. Mae Alice GRIFFITH)
5. Nov 25, 1906 NELLIE ELIZABETH (Twin) PURVIS (m. William James Ivan PURVIS)