EDWIN RAILTON (1886-1952)
DAUPITER MAE RAILTON (1888-?)
(Last Updated: August 28, 2012)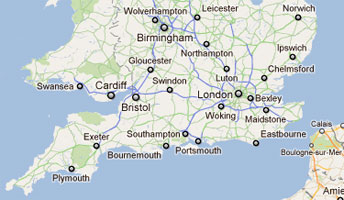 Aberaman, Abadare is northwest of Cardiff (South Wales)
Edwin RAILTON was born Aug 4, 1886 Mill House Aberaman, South Wales, son of Harriet EDWARDS & Thomas RAILTON (1852-1916), a Colliery Mine Manager. In the U.K. the term "colliery" refers to a coal mine and its associated structures.
In the Wales Census of 1901 Edwin (age 15) was recorded with his parents in the County of Glamorgan, Wales. He was then a student at the Colliery).
Edwin marries Daupiter Mae
World War I
1914
At some time between April and June of 1914 Edwin married Daupiter Mae RAILTON.
On Aug 4, 1914 Great Britain (Canada on Aug 5) declared war on Germany and Austria-Hungary to uphold treaties with France and Belgium which were under German attack. This marked the beginning of World War I.
The Family Sails to Canada
Ship's List: The SS Camania, sailing from Liverpool; arrived Mar 25, 1928 at Halifax; destination: 270 Main Street, Winnipeg: Edwin RAILTON, farmer, age 41 (born c1887 in Aberdare, Wales); wife D. May, age 37 (born c1891 same place). Children: Herbert, age 13; Wallace 7; Arthur, age 7; Hilary, a baby.
Daughter Corinne was born in Carman, MB. 
Their presence of the RAILTON family in Selkirk (Mapleton) is first indicated in 1932, when youngest son Luther was born there.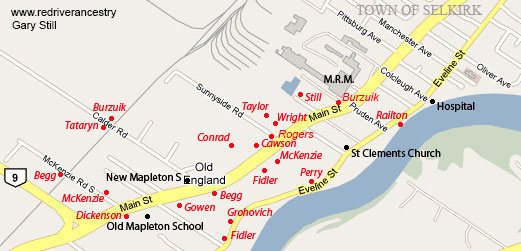 Locations of prominent Mapleton Families (M.R.M. - Manitoba Rolling Mills)
Edwin RAILTON became a life-long employee at the Manitoba Rolling Mills, also just a short walk from his home.
Winnipeg Free Press, Jan 30, 1939: St Clements, Selkirk: The annual congregational meeting of the St Clement's Anglican Church, Jan 18, resulted: Honorary vestrymen, W. LYONS, J.T. CALDER, C. McKENZIE, R McKENZIE, D RICHARDSON, F McKENZIE, R BEGG, P PRUDEN: Active vestrymen, J SMITH, M FIDLER, H CLIFT, E RAILTON, G TOWNSEND SR; rector's warden, S CAWSON; People's warden, B DICKENSON; alternate delegates, M FIDLER, H CLIFT; auditors, M FIDLER, J SMITH, E GOWEN.
Winnipeg Free Press, May 8, 1939: A number of friends gathered at the home of Mr & Mrs Edwin RAILTON, Selkirk, MB, on the occasion of their 25th wedding anniversary. A presentation of a handbag was made on behalf of those assembled, by Rev S R MONTGOMERY. Vernon RAILTON, on behalf of the family, presented his parents with a chest of flatware. A presentation of a hymn and prayer book was also made. Dancing and refreshments followed. Almost 70 were present.
From 1939 to 1943 Edwin served on the Vestry of St Clements Church, Mapleton.
Winnipeg Free Press, Sep 1, 1948: A surprise miscellaneous shower was held Friday at the home of Mrs E RAILTON, Lyndale House, Selkirk, in honor of her daughter Hillary, whose wedding will take place Sep 18. Little Beverley and Glenys RAILTON, nieces of the bride-to-be, presented gifts, assisted by Miss Helen AVISON. Hostesses were Mrs Frank IVERSON, Mrs G GODDARD, Mrs Vernon RAILTON and Mrs Kinsley RAILTON.
Winnipeg Free Press, Dec 28, 1948: Ed. RAILTON was re-elected President of the Selkirk Rolling Mill Workers Federation union, No. 120, T.L.C. at the recent annual meeting in the Selkirk Community house, Selkirk. Other officers elected were: T WILSHER, Michael SEDIK, Vernon RAILTON, F DUBOWSKI, H McCAMBER, A McDONALD and L McKENZIE; A BEDARD.
Winnipeg Free Press, Apr 28, 1949: Presentation at Selkirk to Retiring Employee: To mark his retirement after 33 years service with the Manitoba Rolling Mills at Selkirk, George BELANGER was presented with a gold watch and chain Monday by Hugh SMITH, manager. Edwin RAILTON spoke briefly.
Edwin RAILTON died in 1952; buried St Clements Churchyard, Mapleton.
=========================== Family Details ===========================
Children:
1. Oct 27, 1914 HERBERT VERNON RAILTON (m. Ethel Mae PRUDEN)
2. June 15, 1920 ARTHUR KINGSLEY (twin) RAILTON (m1. Francis Ethel SUTHERLAND)
3. June 15, 1920 WALLACE "WALLY" (twin) RAILTON (m. Barbara McRAE)
4. 1925 HILARY DOREEN RAILTON (m. Peter LUPAL)
5. CORRINE JOYCE RAILTON ?(m. Gerald FS GODDARD)
6. EDWIN LUTHER RAILTON (m. Eleanor Rita Mae WAGNER)