CHIEF JOHN SMITH (c1836-)
NANCY BADGER (c1843-c1903)
(Last Updated: December 07, 2012)
John SMITH was born around 1836 in the St Peters Indian Reserve, Manitoba. This was the year that Reverend William COCKRAN (1798-1865) built the first St Peters Church (of log) near the mouth of Cook's Creek and it wasn't officially opened until Jan 4, 1837. Only after that did the term St Peters Reserve and St Peters Parish come into being.
This was the John SMITH who later became the first Chief of the John Smith (Muskoday) Indian Reserve southeast of Prince Albert Saskatchewan. John's younger brother, James SMITH (1843-1902) became the first chief of the James Smith Indian Reserve at Fort a la Corne. ** MORE ABOUT CHIEF JAMES SMITH
The main focus of this narrative is the genealogy of the early SMITH families of the Prince Albert area; in this case the descendants of Chief John SMITH. For further information about the history of the Smith Reserves, here are some links:
** JAMES SMITH FIRST NATION in Wikipedia
** MUSKODAY (JOHN SMITH) FIRST NATION in Wikipedia
Who were the parents of the brothers John & James SMITH? At this point we simply don't know for certain. They may have been descendants of Nancy SANDERSON and Alexander SMITH (1789-1860), one of the earliest known Indians named SMITH in the Red River area (from Sprague & Frye's Genealogy of the First Métis Nation). If anyone has the answer, please let us know on the Forum.
John & Nancy BADGER
1860
Around 1860 John married Nancy BADGER, most likely a daughter of Catherine & John BADGER (b-c1821).
Between 1861 and 1864 John was a contract employee (Labourer) with the Hudson's Bay Company (HBC).
After Chief PEGUIS died in 1864, his youngest son, Henry PRINCE (1819-1902) or RED EAGLE, became Chief of the Red River Saulteaux.
Canadian Confederation
A Red River Métis Rebellion
Manitoba becomes a Province
1867-1870
On July 1, 1867 the British colonies in North America were united under the British North American Act to become the Dominion of Canada.  Sir John A MACDONALD (1815-1891) was appointed as Canada's first Prime Minister; a month later he won the first federal election.

On July 15,1870 Manitoba became the fifth province of Canada, the Canadian Government having acquired the territory previously governed by the HBC.
From 1870 to 1890 John contracted as a voyageur for the HBC.
Treaty Number One
1871
On Aug 3, 1871, Mis-Koo-Kinew (Henry PRINCE) signed Treaty One on behalf of the St Peters Band, the name of the Peguis First Nation at the time.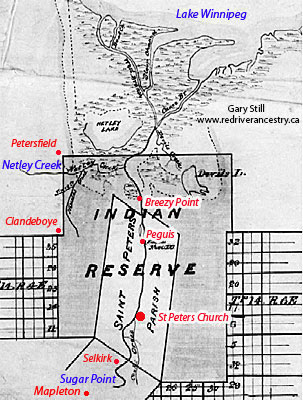 St Peters Reserve Boundaries after the Treaty of 1871
Treaty Number Six
1876
It is unclear exactly when John SMITH became the 'Chief' of the Indian band that lived along the South Saskatchewan River southeast of Prince Albert, SK. We do know that in 1876 he signed Treaty Number Six at Fort Carlton, making the settlement where he lived legally an Indian Reserve, the 'John Smith First Nation Reserve' (later named the Muskoday First Nation Reserve as shown on the map below).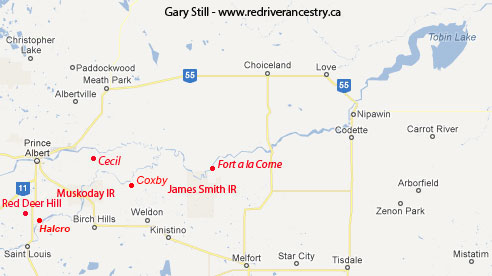 Until the 1970's, Muskoday First Nation was known as the John Smith Reserve
John's brother, James, founded the James Smith First Nation
In 1877 daughter Mary married Malcolm HUMPHREYVILLE, son of Mary BRASS & John HUMPHREYVILLE (1820-1883).
Scrip records indicate that Chief John SMITH had a son named Gilbert who died in the 1880's. So far we have no further information about Gilbert.
In the 1881 census Nancy & John were recorded in the Prince Albert District with children as John Jr. (age 20), Mary (18), Edward (16), Caroline C (12),  Alexander  (10), Rachel A (8), Albert W (4) and Alfred William (age 2). Also Widow Nancy BIRD b-c1836 (age 45) and children: Mary BIRD, age 14, and Peter BIRD, age 12. Also Isabella HUMPHREYVILLE, age 4, and William HUMPHREYVILLE, age 1. These are John's  grandchildren (children of daughter Mary & Malcolm HUMPHREVILLE). In the next house (HH-99) are Catherine & John BADGER b-1821 (Nancy's parents).
In 1890, the farming instructor, probably James ISBISTER (1842-1926), assigned to the John Smith Reserve forwarded to the Indian agent a memorial from the leadership of both John SMITH and James SMITH (Mistahimusqua; his brother).
Around 1890 son John Jr. married a lady named Jane; and son Edward married a lady named Annie (Christie).
Around 1900 son Albert married a lady named Sarah Ellen.
In the 1901 census Nancy was still living (age 58), but in 1906 John is recorded as a 70 year old widower.
Around 1901 son Alfred married a lady named Maria (possibly BADGER).
In 1916 John (age 82) was with his son John Jr. in John Smith Reserve.
Please post comments & queries at this link: FORUM DISCUSSSING CHIEF JOHN SMITH and his FAMILY
=========================== Family Details ===========================
Children:
1. c1861 JOHN SMITH JR (m. Jane)
2. c1863 MARY SMITH (m. Malcolm HUMPHREVILLE)
3. 1865 EDWARD SMITH (m. Annie/ Christie)
4. 1869 CAROLINE C SMITH
5. 1871 ALEXANDER SMITH
6. Sep 27, 1872 SAMUEL SMITH (Died infancy, one month old)
7. 1873 RACHEL A SMITH
8. 1877 ALBERT WILLIAM SMITH (m. Sarah Ellen)
9. 1879 ALFRED WILLIAM SMITH (m. Maria)
10. c1880 GILBERT SMITH