JOSEPH SPENCE (1883-1966)
NANCY CAMPBELL (1885-1976)
(Last Updated: June 09, 2016)
Joseph SPENCE was born 1883 on the Sandy Bay Indian Reserve (West side of Lake Manitoba, near Amaranth), son of Louise FISHER who was the third wife of Jean Baptiste SPENCE (1835-1897).
Primary sources of information on this family is the book 'Patience, Pride and Progress' published in 1983 by the Eddystone and District Historical Society; Thelma TAYLOR contributed much of that SPENCE family information. Granddaughter Ida SPENCE has also done extensive research on this family and is frequently referred to on various Internet Websites.
In 1887 when Joseph was four years old his father (Jean Baptiste) was granted a Discharge from Treaty as member of the Sandy Lake Band in order to receive Half-breed Scrip. By doing so the family had to leave the Reserve. They moved to Ste Rose du Lac where his father died in 1897 when Joseph was about 14 years old.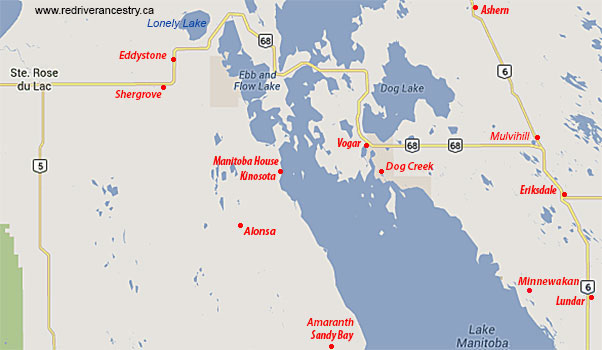 Marriage to Nancy CAMPBELL
Horse Bluff - Eddystone
1905
Around 1905 Joseph married Nancy CAMPBELL at Horse Bluff, daughter of Maggie McLEOD & John CAMPBELL (1855-1944). Their first child, Margaret, was born there about 1906. ** Horse Bluff is located north of Kinosota between Lake Ebb & Flow and Lake Manitoba.
 In 1906 Joseph and his family moved Lonely Lake (later named Eddystone) where in the census of 1911 their children were recorded as Margaret (age 4), Joseph James (2) and baby Arsene. In 1914 son Emile was born. Joseph mainly provided for his family by trapping, hunting and fishing, and he had a few cattle.
Eddystone School
1918
In 1918 the Eddystone School was built. Trustees had been appointed when the school district was formed, one of which was Joe SPENCE. The naming of the school was discussed at a meeting. One of the names suggested by Percy BROOKS was "Eddystone" taken from the Eddystone Lighthouse in England where the BROOKS family had lived before coming to Canada.
Census of 1921 in the RM of Shergrove: Joseph SPENCE, age 38; wife Nancy, age 34. Children: Joseph James (age 13), Arsene (11), Catherine (7), Emile (4), Herman (4), Joseph (2) and baby David (age 1 month).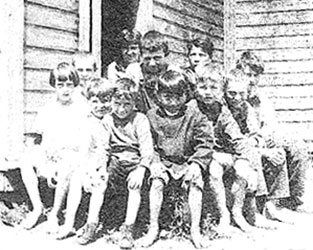 Children at the Eddystone School in 1928. Back row: Cecil, Marion, Willard and Emile (SPENCE?)
Front Row: Clarice, Doris, Clifford, Angus (SPENCE?), Melville, Harold and George
In 1934 eldest son James married Evena Pearl DUCHARME in Ste Rose, the daughter of Christina FLETT & Herbert Robert Alexander DUCHARME (1883-1967).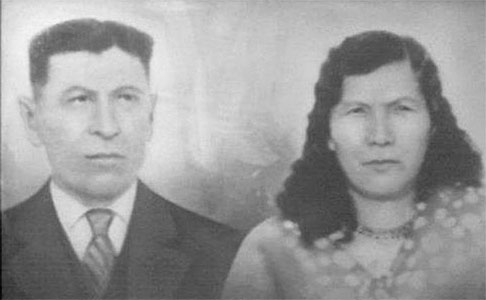 Joseph and Nancy Stpence about 1935 (From granddaughter Ida)
In 1938 Jim SPENCE of Eddystone donated a piece of land on which to erect a Catholic Church for the Eddystone area. Joseph (Joe) SPENCE, Entienne ST GERMAINE and others got together to build the church. The priest, Father Peter came from Cayer (north of Lonely Lake) and served the community for many years (Book).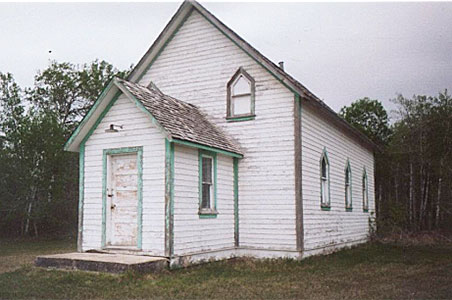 Eddystone Church - St Thomas Aquinas RC Church, Eddystone, May 2003, built in 1937 by our
Joseph Spence with the help of a carpenter from Cayer, Etienne St. Germaine.

World War II
1939-1945
On Sept 4, 1939 Canada and Britain declared war on Germany, and almost immediately new recruits began pouring into Winnipeg to sign up with the Winnipeg Grenadiers and the Royal Rifles of Canada.
In 1941 daughter Catherine married Emile Gerald RANVILLE, son of Harriet NEEPINAK dit ADAM and Francois RAINVILLE (1882-1950).

Also in 1941 son Arsene married Adeline CHARTRAND at the St Thomas Church in Eddystone. ** I think Adeline may have been a daughter of Nancy and Michael CHARTRAND (b-1883) from the Crane River Indian Reserve. Help needed with Michael CHARTRAND's orgins.
In 1942 son Emile enlisted in the Canadian Armed Forces (PPCL). He returned home in 1943, and in 1944 he married Claudia DUCHARME in Eddystone, daughter of Mary Isabella THOMPSON & Peter Charles DUCHARME (1894-1950).
On May 7, 1945 Germany surrendered and the War in Europe ended; the next day, May 8, is declared VE Day.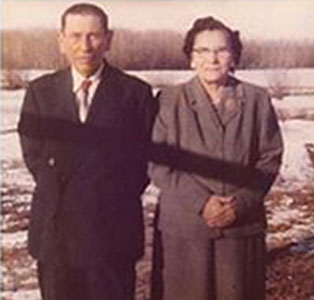 Joseph and Nancy (nee Campbell) Spence in the 1940's
(From Ida Spence)
In 1948 son Angus married Antoinette ZASTRE in Winnipeg, daughter of Josephine ROSS and George ZASTRE of uncertain origins. Angus SPENCE was the founder of the Manitoba Metis Federation (MMF) and was its President from 1970 to 1973.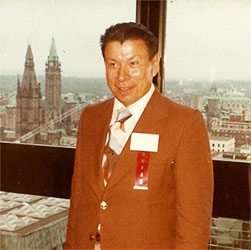 Angus Spence in Ottawa
On Apr 3, 1966 Joseph SPENCE died in St Rose du Lac.
On Nov 1, 1976 Nancy (nee CAMPBELL) SPENCE died at the King Edward Hospital in Winnipeg at the age of 89. At that time her residence was at 52 Inkster Blvd. Her obituary indicated that she was survived by three daughters; Mrs (Mary) RAINVILLE and Mrs. Fred (Florence) HAYES, both of Winnipeg, and Ida SPENCE of Duck Bay Mission. Also four sons;  Joseph Arsene of Winnipeg and James, Emile and Joseph Angus, all of Eddystone.
Comments and queries at this link: FORUM DISCUSSING the JOSEPH SPENCE FAMILY
=========================== Family Details ===========================
Children:
1. 1906 MARGARET SPENCE (Died in infancy)
2. 1908 JAMES JOSEPH SPENCE (m. Evena Pearl DUCHARME)
3. 1910 JOSEPH ARSENE SPENCE (m. Adeline Philomene CHARTRAND)
4. Apr 24, 1912 MARY CATHERINE SPENCE (m. Emile Gerald RANVILLE)
5. Apr 5, 1914 JOSEPH EMILE SPENCE (m. Claudia Mary Martha DUCHARME)
6. 1917 HERMAN SPENCE
7, Jul 8, 1919 JOSEPH ANGUS SPENCE (m. Antoinette ZASTRE)
8.  1921 DAVID SPENCE
9.  Oct 31, 1923 IDA SPENCE
10. FLORENCE SPENCE (m. Fred HAYES)