PETER STILL (1834-1929)
ELLEN MADILL (1841-1915)
(Last Updated: August 28, 2012)
Peter STILL was born Jan, 1834 in Birse, Aberdeenshire, Scotland, son of Margaret YOUNG & John STILL (1788-1876). ** MORE ABOUT JOHN STILL
These are the great-great grandparents of genealogist Gayle Martin FREITAS who has gifted us all with her excellent research about our STILL ancestors.
Peter was only two years old in 1836, when his entire immediate family left Scotland, arrived at Boston, and then trekked on to Mono Centre, Ontario.  His mother (MARGARET) died shortly after they arrived there.
Peter marries Ellen MADILL
1859
On May 10, 1859, Peter was 25 years old when he married 18 year old Ellen MADILL. Ellen was born Jan 31, 1841 in York County, ON, the daughter of Ann CRAWFORD and William James MADILL (1808-1879). Only daughter Mary Ann was born to Peter and Ellen on Mar 13, 1860, in Shelburne, Ontrio.
In 1864, Peter and Ellen adopted their motherless nephew, James STILL, son of Peter's older brother George. James' mother had died at his birth and Peter had been asked, and agreed, to care for the infant. Four-year old Mary Ann would have a little baby brother, ready-made. Peter and Ellen would have no more children of their own.
Canadian Confederation
Manitoba becomes a Province
1867-1870
On July 1, 1867 the British colonies in North America were united under the British North American Act to become the Dominion of Canada.  Sir John A MACDONALD (1815-1891) was appointed as Canada's first Prime Minister. On July 15,1870 Manitoba became the fifth province of Canada.
In the Ontario Census of 1871 Peter was recorded as a 36 year old Farmer in Amaranth, Wellington North.
Daughter Mary Anne marries William MARTIN
Move to Manitoba
1878
On Jan 16, 1878, daughter Mary Anne married William John MARTIN (1847-1901) in Orangeville, Ontario. Shortly after this marriage, Peter and Ellen, together with their daughter and son-in-law, Mary Ann and Bill MARTIN, and of course, our James STILL, all left Ontario all struck out for the new lands that had just opened up north of Red River Settlement in Manitoba. James' oldest true brother John STILL (only recently married to Sophia HANEY) headed west that year as well.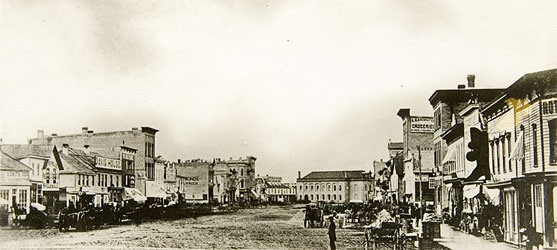 Main Street Winnipeg, north from Portage Avenue showing the wide mud road and boardwalks
as it appeared around the time the STILL family passed through on their way to their homestead.
(A & M Stovel Advocate Collection)
Gayle Freitas: The MARTIN family  travelled by boat via Owen Sound, ON - through Georgian Bay - Sault Ste Marie and Lake Superior to Duluth, MN. From there they trekked overland to the Red River and up the Red to a place called Fisher's Landing (present day Winnipeg). The old cow path they travelled on was later known as the Red River Trail. Now it is Main Street, Winnipeg. They continued on another 38 miles or so before they came to where their new home would be. The area is now known as Balmoral, MB, named for a castle in Scotland (See map below).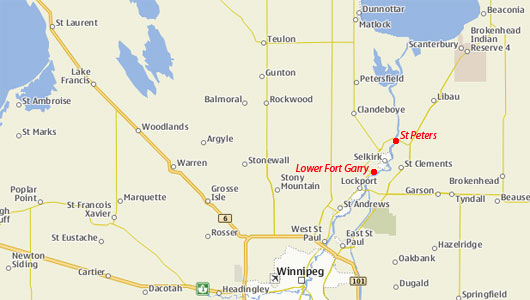 Interlake Region of Manitoba
Peter STILL took possession of SE Quarter of 32-15-2E (near Gunton, MB). He made application for Homestead on Nov 4, 1880, and in 1881 he obtained a mortgage from British Canadian Loan & Mortgage for $250. On May 2, 1882 The Crown issued him a patent for his land.  Peter took a second loan for $150 from BCLM on Oct 26, 1883.
In 1884 Peter's surrogates son (my Grandpa) James STILL (1864-1936) married at Balmoral to Eliza Ann JEFFERY, daughter of Eliza COCKERAL & Thomas William JEFFERY (1831-1915). ** MORE ABOUT ELIZA & JAMES STILL
In the Census of 1891 Peter was recorded in the RM of Rockwood as 56 years old; wife Ellen (age 49).
Gayle Freitas: On Jan 7, 1897 Peter made an application for another parcel of land north of Teulon (Actually, this is closer to Komarno). This was SE Qtr 30-17-3E. On Jan 28, 1898 he was granted a Quick Claim Deed to Wm Ince (?).  The Homestead file at the Land Registry Office contained pages and pages of correspondence and documents concerning his land.  The micro film was of poor quality and some of it was impossible to read.  There was a notice of cancellation sent to Peter requiring him to pay $64 balance on his mortgage by Nov 5, 1895.  The money had been due for 14 years.
In the Census of 1901 Peter was recorded in the RM of Rockwood as 66 years old; wife Ellen (age 60). With them is grandson Henry MARTIN (age 9) and a lodger named HK WALSH, age 34, born in England, arrived 1891.
On Apr 6, 1905, another letter instructing the Homestead Inspector "to endeavor to ascertain whether Mr Peter STILL, the purchaser of the N Half of the S Half of LSD's of 15 and 16 of Sec 31 Tp 15 Rg 2E, wishes to retain the land; if he is cultivating it, and whether he is in a position to make a payment or intends to do so in the near future.  This sale was made in Feb 1880, and should be closed up". 
In the Census of 1906 Peter was recorded as 71 years old; wife Ellen (age 64). With them is a 27 year old "Servant" named Jack FROST.
Another letter of Apr 9, 1907 asking for some action from Peter STILL as "William QUICKFALL is anxious to purchase the STILL land.  Sept 8, 1908 the answer letter stated in part "Peter STILL was recommended for patent Aug 23, 1881."  "Mortgage of Peter STILL executed on July 20, 1883 was given in ignorance of the law and without any intention of fraud or injury to The Crown."  The land was then patented to Peter STILL and back-dated to May 2, 1882.
 Gayle Freitas: Peter and Ellen Still were very hard working, quiet, religious people. They lived with their daughter, Mary Ann, the last years of their lives. Peter had a big vegetable garden and often would share his produce with neighbours. Peter helped Mary Ann (his daughter) with her post office duties. He would take mail (in a wheel barrow) to the train and pick the mail up from the train twice a day. During the snowy months, he transported the mail on a sled.
Some of Peter's great grandchildren remember him sitting by the kitchen stove, reading his bible which laid in his lap.  His hands were so gnarled with arthritis; it was difficult for him to hold the big book.  It was said that he knew more about the bible and scriptures than most preachers.  Always on the stove was a pot of tea, which he would take a drink from - right from the pot! (This entire description would almost perfectly fit my own Dad (Jim STILL), i.e. the bible, the arthritis, and even the tea!)
In the Census of 1911 Peter was recorded as 78 years old; wife Ellen (age 69). They were on Twp 16-2-E1, near Teulon.
Gayle Freitas: In 1915 Ellen was the supervisor for Sunday School in Teulon for many years, and she taught her grandchildren many Irish songs. She was confined to bed shortly before her death.  She was a warm, loving Christian woman, but at the end she would have terrible temper tantrums and swore something awful! The family was gathered around her bed, holding each other's hands, and sang a favourite hymn, "Safe in the Hands of Jesus". Ellen said "I can see a great light", just before she died (June 3, 1915).  She was buried in the Windsor Cemetery, Teulon. She was 74 years old.
In the Census of 1916 Peter was recorded as 82 years old and widowed. He was then with his daughter (Widow Mary Ann MARTIN) in the Teulon area.
When Mary Ann retired from the Post Office, she and Peter moved to Winnipeg to live with Mary Ann's daughter (Peter's granddaughter), Wilda (nee MARTIN) LITTLE.
Gayle Freitas: Every night, Mary Ann would take Peter a glass of buttermilk to put on his bedside table, so he could drink it during the night. As was the custom, she did this on the Saturday night that Peter died (Jan 12, 1929).  On Sunday morning, his glass was emptied, and Peter was also gone.
The following Wednesday, The Teulon Times - "Peter Still, resident of Manitoba, died Sunday morning at the home of his grand daughter,  Mrs W.J.LITTLEof 951 Lipton Street, Winnipeg.  He was 95.He came to Canada at 3 years (I calc 2).  Mono Centre was the point at which his parents settled. Mr STILL retired 25 years ago. Survived by one daughter, eight grandchildren, 23 great grandchildren. Funeral services were held Tuesday. Internment was at the Windsor Cemetery in Teulon. He married Helen McGILL (? error) in Shelbourne, Ontario.  She died in 1905 (?)."  Gayle said:  Although the last two sentences are in error, the rest of the obituary is correct.
Comments & queries welcomed at this link: FORUM DISCUSSING ELLEN & PETER STILL
========================== Family Details ==========================
Child by Ellen MADILL:
1. Mar 13, 1860 MARY ANN STILL (m. William John MARTIN)
Surrogate Child (Nephew):
1. 1864 Adopted JAMES STILL (m. ELIZA ANN JEFFERY)
** MORE ABOUT JAMES STILL